20 Bathroom Window Ideas for a Naturally Bright Space
By Hugh Metcalf published
These bathroom window ideas will ensure that your bathroom is flooded with natural light, while balancing this space's need for privacy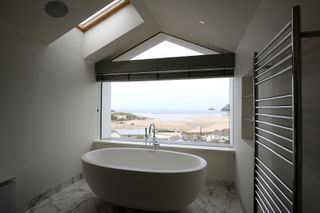 (Image credit: IQ Glass)
Bathroom window ideas are some of the most important to get right in your home. Designing a bathroom with beautiful natural light will help you enjoy the space better, reducing stress and helping you to unwind.
Whether you're building a new bathroom design from scratch by extending, renovating or self building, or are just looking to switch up the window treatments in your bathroom, this guide has everything from classic styles to contemporary trends to inspire you.
With ideas ranging from large feature windows to rooflights windows, privacy films to decorative window dressings, this gallery includes all the inspiration you need to specify and dress your bathroom window.
Bathroom Window Ideas
There's two main considerations when it comes to bathroom window ideas — natural light and privacy.
These two elements are often opposing, but a good bathroom design can prioritise one without sacrificing the other. By choosing the right window style, positioning it in the right place and applying the right window treatment, contemporary bathrooms can be both bright spaces and secluded sanctuaries.
1. Choose a Picture Window
While it may seem a counterintuitive choice for privacy, a picture window is an impactful style in the right property.
"In rural properties, if you brave enough or secluded enough to go for clear glass so you can make the most of the views out whilst soaking in the tub, then a large picture window might be an option," says David Clarke, Marketing Manager at ID Systems.
In urban areas, picture windows might still be a viable choice if positioned correctly or combined with an appropriate window treatment.
However, when using any fixed glazing that doesn't open in a bathroom, you'll need to consider the knock on effect on the room's ventilation. If considered thoughtfully, there shouldn't be an issue, you may just need to invest in one of the best bathroom extractor fans to help remove moisture from the air in your bathroom.
2. Put a Bath in Front of the Window
When it comes to bathroom layout ideas, placing a bath under a window is a tried and tested design for a number of reasons says Emma Scott, Director of Design at CP Hart. Whether you choose a built-in bath or freestanding tub, a window above a bath offers bathroom design ideas that play with symmetry and scale, cementing the bath as the standout feature of the space.
Plus, using a window directly above a bath is a great way to deal with privacy issues when using a space. Though it depends on the windows placement in relation to the bath, it might make the bath one of the areas in the room that can't actually be seen from the window, allowing you to bathe luxuriously enjoying natural light when it's most required.
"However, if not overlooked then a floor-to-ceiling or picture window is a great backdrop for a freestanding bath," suggests Emma. "This gives the benefit of views out when bathing for a hotel-luxe feel."
3. Use Rooflights for a More Private Space
Rooflights don't only provide an answer for difficult spaces that don't have external walls, existing bathrooms with small windows and bathrooms in loft conversions, they also provide a benefit of privacy for those using the space, assuming the bathroom isn't overlooked from above.
Using rooflights to complement the mix of natural light will help flood the room with flattering natural light, and you (hopefully) won't require window treatments to keep your bathroom hidden from sight of your neighbours, helping to create a sense of openness, space and a connection to the outdoors that you just don't get in a bathroom that requires you to have your blinds drawn every time it's in use.
4. Create a Design With Clerestory Windows
Clerestory windows are another example of a window style which boosts natural light while preserving a bathroom's modesty. This type of high, narrow window, combined with a small light shelf or ledge to bounce daylight around the room, will do wonders for brightening your space, in spite of their size. They're a key component of many daylighting strategies when used in the correct facing rooms, after all.
On the privacy side, you benefit from clerestory windows positioning high up in the room when used in a second storey (or higher) bathroom, meaning that you'll be able to use the space at any time of day without concerns of the neighbours or passers by on the street catching an eyeful.
5. Consider Vertical Fixed Glazing
In contrast to clerestory windows' modesty preserving characteristics, you might think vertical glazing is not a solution to be used in a bathroom. However, due to the size of many bathrooms, fixed vertical glazing is both useful and popular for these spaces.
Punctuating a bathroom with super narrow vertical windows not only allows you to make use of the awkward spaces between your bathroom's fixtures and increase the overall area of glazing and therefore increase natural light, but they'll make it relatively difficult to see inside your home too.
Again, thoughtful placement of windows as part of your bathroom design when building an extension or self building will pay dividends in how comfortable you are using the space with clear glass.
6. Window Ideas for Behind a Vanity Unit
In bathroom layouts, windows don't tend to be positioned behind vanity units, for a few good reasons.
1. That's the space you're likely to inhabit most when using the bathroom, meaning that you'll be on full display of the window when using the bathroom.
2. That's where you ideally want a mirror.
However, if you've got a compact, awkward space, it can actually be one of the only options available, and if being overlooked isn't a huge concern for this bathroom, there are ways to make it work.
Take a look at this small ensuite idea from design studio Day True as an example, which uses a bespoke mirror to the side of the window to make this clever layout work. Brushing your teeth with a view sounds like a nice way to start the day too.
7. Consider a Wrap Around Window
Another way to tackle a layout which uses a window above the vanity is to consider a wrap around window using fixed glazing.
This clever design, created by Design Squared Architects, allows for both an over-vanity mirror and a good view when using the basin, but was originally created for this loft conversion as a bathroom window idea to remedy concerns from neighbours about being overlooked from this new space.
8. Choose the Right Windows for Loft Bathrooms
There are all kinds of windows that work in a loft conversion bathroom, but what you choose will largely depend on the type of loft conversion you've undertaken and how the space has been laid out.
Rooflights, lanterns, picture windows, casements windows, even gable-end windows — it's more a case of what will fit and flatter the layout you've chosen.
Don't be afraid to make a bold decision and opt for an unusual window to add interest. Round and triangular windows make a real focal point in a loft space.
10. Create Extra Headroom With a Dormer Window
Placing a bath under the eaves of a loft conversion is a clever and popular layout idea to make use of the space as much as you can. However, for more luxurious bathing with a sense of space, building a dormer window can afford extra headroom in your bathroom and create a room with a view that will really help a bathroom become an escape.
9. Highlight the Roof Pitch
In bathrooms with vaulted ceilings, using glazing that mirrors the pitch of a roof will highlight the ceiling and make a real feature of your bathroom's architecture. However, this shape of window will be difficult to dress using traditional window treatments, and may require more creative thinking.
Keep reading for some design solutions to help create privacy for bathrooms with unusually shaped and angular windows.
11. Put a Window Inside a Shower Enclosure
It's not uncommon to see windows in shower enclosures, and as bathroom window ideas go, it's not a bad one. Not only does this allow super effective natural ventilation direct from the source, but it will offer you better layout options for your space.
Of course, the material of the window in your bathroom is important here. While uPVC and aluminium windows won't mind the moisture and spray of a shower, timber windows are likely to suffer much more, and will require constant maintenance to avoid issues like rot.
If you're stuck on a layout idea for a window in a shower enclosure but are dealing with timber windows, cue a clever bathroom window idea to work around the issue.
12. Try This Clever Window Screen Idea in Your Shower
By adapting the standard hinged shower screen idea, West One Bathrooms created a layout where a window could be inside a shower enclosure, while also protecting the window from direct spray.
Not only that, but the frosted glass acts as a privacy screen for the bathroom, killing two birds with one stone with this walk in shower idea.
13. Opt for a Roof Light Over a Shower Enclosure
A rooflight over a shower enclosure is not only a smart idea layout wise, but offers you a really special experience when using your bathroom. Flooding this sometimes dark space with natural light, showering under a rooflight creates a real connection with nature in your space.
Of course, adequate home ventilation is an important factor here once again, ensuring that your rooflight stays free from condensation and drips.
14. Choose Frosted Glass for a Private Bathroom
Now we come to window treatments — and for many of these bathroom window ideas, how the window is dressed will make all the difference to how much light is let in and how much privacy the window offers.
Frosted glass is more popular in contemporary interior design than patterned glasses (though styles like reeded glass have made a comeback of late). However, one drawback is that it means you sacrifice your view from the bathroom window.
The compromise? "Frosting to lower parts of the window are great to offer privacy whilst still letting in light above," says Emma Scott, Director of Design at CP Hart. "This also avoids the need for blinds which can be problematic in shower areas."
15. Or Retrofit Privacy Film onto Your Windows
The best quality choice is to buy your windows from the manufacturer pre-frosted, rather than applying a film. However, when retrofitting windows or when working to a budget, glass film can be just as effective.
Modern frosted films come in a variety of designs, with pattern and colour even option. You'll also find the likes of faux-effect vinyl films such as reeded glass and other textural finishes, so there are plenty of choices when it comes to this sort of product.
16. Use Switchable Glass
Image 1 of 2
Image 2 of 2
For the best of both worlds, consider switchable privacy glass, which is translucent in its natural state, but when it's turned on the glass becomes transparent
"This type of glass utilises a thin layer of liquid crystals within the laminated glazing and when and electrical current is passed through it causes the crystals to align which is what turns the glass transparent," explains Shannon Normoyle from IQ Glass. "For those who want the glass clear most of the time but worry about constantly having it turned on, the glass uses very little electricity and so wouldn't impact the bills anymore than turning on a socket."
17. Research Bottom up Blinds for Floor-to-Ceiling Windows
Roller blinds are a simple and unobtrusive option for a bathroom window, but they have one major flaw when it comes to using them in a bathroom in that they have to be fully down in order to afford privacy where its required. This means natural light is blocked and there's no view afforded while using the bathroom.
So called bottom up blinds are a great solution here, especially with large floor-to-ceiling glazing in a bathroom. These can be pulled up to the height required to preserve the bathroom's privacy, leaving some of the window unobscured as desired.
18. Consider Textile Window Treatments in a Bathroom
In small bathrooms, and those prone to excess condensation, traditional textiles probably aren't a good fit. However, there are plenty of bathrooms where curtains and roman blinds are suitable to use.
Steam and damp can of course be a problem when using fabrics in a bathroom, but as long as your ventilation is specified correctly for your space, you shouldn't have a problem.
Curtains and roman blinds offer a different feel to a bathroom than many other choices, lending elegance and comfort in quantities that other window treatments just can't.
19. Buy Bathroom Shutters for a Classic Look
"Shutters are still very popular and again allow you to close off one section and still let light in," says CP Hart's Emma Scott. "Plus, the range of colours and finishes mean you can tie them in with the overall scheme."
When choosing shutters for a bathroom, versatility is something to consider. Full-height shutters will either have to be open or closed, while tier on tier shutters act much in the same way as bottom up blinds in closing off the bottom half of the shutters while keeping the top half open. Half height café style shutters may also be sufficient for a bathroom, and will likely be cheaper too.
20. Keep Window Dressings Simple With Venetian Blinds
There's a reason the Venetian blind has been such a popular window treatment for so long. They're relation cheap, they're versatile, they're easy to control — all things that make them a good choice for the bathroom. Venetian blinds offer a mix of the qualities of a roller blind and shutters, with very few drawbacks.
However, Venetian blinds have fallen out of favour in the design stakes in recent years, and other window dressings such as shutters have usurped them as new favourites for contemporary bathrooms.
Hugh is Digital Editor of homebuilding.co.uk and has worked on a range of home, design and property magazines, including Grand Designs, Essential Kitchens, Bathrooms, Bedrooms and Good Homes. Hugh has developed a passion for modern architecture and green homes, and moonlights as an interior designer, having designed and managed projects ranging from single rooms to whole house renovations and large extensions. He's currently renovating a Victorian terrace in Essex, DIYing as much of the work as possible. His current project is a kitchen renovation which involves knocking through walls and landscaping a courtyard garden.
Homebuilding & Renovating Newsletter
Get the latest news, reviews and product advice straight to your inbox.
Thank you for signing up to Homebuilding. You will receive a verification email shortly.
There was a problem. Please refresh the page and try again.