Timber Windows: How to Choose the Right Style for Your Project
Timber windows are a great choice for traditional and contemporary homes alike. Here, we sum up the essential considerations to help you choose the right units for your project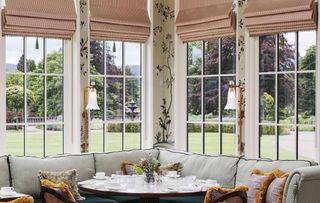 (Image credit: Mozolowski & Murray)
Timber windows can infuse your home with characterful appeal, both inside and out. What's more, the myriad styles and finishes available means they're suited to both traditional and contemporary projects.
Depending on your budget, there's hardwood, softwood and modified timber products to choose from. In fact, there's so much choice when it comes to window styles in general, it can be tricky to decide which products will be the best fit for your home. From supply costs and installation, to maintenance, service life and thermal performance, there's a lot to think about — we lay out the facts you need to know.
What Type of Timber Windows are Available?
Casement timber windows: Hinged either at the top or along one side to open, casement windows offer a straightforward, unfussy solution.
Tilt and turn timber windows: This configuration can be opened in two ways. For a little bit of ventilation, you can turn the window's handle and the top of the pane will tip inwards, allowing fresh air in. The window is also hinged along one side, which allows it to open like a door – ideal for when you need to clean the outer pane of glass.
Sliding sash timber windows: This type of window is formed from two independent panels that slide up and down over one another to open.
In addition to the style of your timber windows, the glazing itself represents another key aspect of your specification. Double and triple glazed products are available, with your choice likely to hinge on your overall energy performance goals for the project, as well as budget.
"Another key consideration when specifying timber windows is the finish you choose. Timber has the added option of stains over other types of materials," says Matt Higgs, director and co-owner of Kloeber.
What Types of Timber Tend to be Used for Timber Windows?
Softwoods such as pine, cedar and Douglas fir offer a readily available and cost-effective solution for timber windows.
"Most softwoods are more sustainable than hardwoods as they come from evergreen trees, which are usually fast-growing and therefore easier to source and produce," says Virginia Murray, director of sales and marketing at Mozolowski & Murray. "Softwoods are easier to laminate, which is the deliberate bending of wood to make curves go in the direction of the grain, therefore using a softwood might make a complex design easier."
Hardwoods such as oak, iroko and teak are hardwearing, durable and offer an impressive service life. These types of wood are more fire resistant than most softwoods. Plus, they are more weather resistant and require less upkeep. On the downside, hardwood windows do tend to cost more than softwood. However, this needs to be balanced against the lifetime of service they offer if well maintained.
Modified woods like Kebony and Accoya are another option. "The pine used to make Accoya goes through a non-toxic, environmentally friendly process, called acetylation, which makes it a super strength version of its original form – more durable and stable," says Jonathan Hey, founder and owner at Westbury Windows & Joinery. "Accoya scores significantly better than metals (aluminium) and plastics (PVCu) and unsustainably sourced hardwood. It's on a par with sustainably sourced (certified) hardwood when measured in terms of greenhouse gas emissions and carbon footprint."
Kebony also undergoes a chemical process to increase its durability and stability. Visually comparable to tropical hardwoods like teak, Kebony works well in exposed locations thanks to its impressive dimensional stability.
What Kinds of Projects are Timber Windows Suited to?
Timber windows can be used on all types of project, whether you're tackling a contemporary self build or a traditional renovation. For modern homes, casement or tilt and turn windows with fewer glazing bars and detailing will probably offer the best fit.
For period properties, windows featuring astragal bars (strips of wood planted onto the internal and external face of the glass to form smaller squares) and more detailing are often a good fit. Remember — if you're replacing the sash windows in an existing period property or building inspired by a certain era of architecture, investigate the exact style of window (how may smaller squares the window is divided into by glazing bars) that was used at the time your home was built. That way, you'll be able to replace the windows with products that authentically replicates the originals.
If you're looking for an ultra-low maintenance home, other materials like PVCu and aluminium windows will likely require less upkeep than timber windows. However, metals and plastics don't come with the same impressive sustainability credentials that wood does.
(MORE: How to Use Less Plastic in Your Project)
If your home is in an exposed location and is likely to be on the receiving end of a lot of inclement weather, it's important to specify the most hard-wearing windows your budget can stretch to. For example, hardwoods and modified timbers will typically provide a more robust solution than softwoods. If you can't afford to invest in hardwood windows across the entire property, consider incorporating the best quality units you can afford on the side of the house that is most likely to receive the harsher weather conditions.
What are the Advantages of Timber Windows?
Timber has a bevvy of natural qualities, including:
Long service life: Providing they are well maintained, timber windows can last 60 years or more.
Cost-effective: Given the number of years a well-maintained set of wood frame windows will last, they are good value for money.
Sustainable & eco-friendly: Wood is a renewable resource. Always check the timber used for the frames originates from a responsibly managed source. Using a natural material, like wood, also gives your project extra eco points.
Versatile: Timber windows suit an array of homes, both traditional and contemporary. "As timber can be repainted, your windows can evolve with new styles and trends without the hassle and expense of replacing them," says Virginia from Mozolowski & Murray.
Thermal performance: Timber is a natural insulator – excellent news if thermal performance is a key priority on your project.
Installation: Fitting timber windows should be a straightforward job for any reputable company.
What are the Disadvantages of Timber Windows?
While timber is a brilliant material with plenty of natural qualities, it has some compromises when compared to other window materials.
Maintenance: High quality paint finishes typically last between eight and 10 years, without maintenance. "Wooden windows can require more regular maintenance than other materials would, with the likelihood they'll need to be retreated and painted over time," says Ryan Schofield, managing director at Thames Valley Window Company (tvwindows.com).
Strength: Timber is a robust material that will stand the test of time. However, it doesn't come with the innate strength to lightweight quality of aluminium. Therefore, for larger spans of glazing you might need chunkier frames to support the heavy glass. This aesthetic might not be desirable if your key goal is to frame a prized view with the maximum area of glass possible.
Cost: Typically, you can expect high quality timber windows to come with a bigger price tag than units manufactured from PVCu. However, they generally offer twice the lifespan and are less at risk of warping
How Much Do Timber Windows Cost?
As well as the size of windows you choose, the type of wood (hardwood, softwood or modified) will play a huge part in the overall cost. Bespoke units will also cost more than off-the-shelf. According to Check A Trade, timber casement windows measuring 600mm x 900mm will cost between £850 and £925, including supply and installation.
Timber sash windows will cost more — £1,400 and above isn't unusual for a sliding sash window of the same size, depending on the type of wood you go for. "A detached four-bed traditional property with around 12 to 15 timber windows, supply only, would be between £8,000 and £12,000, plus VAT, by Thames Valley Window Company," says Ryan.
The type of glazing you go for within the frames will also have a significant impact on costs. "Toughened, laminated, triple glazed and solar controlled glass can all add cost," says Matt from Kloeber. "The hinges, handles and locks also make a difference to the price, so the less moving parts you have the more cost effective the product will be."
How Secure are Timber Windows?
Wood is one of the heaviest and strongest materials for your window frames. "It's therefore more secure than other material types where frames can be more easily bent and broken to gain access to a property," says Matt from Kloeber. For peace of mind, look for a product that comes with Secured By Design status. This police-led initiative focuses on designing out crime. To obtain the seal of approval, products undergo rigorous testing to see how well they can withstand break-in attempts.
Can I Install Timber Windows Myself?
Unless you have plenty of carpentry experience and the correct tools, it's probably unwise to fit the windows yourself — especially if the units aren't factory glazed and factory finished. One of the main reasons for poor thermal performance in windows is when the unit hasn't been packed and sealed adequately around the edges. Therefore, if you want the window to perform as it should, it's best to call in the professionals.
(MORE: How to Fit Your Own Glazing)
"We would always recommend that you choose a FENSA registered installer," says Jonathan from Westbury Windows & Joinery. "Every FENSA approved installer, from large national brands to small local companies, is assessed regularly to ensure standards are continually maintained."
When it comes to planning your project schedule, bear in mind that fitting a full house of timber windows could take as long as several weeks depending on how many people are doing the job and how big/heavy the windows are.
How Energy Efficient are Timber Windows?
Provided they are installed properly, timber windows can deliver an excellent thermal performance. When doing your research on this aspect of the window's spec, remember to check the U-value of the whole window (not just the glass). "The U-value [measured in W/m2K)] tells you how much heat a window is likely to let through," says Jonathan from Westbury. "The lower the U-value, the better the energy efficiency of the product."
Upping the spec of the glazing is another way to improve your windows' thermal performance (eg from double to triple glazing). For example, Green Building Store's Performance range of timber windows can achieve U-value as low as 0.85 W/m2K.
"We design our timber window frames with deep inside-to-outside profiles, therefore improving the thermal performance through the wood components," says Jonathan. "This technique was originally mastered by the Scandinavians many years ago to keep out cold weather. They used a standard frame depth of 115mm, which is what we use at Westbury today."
What Maintenance do Timber Windows Require?
There's plenty of choice when it comes to finishing your timber windows, whether you go with a stained aesthetic or a paint coating. As a general rule, factory-finished units can go up to eight years before they will need to be re-painted. Re-staining your windows is recommended every three or four years.
Other maintenance should include a wash down of the frames with soapy water every 12 months or so. "Use a window cleaning solution on the glass and a diluted mild, pH-neutral cleaning solution on a soft cloth for the ironmongery," says Virginia from Mozolowski & Murray.
Be sure to avoid using any aggressive or acid-based cleaning products on your windows.
Get the Homebuilding & Renovating Newsletter
Bring your dream home to life with expert advice, how-to guides and design inspiration, direct to your inbox.
Rebecca began her journalism career writing for a luxury property magazine in Bangkok, before re-locating to London and becoming a features editor for a self build magazine. She is an experienced homes and interiors journalist and has written for many homes titles including Homebuilding & Renovating, Ideal Home and Period Living.
She has expertise on a wealth of topics — from oak frame homes to kitchen extensions. She has a passion for Victorian architecture; her dream is to extend an 1800s house.