Walk In Shower Ideas: 14 Designs for a Luxurious Bathroom
By Amy Reeves published
These walk in shower ideas will help to inspire a well-designed and beautiful bathroom, no matter the size of the space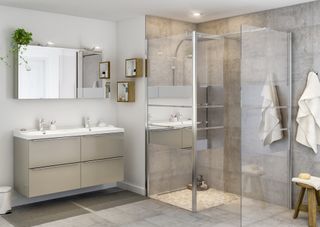 (Image credit: B&Q GoodHome)
Ideal for rooms big or small, walk in shower ideas have to marry both the practicalities of a functional bathroom and the inherent luxury of a pared-back design.
While simple to use, planning walk in shower for an en suite or family bathroom involves quite a few key decisions, including flooring, screens, tiling and size. Each aspect will hugely impact future use so it is best to consider the options at an early stage in the process.
To help you design the perfect bathroom with walk in shower, we've collected our favourite ideas below. For more information on how to choose the best layout, materials and estimate costs, take a look at our complete guide to bathroom design.
1. Utilising Walk in Shower Ideas in a Bathroom Design
VISIT THE HOMEBUILDING & RENOVATING SHOW
Whether you're renovating a bathroom or designing a new one from scratch, looking at thousands of ideas can quickly become overwhelming and difficult to know where to start.
As a jumping off point, begin by allocating the correct amount of space for a walk in shower and work out a layout from there. Walk in showers should be at least 760mm x 760mm in small bathrooms, but if you have the space rectangular orientations both look great and offer a comfortable space to move around.
2. Opt for a Low Threshold Shower Tray
Walk in showers are all about luxury so try to find a shower tray that ensures a sleek and simple entry with a low threshold. Unlike traditional shower enclosures, a walk in design blurs the boundaries between the shower and the rest of the room, so be sure to reduce the chances of a stubbed toe by choosing the right tray.
3. Design a Practical Wetroom with Uninterrupted Tiles
Great for small or awkwardly-shaped rooms, wetrooms will need to be properly tanked as angled tiles replace a tray for a truly seamless look.
(MORE: Bathroom flooring)
4. Walk in Showers are Perfect for a Unique Space
From sloping ceilings to angled walls, walk in showers are a brilliant solution to unusual spaces. Where standard-sized shower enclosures limit design options, walk in showers can utilise awkward nooks and recesses to create a unique space, as this bathroom in a loft conversion shows beautifully.
5. Consider Concealed Pipes in a Small Walk in Shower
Where space is tight, concealed units and pipework work a dream in a walk in shower. This will require studwork to hide it all away the behind-the-scenes, but can definitely be worth the effort for a fuss-free showering solution.
(MORE: Modern Bathroom Ideas)
6. Use a Shower Screen to Protect Other Areas
Although you can certainly have a doorless walk in shower, adding a screen will save other areas – and towels – from getting splashed. There are fixed screens for every style and size, or you can choose a sliding or flap panel (shown above) for a versatile design.
7. Walk In Showers are Great for Small Bathrooms
In foregoing a bathtub and introducing a walk in shower area, a small bathroom's full potential can be realised. A large screened enclosure offers plenty of bathing room and the flexible design means a bespoke space solution is cost-effective and stylish.
(MORE: Shower Room Ideas)
8. Go Doorless for the Ultimate Luxury Experience
A doorless walk in shower is endlessly elegant. Here, in this family bathroom design a half-sized partition wall (concealing the bath's plumbing) has been utilised with a screen to divide the large space.
9. Create a Feature Wall with Statement Tiles
Often in bathrooms the best designs just let one statement feature really shine. Choosing a tile that makes you smile will ensure the walk in shower is a source of enjoyment when you wake up in the morning.
If you find a tile early on in the design process as well, pick out colour highlights in other pieces of furniture or sanitarywear — as in this ensuite with the deep blue vanity unit and mirror combo.
10. Keep Walk in Shower Ideas Classic with Simple Styles
Walk in showers are a popular choice for a reason — they can be matched to any style of home. The clear screen and chrome shower unit is almost invisible against the oak frame of this self-build and the cheerful blue vanity really makes the room pop.
11. Go Natural with a Scandinavian Style Walk in Shower
This bathroom sanctuary wouldn't be the same without the ingenious walk in shower design. From the near-invisible screen with pale wood detailing to the natural finish of the tray matching the rustic wood floor, this bathroom is both relaxing and practical.
12. Get Creative for an Affordable Finish
Bathrooms don't have to cost the earth and by mixing and matching off-the-shelf sanitarywear and units an affordable, yet stylish space can be creative. Look out of seasonal deals and discounts for shower units, screens and cheap bathroom suites while being flexible with the design so savings can be taken advantage of.
13. Add a Seat to an Accessible Walk in Shower
Walk in showers with seats are perfect for those with accessibility needs who still want a stylish and elegant design. Level thresholds, plenty of clearance and a spot to sit are all great places to start, but also consider grab rails in a metallic or matt finish and a digital shower that an be controlled via voice activation.
(MORE: Lifetime Homes)
14. Create a Sanctuary with Spa-inspired Walk in Shower Ideas
Tile from top to bottom in a natural stone or wood-effect to create a uniform and zen experience. Larger tiles work best for this effect and a rainfall shower head will complete the style.
Assistant Editor Amy began working for Homebuilding & Renovating in 2018. She has an interest in sustainable building methods and always has her eye on the latest design ideas. Amy has interviewed countless self builders, renovators and extenders about their experiences for Homebuilding & Renovating magazine. She is currently renovating a mid-century home, together with her partner, on a DIY basis, and has recently fitted her own kitchen.
Homebuilding & Renovating Newsletter
Get the latest news, reviews and product advice straight to your inbox.
Thank you for signing up to Homebuilding. You will receive a verification email shortly.
There was a problem. Please refresh the page and try again.