25 Potential Pitfalls When Renovating a Property (and How to Avoid Them)
Here's what not to do when renovating to make sure your project doesn't end up as a money pit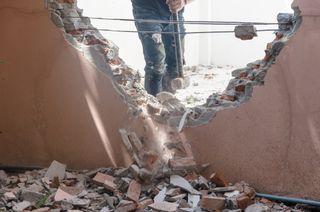 (Image credit: getty images)
If you can look past an unloved property's outward appearance and see its hidden potential, a renovation project could be the route to your dream home.
However, when it comes to renovating a house, it's only too easy for a dream project to turn into a nightmare if you make just a few simple mistakes. Renovation projects do not start with a clean slate, after all, so you may find you inherit a number of issues with your home, especially with an older property, that can stretch your budget to its limits.
Unless you're well-practiced in buying properties to renovate, it's only too easy to make a few mistakes along the way that can eat up precious funds, cause disputes and leave you living in a half-finished home.
We've listed the most common 25 mistakes you may encounter on a renovation project, and what steps you can take to avoid making them.
1. Insufficient Research
No matter how organised or experienced you are, renovating is a stressful and time consuming process, so unless a project is guaranteed to give you either your dream home, or make you money, you are taking on the wrong property. You want to renovate, not rebuild. At auction, novice investors sometimes 'buy blind'.
But more experienced and savvy builders will often commission a preliminary building survey to flag up hidden dangers, defects and structural botches, works where consent should have been obtained (but may not have been), as well as location risks such as obscure rights of way, flooding and radon.
If you're buying an old property, check whether it's a listed building, as this will severely limit the changes you can make, plus as a new owner you're legally liable for rectifying any past illegal works, often at huge expense. Generally, unless you have a bottomless budget, avoid:
properties built to a substandard quality, such as some cheaper Victorian terraces built without firebreak party walls in lofts and with worryingly thin single brick rear additions (which cause problems with mortgage lenders)
those that have suffered botched alterations such as chimney breasts and internal walls illegally removed without Building Regulations' consent.
Anything likely to need expensive structural work is best avoided, or your budget will vanish surprisingly fast on hidden defects to drains and roof structures rather than fittings and finishes. Instead, try to find houses in shabby decorative condition which look 'worse than they are', just needing a decorative makeover and some updating to kitchens and bathrooms.
2. Buy Without a Survey
Don't wait to discover damp, rot, subsidence or other major structural defects until it is too late. Find out as much about a property as possible before you buy, or before you start any work. A building survey undertaken by a Chartered Building Surveyor will provide information on the type of construction and materials used, and will give details of any defects found, their remedy and an indication of the likely cost.
It is also worth commissioning a measured survey of the building, providing you with a detailed set of floorplans and elevations upon which to base your proposed design alterations.
3. Ignore Rules and Regulations
There is no point in ignoring the requirements of the law, as it will eventually catch up with you, so do not undertake any work without first checking the following:
If you fail to get planning permission, you can apply retrospectively, but if this fails you may have to undo alterations or extensions. Altering a listed building without consent is a criminal offence. If you fail to get Building Regulations approval, you will have to prove compliance. This may mean undoing completed work.
(MORE: Building Regulations for Extensions)
If you fail to observe the Party Wall Act, it can lead to an injunction and delay your project whilst you get an agreement in place. Breaching a restrictive covenant or the terms of a lease can lead to an injunction, and you may have to make a financial settlement or remove your alterations or extensions.
4. Not Look After the Pennies
'Wouldn't that look nice?' Last-minute impulse purchases, plus design changes, once a quote has been accepted and work is underway on site can play havoc with costings.
Keep a generous contingency sum, say 10 to 20 per cent of the overall build budget
Try not to lavish money on expensive frivolous fittings such as designer 'tree stump' radiators
Don't waste money on unnecessary works, such as ineffective damp treatments
Make do and mend — in older properties repair can often be a better option than replacement and is normally a lot cheaper
Keep the design simple, eschewing complex custom-designed vaulted zinc roofs and suchlike.
Keeping a lid on costs also depends on good communication, so it's worth scheduling regular builder-client site meetings. This should prevent misunderstandings over small details which otherwise have a nasty habit of growing into expensive disputes.
(MORE: 9 Inspiring Budget Renovation Projects)
Before the build starts, it's important to think about the details — light switches, sockets, radiators, taps, basins and so on, so the builders know exactly what's required.
5. Under Order Materials
Logic dictates that you shouldn't waste money buying more stuff than you actually need. But it's a false economy to order too few materials and risk work being held up because you're a few tiles short.
Most materials come in standard pack sizes, so quantities of things like insulation, bricks and blocks need to be rounded up. Contractors know that an allowance needs to be made for breakage, both in delivery and on site. Reclaimed materials for renovation projects have an even higher wastage factor.
You may need to over-order by up to 20 per cent on second-hand bricks, slates and tiles compared to around five per cent for new. Better order too much than not enough. Any surplus can usually be sold or returned.
6. Underestimate Costs
Renovation work always costs more than you expect. This is because some problems are not revealed until you start work and uncover them, but mostly because items are forgotten from the budget, or because you change your mind and alter the design or specification.
Professional renovators always leave a contingency of between 10-20% to cover these costs and fully expect to have to spend it. There are also a lot of 'hidden' costs that people sometimes forget to include, which often isn't included in quotes, including:
professional fees for surveyors, architects and engineers
fees for planning and Building Control
fees for arranging funding
VAT
A lot of homeowners only discover halfway through the works that their plans are completely unachievable on their budget. So it's essential to research prices in advance.
Drawings need to be translated into a list of materials and labour. Materials are fairly easy to check online but labour rates are harder to predict, varying considerably depending on market forces — how busy builders are — and the geographical area (prices tend to be higher in posh postcode areas). Obtaining competitive quotes based on clear drawings and specifications should help pin costs down in advance.
(MORE: 15 Ways to Stay on Budget)
Before you can start to predict costs, you need to have a good idea of your proposed plans, your specification for fixtures and fittings, and have decided who is doing what. To estimate costs, look at other people's projects and expect to spend a similar amount, taking into account how much work they did themselves, when the project was completed, and the variation in labour costs.
Alternatively, get a builder's estimate. This is a builder's best guess of what your renovation project is going to cost, based on what they can see and the information you have provided them with. This is not a quote and the builder cannot be held to it, but an experienced builder should be able to give a fairly accurate guess.
Finally, prepare your own budget by listing all tasks, the materials required, and who is going to do the work. You can then go out and get quotes for materials and estimates for each trade. Make sure you allow for skips, scaffold hire, plant hire, and tools.
7. Blow the Budget on Unnecessary Work
Aspiring renovators sometimes get so focused on getting the desired 'visual result' with fabulous kitchen designs, décor and so on, that they risk running out of money for works to the building envelope — sometimes referred to as the 'unseens'. If you don't prioritise key works, such as leaking roofs, timber decay and structural movement, it won't be long before deterioration of the fabric takes hold, at which point it might be a matter of some regret that so much of the budget was showered on top-of-the-range designer appliances.
(MORE: Underpinning and Causes of Structural Movement Explained)
Many renovators also have a tendency to underestimate the level of work required to upgrade existing services such as electrics and heating systems to make them fit for purpose. A lot of unnecessary work can be prevented in period properties (1930s and older) by adopting a 'repair not replace' approach.
Overhauling original doors and windows and retaining period features is often cheaper than replacement, adding value in the process by enhancing period character. In many cases, the original door and window timbers and joinery were of far better quality than today's equivalents. Fitting secondary glazing to original windows is often a good 'best of both worlds' solution. If modern double-glazed units have misted, you can save a lot of work by replacing just the glazing panels, rather than the whole window.
(MORE: Window Repair Guide)
Localised repair of a roof may be all that's needed in most cases. Surveyors can sometimes pass premature death sentences when there may be another 10 or 20 years' lifespan left.
8. Pick the Cheapest Builders
When the housing market is buoyant there's usually a high demand for building services, making it hard to find a builder at a reasonable price. It can be tempting to pick the cheapest builder who can start next week, but if a quote price is super-cheap there's normally a good reason: perhaps they forgot to include something, or simply just got their sums wrong.
Either way, the builder will realise they're working at a loss. And if they walk off the job, it will cost you dearly to get someone else to finish it, with all the hassle that goes with that. It may be cheaper in the long run to go for a medium-range price rather than risk work being skimped to recoup losses, leaving you with a badly done job.
If your project is not time critical, employing 'friends of friends' or friends on 'mates' rates' may work, but more often than not something else will come up on the day when they promised to finish your job, which could then hold up the following trades.
9. Hire Cowboy Builders
Renovation can turn into a nightmare if your builders or subcontractors fail to do a good job. Always be suspicious of an estimate or quote that is considerably cheaper than all the others, or someone who is available for work immediately. Ask for references, and speak to their previous clients.
Is confident of undertaking the required work
Understands the job and what is involved
Has undertaken similar work before
Will provide details of previous clients
Seems to understand what you are trying to achieve
Ask their previous clients…
What was the builder like to work with?
Was the work of a satisfactory standard?
Was the project completed on time?
Was the project completed on budget?
Were they neat, tidy and reasonably quiet?
Would they use them again?
10. Use the Wrong Materials
The golden rule when refurbishing older buildings with solid walls is to use traditional materials that are compatible with the way they were originally built, i.e. lime-based mortars, renders and plasters, rather than anything containing modern cement.
Old buildings with shallow foundations are affected by seasonal ground movement and because cement is very brittle it tends to develop small cracks. This allows rain to penetrate, which then can't escape. Modern paints applied to walls can also cause trouble by blocking natural evaporation.
Trapped damp can then precipitate serious frost damage in masonry walls. However, not all builders are familiar with lime, often preferring to stick with mainstream products. So you need to be clear that the trades you employ have the necessary skills.
(MORE: How to Treat Damp)
To avoid creating new damp problems:
Avoid replacing soft lime mortars with hard cement mixes when repointing brickwork.
Avoid hard cement renders on traditional solid-walled buildings — use a breathable, flexible limecrete mix.
Do not use waterproof paint or sealant on a traditional solid-walled building.
Avoid hard cement backing for gypsum plaster on the inside of the external walls in solid-walled buildings.
Ensure materials are visually sympathetic. Avoid stone cladding, pebbledash, roughcast or PVCu on a period building.
11. Be Tempted by 'Miracle Cures'
When renovating a property it can sometimes be tempting to give heavily advertised 'miracle cure' treatments a try, lured by extraordinary claims such as 'never paint again', 'seal leaks for good — instantly' or 'the ultimate solution to all roofing problems'. But some of these products can actually be very damaging when applied to older buildings.
Spray-on renders and polyurethane foams can block crucial ventilation paths in walls and roofs, and despite claims to the contrary offer virtually zero insulation benefits. Instant damp sealants are rarely effective and can trap damp in walls. Basically, if something sounds too good to be true, it probably is.
12. Ignore Your Area's Price Ceiling
You may be a genius renovator but you could still come a cropper. Every street has an invisible ceiling that dictates how much buyers are prepared to pay, no matter how many tennis courts and basement gyms you add. The quality of fittings needs to be closely geared to the expectations and demands of the market sector the property is likely to appeal to.
At one extreme, it would obviously be a false economy to deck out an historic Georgian townhouse in the opulent end of town with cheap MDF joinery and foam ceiling tiles. Conversely 'the best house in the worst street' syndrome is a recipe for disappointment. It sounds obvious, but this is a surprisingly common lapse of judgement.
13. Remove Period Detail
Removing original period windows and exterior doors can destroy a period property's character, and its value, unless they are sympathetically replaced. Authentic replicas are expensive, so always consider repair as a first option.
Cheaper, off-the shelf joinery is rarely appropriate and is unlikely to fit the original openings and so will look wrong. If the original external joinery has already been removed, research neighbouring properties or books to find appropriate styles. Avoid modern hybrid products, such as front doors with built-in fanlights.
Try and observe the techniques and materials used in the building's original construction and try and repair, or replace, on a like-for-like basis. Internally, try and preserve original doors, floorboards, fireplaces and plaster mouldings if they are still intact.
(MORE: Old Timber Frame Buildings: Repair and Maintenance)
Most features are not purely decorative, but also have a practical purpose, either structural or cosmetic, and removal is only likely to necessitate an alternative solution. Conservation is cost-efficient and ecological.
14. Buy Bargain Materials
Buying materials that are incredibly cheap is usually a false economy. For a start, anything obviously 'cheap and nasty' is likely to detract from the value of the finished property.
To comply with Building Regulations, the drawings will specify the correct strength class of timber, and concrete blocks of the required density and thermal efficiency to ensure they can support loadings and meet energy targets. So you can't just use any old stuff.
Quality can be difficult to determine from blurry online product photos. It's also not unknown for stolen goods to be flogged off cheap via internet auction sites, and if you innocently buy something that turns out to be stolen, legally they can be reclaimed by the original owner at your expense.
Sourcing cheap materials from overseas can also be a minefield and specifying UK-compliant materials with appropriate K-values and so on can be fraught with linguistic problems.
15. Make Negative Value Improvements
Avoid spending large amounts of money on misguided works that actually reduce the property's value. Kerb appeal is obviously fundamental when it comes to attracting buyers, so doing anything that messes up an older building's appearance, no matter how well-intentioned, can be counter-productive.
The prime example of this is artificial stone cladding glued to the walls, which apart from looking dire has a tendency over time to start cracking with bits dropping off, blocking windows and air vents. Widening and enlarging window openings can create an instant 'character transplant', and putting plastic fascias and windows into period buildings is one of the quickest ways of losing money by slashing their market value.
(MORE: How to Renovate for Profit)
16. Take on Too Much DIY
Undertaking work yourself can allow you to control costs and quality, but don't be over-ambitious and plan to do more work than you really have time — or the skill — to undertake successfully. You could end up slowing the whole project down and living in a building site for years, which can in turn lead to family conflicts and potentially to accidents.
(MORE: DIY: What Should be Left to the Professionals)
Bad DIY will also cost you dearly, slowing down the other trades, wasting materials, sometimes causing work to be done twice, and ultimately devaluing the property if it is not put right. You can get so tied up in DIY work that you lose focus on running the project and keeping up with decisions.
Before committing to the DIY-intensive route, it can be worth asking yourself:
How time critical is the project? If you're relaxed about deadlines there'll be greater freedom to plough your own furrow
Are you tough enough? Sitting at a desk all day doesn't build physical strength, so you'll struggle to work anywhere near as fast as the professionals
How much time can you commit? DIY generally takes longer than you imagine
What are your skills? Perhaps consider doing the decoration towards the end when there's less time pressure or focus on the project management role
In the cold light of day, it often makes more sense to earn more money in your job so you can employ professionals on site, rather than taking on time-consuming DIY tasks yourself
17. Not Listen to Your Builder's Advice
There's a certain amount of paranoia among the public when it comes to dealing with builders. The fact is, most builders try to do a decent job, often despite late payment and awkward clients giving them a lot of grief. Individual tradespeople can actually be a mine of valuable experience.
Of course, sometimes there's an ulterior motive to drum up business. But it's often the case that the person tasked with doing the job will know a better, less expensive or simpler solution in a specific area than designers focused on the bigger picture. Trades also tend to have a useful knowledge of materials and local suppliers, potentially helping you save time and money. So don't automatically disregard advice from the person doing the job.
(MORE: 5 Things you Should Never say to Your Builder)
18. Leave Builders to Make Decisions
Renovating involves making countless decisions, from which improvements to make and the choice of fixtures and fittings, down to the route for new services such as plumbing, or how details should be finished off. Many of these decisions need to be made quickly if they are not to hold up work, and so you need to allow time for this, based on what will be the most practical and aesthetically pleasing solution.
If you leave such decisions to builders, they will invariably do whatever is easiest and quickest for them, and this can look awful. The trouble is, once the work is done, you have to pay twice if you later want to make changes and the builders will hate you for it too. A good builder should warn you well in advance of the decisions that they need you to make. Listen to them, spend time on site visits, and keep up to speed.
19. Scrimp on the Design
A good design scheme can transform a property and its value, and is worth every penny. Poor design, or no design at all, can cause the following problems:
Ill-judged applications could prejudice the planning process, leading to refusal and planning blight.
Poor design can squander potential, waste space and fail to maximise value.
Over-complicated design can add unnecessary costs and delays.
Failing to listen to your brief and objectives can lead to an unsatisfactory result, wasted time and fees.
Lack of detail or errors can cause delays and complications on site and expose you to charges for variations to the contract.
20. Take the Wrong Energy-Saving Measures
The energy saved by installing double glazing in place of single will take 15-20 years to pay itself back, by which time you may have moved on. There is no point, therefore, in replacing period windows that could be repaired just to save energy. Instead, focus your budget on those energy-saving measures with the shortest payback. These are as follows:
Draught exclusion
Energy-efficient light bulbs
Hot water tank and pipe insulation
Cavity wall insulation
Upgrading to a condensing boiler
It is worth investigating whether your local authority operates any grants to help with energy-efficiency measures by calling or visiting their website. Grants and VAT relief are also available on some energy-efficiency measures.
Visit www.est.org.uk for details.
21. Extend Bit by Bit
Do not renovate your property by making small, half-hearted additions, as and when money allows. It is common to find an old cottage that has had several small extensions added, on an almost room-by-room basis, with flat roofs, lean-tos, boxy conservatories, and other carbuncles bolted onto every elevation.
Such additions eventually cripple a property, both in its ability to function as a home with a fluid layout, and in terms of value. Difficult though it is, it is often best to take a step or two backwards before moving forwards, by demolishing such additions and taking the building back to its original form before extending and remodelling.
Unfortunately, sometimes this previous legacy of improvements has added just enough value to make their removal unviable financially.
22. Waste the Existing Space
Before making plans to add an extension to your renovation project, consider how you can use the existing space. There are many measures that will help to make a property feel more spacious and which will add to its value, yet which cost a fraction of the price of extending. Think about an attic, cellar or garage conversion or converting other attached outbuildings.
The following ideas can be applied to any property but are particularly appropriate to those where space is an issue:
Reuse wasted circulation space
Use carefully positioned mirrors
Use a space-efficient staircase
Create mezzanine levels
Improve the flow, adding doorways
Change the direction a door swings in, or use sliders or bi-folds
Knock down internal walls and remodel
Use space-efficient furniture with dual purposes
Add patio doors to create the illusion of the garden being part of the house
Improve lighting design
Use informal room dividers
Use space-efficient storage
Combine rooms — such as open plan living/kitchen/dining room layouts
Use borrowed light
Install space-efficient heating
23. Work in the Wrong Order
A typical hierarchy of works for the renovation of a derelict property is as follows:
Stop further decay: Keep out the elements. Take out buildings insurance, including public liability
Stabilise the building: Make the site safe to work on. This might mean underpinning or piling work to stabilise existing foundations, the insertion of steel tension rods or ties to stop lateral spread, or the insertion of steel props, beams or scaffold to prevent further collapse before repairs
Strip back and salvage: Private individuals can get rid of waste for free at local authority tips. Salvage anything of value and store for reuse or sell on via eBay or a salvage yard
Undertake major building work: Build or replace any floors, walls, roofs or extensions. Carry out any re-pointing, injecting of DPCs, tanking, rendering, chemical treatments etc. If possible, only break through to the existing structure once the new work is complete
Make the shell weathertight: Once the roof structure is complete, the structure should be made weathertight. Exterior doors and windows should be installed and glazed, or covered with boards
First fix: Build internal stud walls, fix floorboards, door linings, window reveals and cills and then undertake first fix plumbing and electrics
Re-plaster/repair plaster: Apply plasterboard/dry-lining to walls and ceilings, or repair any damaged plaster. Floor screeds for the ground floor will be laid at this point
Second fix: Lay timber, stone or tiled floors, hang doors, fix skirting and architrave, box in services. Install the bathroom, kitchen, boiler and fit radiators. Complete all painting, staining and tiling
24. Make Unsafe Structural Alterations
Removing structural elements such as load-bearing walls, chimney breasts, lintels, columns, piers or buttresses, or cutting out roof timbers without compensating for the alteration can lead to disaster. The building may not collapse — although this is not unheard of — but it will lead to major movement in the building, followed by all manner of problems, from stuck windows and doors to warped floors and partial collapse of walls, roof or chimney stack.
An experienced builder will be able to identify which components are structural and how to compensate for their removal. The building inspector will want to know of any changes and how you propose to deal with them, and they may request calculations from a structural engineer.
25. Pay Too Much Tax
If a contractor is not VAT registered, make sure they do not charge you VAT. If your project is subject to any VAT concessions, make sure that the appropriate rate is charged. If your renovation project is a conversion or the renovation of a dwelling that has been empty for ten years or more, then it is largely zero-rated for VAT. Your contractors should charge a reduced rate on eligible labour and materials, and you can claim this back, together with any standard-rated VAT you have paid to buy materials. See HMRC Notice 719 (www.hmrc.gov.uk).
If you are undertaking major reconstruction of a building that has little architectural merit, consider whether or not it would be more cost-effective to demolish it altogether and start from scratch, as this will save you standard VAT on all eligible labour and materials (you are allowed to leave a basement in place, or a single façade if required to do so by the planners).
VAT relief is also available for some other types of renovation work, providing it is undertaken by a VAT-registered contractor. Make sure you are charged the right amount.
(MORE: Reclaiming VAT on a Project)
Get the Homebuilding & Renovating Newsletter
Bring your dream home to life with expert advice, how-to guides and design inspiration, direct to your inbox.
Chartered surveyor Ian Rock MRICS is a director is Rightsurvey.co.uk and the author of eight popular Haynes House Manuals, including the Home Extension Manual, the Self Build Manual and Period Property Manual.
Ian is also the founder of Zennor Consultants. In addition to providing house surveys, Zennor Consultants provide professional guidance on property refurbishment and maintenance as well as advising on the design and construction of home extensions and loft conversions, including planning and Building Regulations compliance.
Ian has recently added a 100m2 extension to his home; he designed and project managed the build and completed much of the interior fit-out on a DIY basis.