Building Surveys: A Guide for Homebuyers
By Ian Rock published
A building survey will help you make an informed decision when purchasing a new home. From the types available to costs and how to find a surveyor, find out more with this useful guide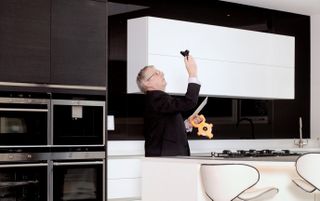 (Image credit: getty images)
Once you've had an offer accepted, looking at building surveys for your potential new home should be your next task to complete. Offering peace of mind and helping to avoid the risk of purchasing a property that has serious problems in need of attention, commissioning a building survey is something to be seriously considered.
However, not all building surveys are created equal, and some will offer a more in-depth examination of the property than others, potentially uncovering issues behind the façade, from structural stability to drainage issues.
In this guide, we look at the key types of building survey available, what they include, how much they cost and how to find the best surveyor for the job.
What is a Building Survey?
The aim of a building survey is to provide an overall picture of the property's condition, flagging up areas where there are concerns, but effectively giving an 'all clear' where no problems are noted.
After a survey has taken place, you should normally receive a report within a couple of working days of the inspection, at which point it's a good idea to talk it through on a one-to-one basis with your surveyor.
(MORE: Get a quote for your building survey (opens in new tab))
Do I Need a Building Survey When Buying a House?
While a building survey isn't a legal requirement, it's strongly recommended. After all, when making a purchase worth hundreds of thousands of pounds, if not more, a little extra expense to ensure peace of mind is a price worth paying. With what's uncovered in a building survey, you may decide not to proceed with a purchase, or even use as leverage to renegotiate the price, depending on how much repairs to the property will cost you.
Surveys are especially recommended on certain properties, including old or listed buildings, but generally, any buildings where you're concerned about certain areas or are unsure about its overall condition.
(MORE: Renovating a House)
Don't confuse a building survey with a mortgage valuation survey, which will be required as part of your lender's processes in approving a mortgage on a property. A mortgage valuation survey will ensure that the price you've offered is accurate for the property, to ensure lending on it is viable. While a mortgage valuation survey will also look at structure and potential defects, which can be used to inform the buying process, it's not as in depth as a building survey.
What Types of Building Survey Are Available?
Probably the best known type of private survey is a Building Survey (opens in new tab) — previously known as a Full Structural Survey.
Building Surveys are detailed reports and can take a surveyor half a day or more on site. These are recommended for period properties such as thatched cottages, larger homes with five bedrooms or more, and properties in obviously poor condition.
HomeBuyer Reports (opens in new tab) are appropriate for most properties built from the late Victorian period onwards, with the inspection taking around 90 minutes on site and covering the whole house, including the loft. You can also request that a valuation and insurance rebuild cost calculation is included.
Although there is a cheaper and more basic type of survey called a Condition Report, these are much briefer and are aimed at buyers of conventional houses or flats built from common building materials and in reasonable condition.
The new Homescore budget survey is similarly geared towards buyers of conventional properties that are considered to be in a reasonable condition.
To assess the viability of a potential renovation project it's normally advisable to opt for the more extensive Building Survey. However, it's worth noting that a good surveyor carrying out a HomeBuyer Report should give you enough information to judge whether or not to proceed.
What Does a Building Survey Include?
To help you decide whether or not to proceed with the purchase, your surveyor will flag up risks such as any apparent legal rights of way, concerns about planning permission and Building Regulation compliance such as extensions, conversions and listed buildings, as well as things like flooding, radon, knotweed or potential sources of noise or nuisance.
They will also alert you to any problems with non-standard construction that could make a property unmortgageable, significantly detracting from the market value.
Both a HomeBuyer Report and a Building Survey utilise a traffic light system for grading defects so at a glance you can see how many reds and oranges there are in each part of the building, indicating the need for attention.
A red condition rating applies to defects which are serious and need to be repaired, replaced or checked urgently.
An orange condition rating indicates defects that will need repairing or replacing but are not considered serious or urgent.
While a visual once-over with an experienced eye can reveal a lot, it obviously won't detect any defects in hidden gas pipes or electric cables which could potentially be life-threatening.
Auditors are increasingly requiring surveyors to post red condition ratings in the sections of the report devoted to the building's services, even in cases where no significant defects are evident. The rationale behind this is that surveyors are not qualified electricians or plumbers and don't actually test the services.
When flagging potential issues, a good surveyor will take the trouble to give examples of any defects they've noted.
This sort of broader information that surveyors pick up on site can be invaluable and should be passed to your conveyancers to pursue in their searches. Another upside to this over-cautious approach is that it can add weight to re-negotiating a lower purchase price.
(MORE: How to Assess a Home for Renovation)
How Much Does a Building Survey Cost?
Paying for a building survey
Payment for surveys is always made in advance and you will be asked to sign standard RICS-approved terms of engagement.
How much you pay for a survey will depend largely on the purchase price, but also on the size of the property (the number of bedrooms) and its geographical location (London normally being the most expensive).
Prices can also depend on how busy the surveyor is and whether they need to charge VAT. As a rough guide, for a £300k house you might be looking at paying from around £375 for a HomeBuyer Report and between 50% to 80% more for a Building Survey.
How to Find a Building Surveyor
Look for a chartered surveyor with Royal Institution of Chartered Surveyors (RICS) qualifications. This will appear as MRICS or FRICS after their name, while related qualifications such as AssocRICS indicate surveyors at early career stages.
Not all surveyors specialise in surveys of residential property, so ideally you want an experienced, local 'building surveyor' operating independently or with a small firm.
Surveyors working for national target-driven corporate firms are generally more familiar with mortgage valuation work and are often under greater pressure to cram more jobs into the day with less time to discuss reports with clients.
Once you've found a suitable candidate be sure to mention that you're buying the property as a renovation project and flag up any particular concerns or questions, such as whether there's potential for a loft conversion.
Where your chief concern is serious cracking or structural movement, it can make sense in the first instance to appoint a structural engineer to focus solely on these issues. Look for 'chartered engineers' who have the letters 'CEng' after their name, and will also normally be members of either the Institution of Structural Engineers (MIStructE) or the Institution of Civil Engineers (MICE).
Specialist Building Surveys
Your surveyor should briefly explain the likely causes of any significant defects they've noted and also suggest possible solutions, along with likely future maintenance requirements. The survey report should, in effect, distil the property down to a handful of concerns, which may then need further investigation.
To explore specific issues in more detail and to obtain costings may require specialist reports to be commissioned, notably within areas such as electrical systems (opens in new tab) and drainage testing (opens in new tab).
(MORE: Drainage Surveys)
Other specialist reports to consider would be asbestos (opens in new tab), arboricultural (trees) (opens in new tab) and subsidence (opens in new tab)
Where your renovation mortgage lender also requires specialist reports before confirming the valuation, you may be able to combine exploratory surveys for added convenience.
If evidence of damp, beetle or rot has been identified by the surveyor, it is particularly important that they explain the likely causes and solutions rather than referring you to sales-driven timber and damp contractors prescribing 'precautionary treatments'.
Once you've secured the property, your surveyor should be able to assist in drafting a schedule of works to get the renovation project underway.
Chartered surveyor Ian is the author of eight popular Haynes House Manuals and is a director of Rightsurvey.co.uk (opens in new tab). He is also in the process of adding a large extension to his home.
Homebuilding & Renovating Newsletter
Get the latest news, reviews and product advice straight to your inbox.
Thank you for signing up to Homebuilding. You will receive a verification email shortly.
There was a problem. Please refresh the page and try again.