How to Renovate for Profit
Property developer Michael Holmes explains his top tips on renovating for profit, including what to look for in a property and what to prioritise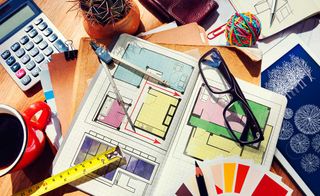 (Image credit: iStock)
Even if you intend to make your latest renovation project your home for life, you will still want to have made a profit at the end of the process. Fortunately, even the most ambitious of renovations can turn a profit if you follow these basic rules.
Property developer and author of Renovating for Profit, Michael Holmes, shares his top tips to prevent your project from becoming a money pit.
1. Buy the Worst House on the Best Street
If you are serious about renovating for profit, buy the worst house you can find in the best street that you can afford, as that gives you maximum scope to add value. In its current condition, the property is likely to put a lot of people off, and so the price should reflect that. As an individual renovator you can't influence an area or change the street, but you can completely transform the house and totally rebuild it if necessary.
Most of the profit is made in the purchase rather than what you do to it, so the price you pay is absolutely critical. What you want to do is buy a property that has potential that others haven't yet spotted and so you aren't paying a premium for the house. The chances are unless you are buying a big property, the potential margin for profit is relatively narrow, so you've really got to think about what you are doing.
2. Get the Essentials Right First
In terms of prioritising your budget, it's tempting to think that it's worth spending money on the kitchen, the bathroom, the decorating and the cosmetic finishes, but as soon as a valuer comes to the property they will see straight through those superficial things and look at the property itself.
So if you are working to a limited budget, I would always ring fence the money for the essentials first, to make sure the building is warm, dry and free of damp, and is a secure property. Do any mainstream maintenance work to the roof, along with any underpinning or stabilisation work, and if the property needs a rewire, make sure you get the rewiring done then. The last thing you want is to find the property needs rewiring throughout after you've just completely redecorated it.
3. Don't Get Carried Away
If you are renovating for the first time for profit, the biggest risk is thinking that this is fun, getting carried away with the project and starting to treat it as an interior design scheme and thinking about your own wishes and requirements rather than about the person that is going to be buying it.
You really need to be disciplined and think: who is going to buy this and what are they looking for? So do your research, go and look at what other developers are doing in your area, be very clear about who is likely to be buying properties in the area and make sure you design the property for them and not for you.
4. Add Central Heating
Adding or updating the central heating system will always add more to the value of a property than it costs. It is considered an essential by most buyers and mortgage valuers. Using a plumber to add central heating to an average three bedroom Victorian or Edwardian house will cost £3,000 to £4,000. Remember, too, that updating the heating system needs to be done alongside improving the general energy efficiency of the building.
Consider sealing any draughts around doors and windows (but not airbricks), replacing windows that are beyond repair with double glazing and adding insulation into the loft space.
If the existing boiler is in reasonable working order and has adequate output for the heat requirement of the building, try to make use of it, with the exception of boilers that draw their air intake from inside the house. If the boiler has sufficient capacity, you could add new radiators and a heated towel rail, or underfloor heating to the existing system.
5. Consider Remodelling While Renovating
Once you've looked after the basics of fixing the house and making sure it's structurally warm, dry and damp-proof, then focus on making the best use of your space. I always advise people to think about adding space in order of cost-effectiveness:
First, think about remodelling the space that you have already got. Can you achieve what you are looking for just by making better use of the space you have — recycling the space, and putting it to better use?
After that, I always advise people to try to convert space that has not been converted, perhaps the loft, a garage attached to the property, or a cellar that can be turned into living space.
Next, think about the possibilities of extending up because that's always cheaper than extending out, and you don't lose garden space. Then think about extending out the back, because that's most likely to be an opportunity with the property, or the sides. Very rarely, you can extend out the front.
The final two options, if you've explored everything else, are:
Extend down and create a basement, but that is expensive and is only likely to make sense if you live in a very high value area such as London or the south east
If nothing else works, you can usually add extra space at the bottom of the garden with an outbuilding.
6. Fix Superficial Defects
Small defects do not directly affect the value of a property. However, together they will prevent it selling at the optimum price. The following are typical defects that will put many buyers off, yet can be fixed by any competent DIYer:
Peeling paint
Squeaking or sticking doors and windows
Door latches that don't work
Mouldy sealants in kitchens and bathrooms
Dripping taps
Loose tiles
Sewer smells
Broken or damaged windows
Squeaky floors and stairs
Cracks to ceilings and plasterwork
Lifting flooring
7. Remember the 'Ceiling Value'
Bear in mind that there is a 'ceiling value' – a maximum value that any property can achieve – so you can't just go on adding space. At some stage when renovating you will be spending money that you will never get back.
The best way to identify the ceiling is to look at what other people have managed to get for their homes when they've sold and that information is freely available online; you just have to look at Rightmove or Zoopla. You can probably break the last highest price achieved by a little bit, but you are unlikely to get substantially more in the same street.
[MORE: How to add value to you home]
Get the Homebuilding & Renovating Newsletter
Bring your dream home to life with expert advice, how-to guides and design inspiration, direct to your inbox.
Michael is Homebuilding & Renovating's Director of Content, Vice Chair of the self build industry body, the National Custom and Self Build Association (NaCSBA), presenter of multiple property TV shows and author of Renovating for Profit (Ebury). He also runs an architectural and interior design practice, offering design and project management services. He is one of the country's leading property experts and has undertaken over 30 building projects including two self-builds and the renovation of a Grade-II listed farmhouse.
Michael has presented over 150 property shows for BBC, ITV1, Channel 5, UK TV Style, and Discovery RealTime, including I Own Britain's Best Home; Don't Move Improve; Trading Up; Good Bid, Good Buy; Build, Buy or Restore?; How to Build A House; and Hard Sell.
Michael is also a regular expert at the Homebuilding & Renovating Shows. He has written for leading British newspapers, including The Daily Telegraph, Sunday Times, Daily Express and The Independent and has appeared on news programmes such as BBC Breakfast.