9 Inspiring Budget Renovation Projects
By Daisy Jeffery published
Looking for inspiration for your renovation or extension project without it breaking the bank? We list some of our top projects completed on a tight budget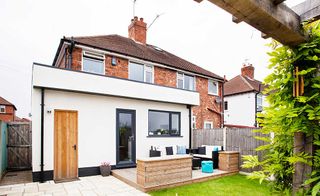 (Image credit: Clive Doyle)
When it comes to the majority of UK housing stock, renovation (opens in new tab) and extension projects (opens in new tab) are the most attainable home improvements for those homeowners on a budget.
Here, we take a look at some impressive examples of projects, from bungalows to terraces and remodels to extensions, completed on even the tightest of budgets.
1. A £35,000 Newsagents Remodel
Transforming a former newsagents into an energy-efficient home on a budget of just £35,000 was one couple's solution to get their foot on the property ladder.
Carrying out the majority of the work on a DIY basis, they were able to remodel the interiors and add a new timber first floor extension, delivered within their tight budget.
2. A £45k Terrace Renovation
Living in the property (opens in new tab) to save on rented accommodation, coupled with carrying out the work on a DIY basis, allowed the homeowners of this terraced property to remodel their home on a budget of under £45,000.
By stripping the house back to brickwork, they were able to add insulation to improve the home's thermal efficiency too and save on future running costs.
Need some ideas to keep costs down? Check out these 10 tips for renovating on a budget (opens in new tab)
3. A 1970s Bungalow Transformed
On a budget of just £38,000, one homeowner has taken a semi-detached bungalow from being a 1970s eyesore to a charming cottage-style home — and with all of the work carried out under Permitted Development, requiring no planning permission.
The red-brick exterior has been clad in render with new windows added throughout, while the interiors have been reconfigured for modern living.
4. A Budget Victorian Renovation
Over the course of five years, one family have lovingly restored their Victorian terraced home, including revealing the building's original features.
With no money set aside, the couple chose to save up and carry on with the each stage as and when they could, however in doing so have been able to complete the work for a budget of just under £37,000.
(MORE: How to Extend and Remodel Terraced Homes (opens in new tab))
5. A 1930s Home Extended for £40k
With their 1930s semi-detached home suffering from cramped, dark spaces, one couple have carried out an impressive remodel and contemporary rendered extension to create the light-filled family home they required — all for just £40,000.
The owners had the advantage of being able to design the house and kitchen themselves due to their respective jobs, while living in the house while work was carried out and thoroughly researching materials also contributed to their impressively low final costs.
6. A Bungalow Reinvented on a Budget
Thanks to a wrap-around extension and internal remodel, this 1930s bungalow now boasts open plan, light-filled interiors, has a better connection with the garden, and has consequently doubled in size — all for just £110,000.
7. A Thatched Cottage Renovated on a Budget
When the homeowners of this 16th-century thatched cottage bought the property, it suffered from damp (opens in new tab), the roof needed re-thatching and unsympathetic additions had been made to it over time.
On a budget of just £32,000, the couple have managed to restore the listed building to its former glory.
8. Transformed for Under £10,000
When one homeowner bought this Victorian terrace in Sussex, the layout was inefficient and the whole house needed renovating.
Thanks to shopping around online, calling in family contacts and keeping an eye on the budget (opens in new tab), the home now boasts built-in storage solutions, makes better use of the internal space, and even includes period features — all for under £10,000!
9. DIY Renovation of a Victorian Home
First-time renovators Henry and Holly Johnson have transformed a dark, dated and neglected Victorian property into a fresh, bright home for just over £46,000. Taking on the majority of work themselves (they only hired four trades throughout the entire project), the couple were able to complete their whole house renovation on a tight budget.
Daisy was Features Editor on Homebuilding & Renovating for more than five years and had a passion for all things design. She has since moved on to pastures new.
Homebuilding & Renovating Newsletter
Get the latest news, reviews and product advice straight to your inbox.
Thank you for signing up to Homebuilding. You will receive a verification email shortly.
There was a problem. Please refresh the page and try again.