How to Repair a Roof
Ailing roofs need not spell disaster for a renovation project. From slipped slates to sagging roof slopes, chartered surveyor Ian Rock explains what to look out for and what's involved in fixing common roofing problems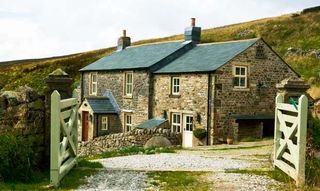 (Image credit: David Burton)
When it comes to the roof, it's common to find defects flagged up in Home Buyer reports and building surveys, which have a unique capacity to evoke dread. Even straightforward repairs that involve working at height can induce bouts of financial vertigo, brought about largely by the substantial sums to pay for scaffold hire.
Fortunately, the need for complete re-roofing is comparatively rare. There are, however, potentially serious issues that routinely crop up in surveys, most of which require urgent attention to prevent leakage causing deterioration to the structure. Here, we explain what to look out for, the repairs required, and the potential costs* involved.
*All figures are provided as a rough guide, and will vary depending on location.
Defective Pointing to Ridge Tiles, Hip Tiles and Verges
Identification
Defective pointing can be identified by:
gaps and loose mortar at the joints between ridge tiles (which run along the top of the roof), hip tiles that cap the 'corners' on hipped roofs, or to verges of gables or lean-to roof slopes
slipped ridge and/or hip tiles
missing hip irons (used to secure the tile at the bottom of the hip)
leaks and damp within the loft and to the upper roof timbers
Implications
While relatively minor defects, they're fairly common. If left unchecked, the ingress of damp could decay roof timbers. Storms may also dislodge loose ridge tiles with the potential risk of injury, too.
Remedial Work and Costs
Repair is a fairly straightforward task:
Eroded mortar joints need repointing = £28 for one tile, plus £10 per additional tile (add £10 if a new hip iron is needed).
Ridge/hip tiles which have come loose can be rebedded with a suitably stiff mortar mix = £36 per tile, plus £19 for each additional tile.
Verges tend to need localised pointing up with mortar = £32 per tile and £13 thereafter.
Another area to watch is Victorian slated hipped roofs to bay windows which may have hip roll joints in lead or zinc.
Slipped and Missing Slates and Tiles
Identification
It's not unusual to spot small gaps where one or two tiles or slates have slipped or cracked. In most cases, rain ingress is only likely to be a problem where several adjoining tiles/slates are missing (thanks to the courses of lapped tiles/slates underneath).
Most roofs built post-1950s also have a layer of underlay ('sarking felt') providing a secondary defence. Any wind-blown rain that penetrates under the tiles should be safely channelled down to the gutters.
However, older roofs were generally built without any underlay, and instead relied on a good flow of air ventilating the loft to waft away any resulting damp.
Implications
The odd dislodged or missing tile, is often caused by storm damage, or people walking on the roof for TV aerial/satellite dish installation. A missing tile/slate is not usually a critical defect, but repair shouldn't be left for too long, especially on roofs clad with larger interlocking tiles (with less overlap), and on older roofs with torn, sagging or non-existent underlay.
Gaps between adjacent tiles/slates near gable ends or party walls can also develop where the roof slopes have settled more than the walls. Spaces of up to 10mm either side of each tile are not normally significant, as the lapped tiles underneath cover the gap.
Remedial Work
If there are only a few slipped or missing tiles or slates, they can usually be refixed or replaced fairly easily. On shallow pitched roofs (common on 1970s properties), the underfelt can start to sag, diverting rainwater down wall cavities. This may mean the lower layers of underfelt need to be stripped, replaced and rebattened.
Tiles can be prone to localised defects such as broken nibs. Even long-lasting plain clay tiles can eventually start to erode and crack across the middle or 'spall' in layers. It's relatively easy to replace tiles because, unlike slates, they're typically only nailed every fourth or fifth course.
To remove a broken tile:
Lift the two tiles above it with wooden wedges.
Use a bricklayer's trowel to raise the damaged tile off the batten.
Carefully slide it out.
Ease a replacement tile in to its place.
Hook the nib over the batten.
Slate is a very durable natural material, but old fixing nails are prone to corrosion. Old slates can crack across their width and middle, or even start to delaminate (flake) in layers, too.
However, because each slate is nailed to a batten, and slate sizes vary, they are more difficult to lift out and replace. Slipped slates can be refixed using copper or aluminium alloy nails. Or, if just one or two are loose, then they can be secured using small folded metal clips known as 'tingles'.
Potential Costs
Replacing a broken tile/slate = about £26 with £9 for each additional tile/slate.
Refixing an existing tile/slate = around £60 for one to five tiles next to one another, plus hire of access equipment.
Note that small jobs like this are likely to attract an additional 'hassle-factor' price premium.
Sagging Roof Slopes
Implications
Slight settlement is not usually a problem; it's fairly common next to gable ends and party walls where the rafters have settled more than adjoining masonry. If the structure is satisfactory and there's no leakage, a fair amount of historic settlement can be acceptable.
On the other hand, in more severe cases a structural engineer may need to be consulted and remedial structural work undertaken. These causes include:
Overloading — 'dishing' may be the result of past recladding with heavier modern concrete roof tiles/slates without first making sure to strengthen the roof timbers.
Weak roof timbers — rafters may have been undersized or spaced too far apart when the house was originally built. Or, they may have been cut (eg. for the botched installation of a rooflight) without the rafters being strengthened.
Roof spread — the rafters have pushed outwards causing the top of the wall to bulge, which means that the rafters may sink and cause the roof to dip in the middle.
Rotten or beetle-infested timbers — this is usually due to long-term leakage and poor ventilation.
Remedial Work
Overloaded or weakened roofs can be repaired by installing additional purlins and struts to improve support. This is fairly simple carpentry and shouldn't be too expensive, providing that access is reasonable.
If sagging is due to settlement to supporting internal walls below, then the walls must be stabilised.
With roof spread, the ceiling joists normally act as collars restraining the rafters from pushing the walls outwards, so new collars may need to be installed or tie rods inserted through the upper walls.
Rotten timbers can be cut out and new timbers spliced alongside (or bolted with metal plates). The source of leakage must be fixed and ventilation improved to disperse moisture.
Slates or Tiles Nearing the End of Their Life
Top tip
Handmade clay tiles or stone slates can last 250 years or more compared to around 70 or less for some types of concrete tile.
Identification
If 10 or more tiles per slope are damaged or missing, the roof is likely to be nearing the end of its useful life and will need stripping and re-covering. With slate roofs, look for similar numbers of loose slates that have been refixed with small metal 'tingles'. In the loft, there may be damp smells and localised staining from water ingress.
The longevity of a roof covering depends on the quality and age of the material, and the degree of exposure. The lifespan of traditional roof coverings is generally superior to later manufactured materials.
Old tiles and slates can absorb water which then freezes and expands. White powdery salts under the tiles can indicate erosion and the projecting nibs at the top of each tile can break. In older slate roofs, the undersides of slates can be checked for signs of softening and flaking.
Implications
The need for complete re-covering is rare, but is a major undertaking. Surveyors can sometimes be guilty of erring on the side of caution, so get a second opinion before major works. The urgency of this task will also depend on the extent of the deterioration.
It's worth noting that some roofers may be tempted to utilise inferior, cheaper materials when recladding older roofs. Like-for-like repairs are preferable on natural clay and slate roofs.
On 20th-century homes, asbestos-fibre artificial slates and tiles are fairly rare, but likely to incur additional costs for stripping and disposal.
Remedial Work
The roof should be stripped down to the rafters, new breathable underlay installed, rebattened and finally re-covered. With natural slate or clay tiles, it is often possible to salvage and reuse at least 50 per cent of the originals (reducing the cost of repair).
Swipe to scroll horizontally
| | |
| --- | --- |
| Remedial Work Required | Labour and Materials** |
| Strip roof of tiles/slates, battens and felt | £18/m² |
| Refelt, batten and re-tile/slate stripped roof using new tiles/slates: | Row 2 - Cell 1 |
| Plain clay tiles | 105/m² |
| Natural slate | £151/m² |
| Interlocking concrete tiles | £44/m² |
| Artificial slate | £106/m² |
| New ridge/hip tiles | From £70/m² |
| Verges/undercloak pointed | From £10/m² |
| Double eaves courses pointed | From £14/m² |
**Approximate cost including VAT.
Defective Flashing
Identification
Cracking can develop where roof slopes abut dormers, parapet walls and subsidiary roofs, or around objects such as chimney stacks and internal soil pipes that are projecting through the roof. The resulting leaks and damp patches can be seen in lofts, ceilings, walls and chimney stacks.
Lead flashings are very durable but can sometimes come loose. More rarely, old lead or zinc flashings may have split or corroded. Mortar fillets are a cheap alternative to lead and are particularly prone to cracking. Short-life tape repairs may even have been applied, or flashings painted to temporarily seal leaks.
Implications
These sorts of defects are a common cause of leaks in older properties or extensions of poor-quality construction. Over time, ingress of damp may have caused adjoining timbers to rot, and urgent repair is normally required to prevent deterioration.
Remedial Work
Such issues are not too difficult to fix, although replacing any decayed timbers will add to the complexity and cost.
Defective flashings should be replaced with new leadwork. Lead is the best material to use. Although relatively expensive, the cost can be mitigated by recycling the valuable old lead. Where a flashing has simply come loose, it may only need localised refixing.
Roofs on terraced houses can also suffer leaks where they meet at party walls. This tends to be worse where each house has a different type of roof covering. In this case, localised stripping will be required with the provision of sheets of lead (soakers) under the joints, or new flashings at parapets.
Replacing Valleys
Valleys are the junctions between two adjoining roof slopes which allow rainwater to run to the guttering. Valleys made with preformed tiles are relatively robust and any defective tiles can be replaced. Traditional open valleys have exposed linings which can, however, deteriorate over time. Furthermore, on roofs clad with large interlocking tiles, it's also common for the mortar upstands either side to crack and come loose. They may simply need pointing up. Alternatively, valleys can be relined using preformed valley trays of glass-reinforced polyester.
With older roofs, replacing traditional leadwork with matching new materials is advisable. Although lead is a more expensive material, it's worth noting that labour and access account for the majority of the job cost. To replace a defective lead or zinc valley on a typical Victorian slate or tiled roof:
The old lining is stripped back.
The timber base is checked to see if it's in sound condition.
The old lining can then be replaced with new strips of code 4-thickness lead turned back and raised up at the edges (maybe laid in several lengths overlapped by a minimum 150mm).
A thin layer of fibrous material is inserted between the lead and the valley board (such as breathable membrane roofing felt — but not mineral felt).
The lead is finally fixed in place with copper nails hidden under the overlaps.
Typical labour costs will be about £250, with materials (lead sheet and a few tiles/slates) costing around £200 — plus the hire of the access/scaffold tower.
Butterfly Roofs
Many Georgian and early Victorian townhouses have hidden 'butterfly roofs' with a central valley, or gutters concealed behind a front parapet wall. Being out of sight, they are prone to neglect, blockage and leakage.This often results in significant expense as they commonly require relining in new leadwork, with rotten support timbers replaced. Parapet walls above the main elevations can be prone to collapse and should be tied to party walls and the roof structure behind.
Scaffold Hire and Costs
The cost of scaffolding and access equipment hire needs to be added to the approximate prices for any of the jobs outlined in this piece.
Scaffolding per main elevation/roof slope, including erecting and dismantling = from £450 for four weeks
Mobile scaffold towers up to 6.2m high for small DIY repairs = £200 per week
Roof ladders for upper sloping roofs = £70 per week
It's important to note that the Work at Height Regulations restrict the use of ladders to light, low-risk work only — which rules out most roofing repairs on two storey properties or higher. This can make small jobs relatively expensive.
Get the Homebuilding & Renovating Newsletter
Bring your dream home to life with expert advice, how-to guides and design inspiration, direct to your inbox.
Chartered surveyor Ian Rock MRICS is a director is Rightsurvey.co.uk and the author of eight popular Haynes House Manuals, including the Home Extension Manual, the Self Build Manual and Period Property Manual.
Ian is also the founder of Zennor Consultants. In addition to providing house surveys, Zennor Consultants provide professional guidance on property refurbishment and maintenance as well as advising on the design and construction of home extensions and loft conversions, including planning and Building Regulations compliance.
Ian has recently added a 100m2 extension to his home; he designed and project managed the build and completed much of the interior fit-out on a DIY basis.