Old Timber Frame Buildings: Repair and Maintenance
By Claire Lloyd published
It can be an incredibly rewarding experience to take on the renovation of a timber frame home. But what is involved when it comes to repair and maintenance?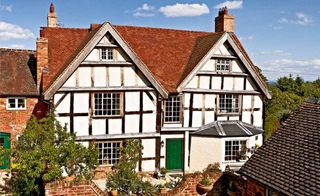 (Image credit: Jeremy Phillips)
Taking on the renovation of an old home can be an incredibly rewarding experience. When it comes to period timber frame homes, like this beautifully renovated 16th-century cottage (pictured above), the frame itself requires its own suite of repairs and remedial actions.
For those timber frame homes which have not been clad with brick or lime render, the exposed timber has likely taken some battering from the elements over the centuries — and in recent years, may have been covered by inappropriate modern materials. These timbers may, therefore, be in need of some repair.
Potential Issues
Rot and structural defects are the source of most problems. However, both are often interlinked; rot can render timber unfit for purpose, and so too can beetle or woodworm infestation, which thrive in damp wood.
Rot can also just impact the exterior weathering face, with the timber behind remaining solid and undamaged. So, identifying the cause of the problem is essential before treating the effects and making repairs.
Moisture can become trapped within timber in different ways:
'Shakes' on the exterior – splits which can develop along the grain as timber dries out – do not typically compromise the structural integrity of the frame, but can lead to water ingress
Timbers which were originally installed with the grain running at an angle can be problematic. Rain can expose the grain here, causing ridges to form, and rainwater can become trapped within the undulating surface
Soil levels or interior floors can also build up, over the centuries, over the sole plate (the timber nearest the ground — more on this later), causing it to become damp and/or begin to rot
Another cause of decay over the last half century or so, has been the use of modern, synthetic materials in 'repair work'.
Wood allows moisture and humidity to pass freely through — it's a breathable building material. By contrast, modern building materials such as cement render and synthetic paints are impermeable and do not allow the timber to breathe.
Undertaking Remedial Work
If you (or your building surveyor) have identified potential issues, then sourcing a skilled carpenter, master craftsperson or period building specialist with expertise and previous experience in this area, is a priority.
Choosing the right company is key to the building's future — as inappropriate repairs, like the use of cement mortars, will only serve to exacerbate existing problems.
First, the builder must analyse how the house has been put together. No two old timber frame homes are the same; not only did timber frame design evolve over the centuries, but many buildings have been added to and extended over the years, sometimes with key structural timbers cut without adequate support given to the frame. So, it is important to establish how the weight is distributed.
A key part of this initial process is identifying whether repairs are required to return the frame back to a structurally sound condition. It is only once the frame is structurally sound that major jobs like replacing a sole plate can be tackled.
Repairing Sole Plates
Sole plates – also known as cill plates – refer to the timber at the base of the frame, which typically rests on a plinth wall. The vertical timbers (the posts and the studs) are tenoned into a sole plate, which plays a vital role in supporting the frame.
They are usually the first elements to require repair as they're closest to the ground.
In some instances, only sections may need cutting out; in others, an entire sole plate could be in need of replacement. This task typically involves propping up the frame and removing a couple of courses of the brick plinth to allow a new sole plate (typically in air-dried timber) to be inserted on a bed of lime mortar.
Repairing the Exterior of the Frame
Another area which can require attention is the exterior of the frame. Rotten sections can be removed and sensitively repaired with new air-dried timber (as below). As with all repairs, the same timber species should be used; this can be spliced in by means of a scarf joint. Even new mortise and tenons joints can be crafted where structural repairs are a necessity.
New timber can also be spliced in to fill large shakes, or these can be filled with lime mortar and a limewash applied as a finish (any previous 'repairs' made with cement mortar should be removed).
Heritage House offer a popular caulking repair kit too, consisting of oakum – a breathable hemp fibre, soaked in Stockholm tar – as another option.
Repairing 'Painted' Timber
It's with some irony that the 'black and white' timber frame houses which we've now come to recognise as part of the vernacular of counties such as Herefordshire, Worcestershire and Shropshire, are not as 'historic' as we may think. Timber frames were not originally painted — it was later occupants of these historic buildings who coated the timbers in black.
The use of black plastic-based paints is, however, bad news for timber. Worse still, some frames (often agricultural buildings) were covered in bitumen; once believed to be a good means of waterproofing. But this impermeable layer can instead trap moisture and again lead to rot.
Aside from allowing the coatings to weather off, there are a couple of approaches which can be taken:
The first (but perhaps least favourable) is via the application of chemicals which cause layers of paint to peel off.
Airwashing is the main option. Sandblasting can be too abrasive, with air pressure being a gentler means of removing paint without damaging the timber. Again a specialist is key here.
Repairing Infill Panels
Infill panels can impact on the frame, too. Where wattle and daub panels failed, they were often replaced with heavier materials such as brick. However, the added weight of brick may cause the panel to bulge and cause the frame to rotate outwards where the frame was not strengthened to support it.
This can be all the worse when an inflexible material, such as cement mortar, is used rather than flexible and breathable lime mortar. It will inevitably crack and the only solution is to start again.
If replacing like-for-like, or repairing original wattle and daub, the finish applied is key: Use a breathable limewash outside. Internally, breathable clay paints are recommended.
Ongoing Maintenance
With an old timber frame home it's important to have a one-year, five-year and 25-year schedule of works.
The Society for the Protection of Ancient Buildings (SPAB) offers a good technical helpline if in doubt of how you should proceed.
Thanks to: Edward Parry, a Shropshire-based builder specialising in restoration work, Pete Ward of period buildings specialist Heritage House, and Barry Mulford of B Mulford Historic Carpentry, for their tips and advice in this article.
Claire is Editor of Homebuilding & Renovating and has been a member of the team for over 13 years. An experienced homes journalist, her work has also appeared in Real Homes and Period Living magazines. She has a particular interest in green homes, and interior design is also a passion; she has undertaken qualifications in this area. Claire has recently finished her renovation project — and is now onto the next.
Homebuilding & Renovating Newsletter
Get the latest news, reviews and product advice straight to your inbox.
Thank you for signing up to Homebuilding. You will receive a verification email shortly.
There was a problem. Please refresh the page and try again.