7 Things You Should Never Say to Your Builder
By Sarah Handley published
A good relationship with your builder is crucial to a successful project. Here are seven things you should never say if you want to keep on good terms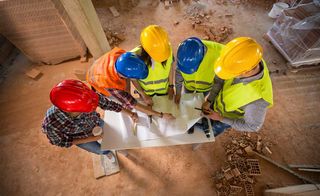 (Image credit: iStock)
Building your own home can be a complicated process in itself, so you'll understandably want to sidestep anything that could potentially add confusion, ambiguity or drama to your self build or renovation project.
Therefore once you've managed to find a builder, make sure you avoid these phrases when communicating with them and you'll be another step closer to a pain-free (and drama-free) project.
1.
The best guarantee of success is to not change your plans mid-project. Changes will cost time and money as well as potentially knocking the rest of your project off schedule. Take your time to really think through all your design and material choices before you start the project to save yourself (and your builder) any unnecessary hassle down the line.
2.
If you're not in a rush then you're unlikely to be a priority job for your builder. To prevent your builder from taking on other jobs in the meantime, and to ensure they dedicate their time to you, you need to communicate timelines before work begins and set expectations for completion times.
3.
On the flip side, if you want a job to be done as soon as possible then you face a delicate balancing act. While some trustworthy builders might be able to fit you in quickly, reputable builders generally shouldn't be available on the day, or the day after you talk to them.
If your builder can start tomorrow, there's a good chance they have no other work on, which should make you question why exactly that is.
4.
It's your project, and you are ultimately in charge and all builders and subcontractors will take their lead from you, so make sure you know exactly what you want and can articulate that to the various parties involved.
Loosely drawn plans lead to ambiguities when calculating how to pay a builder and can result in nasty surprises on site, neither of which makes for a happy project manager (or builder). Again this could set your project timescale off kilter and make it incredibly difficult to stick to a budget.
5.
Of course, if you are after expensive, bespoke items for your project then it is completely acceptable that your builder will ask you to pay for these items as he will be unable to sell them on if you choose not to use them.
When it comes to general building materials, pay on time, yes, but never pay up front. Builders don't pay their labour in advance and they get credit from their suppliers. If they can't and they're asking you to pay upfront for these general items, then there's something wrong and alarm bells should ring.
6.
It doesn't have to be a huge legal document, but it's definitely worth getting the details of your agreement with your builder down on paper. It'll take a bit of time at the beginning of the project, but if things do start to go wrong, that contract will be worth its weight in gold for all involved.
7.
Will the builder turn up when expected? Will the project be finished on time and budget? Will the builder be able to complete the task to the required standard? Every builder will answer yes to all of these questions, but if you've not worked with them before, are you willing to stake the success of your project on their word?
Make sure you arrange to see your builder's previous clients and ask questions, as well as assessing the work itself. That's the best recommendation you'll get!
Sarah is Web Editor of homebuilding.co.uk. She began her career more than a decade ago, working on the editorial team of Public Sector Building magazine, before joining the wider Homebuilding & Renovating team as Social Media Editor in 2012. Since purchasing her first house in 2015, Sarah has been adding to the ever-increasing list of home improvements she needs to make; including extending over the garage, resurfacing the driveway, replacing existing flooring and revamping the kitchen. Fortunately, in her eight years on Team Homebuilding, including three as web editor, she is not short on design inspiration or top tips to tackle or project manage these tasks herself.
Homebuilding & Renovating Newsletter
Get the latest news, reviews and product advice straight to your inbox.
Thank you for signing up to Homebuilding. You will receive a verification email shortly.
There was a problem. Please refresh the page and try again.