14 Amazing Kitchen Remodel Ideas
By Amy Reeves
The kitchen is the heart of the home and making sure your remodel works for you and your lifestyle is paramount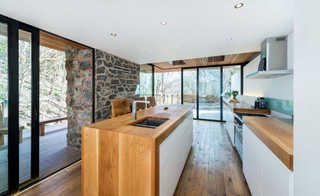 (Image credit: Jeremy Phillips)
For many remodellers and renovators, a smart kitchen design is the motivation behind it all. The hub of the home and the most social space around, a well thought-out kitchen can transform your family lifestyle and way of living. 
We've compiled the best kitchen remodels and renovations to provide you with the inspiration that will make sure you get the most out of your redesign.
(MORE: Get a quote for your new kitchen)
1. Loft-style Cooking and Dining Areas
A great example of a remodel truly working in tandem with family life is this American-inspired kitchen-diner design. The exposed brick wall and contemporary use of space means there are no wasted areas between 'zones'.
2. Split Level Spaces
Definition in zoning can be created by having the kitchen just a small step down from other areas like in this contemporary kitchen design. Old and new spaces are separated by steps as the living area leads down onto the garden.The modern design sits comfortably against the exposed stone walls of the 17th Century walls.
(MORE: Get a quote for your new kitchen)
3. Moving the Rooms
When this outdated house was remodelled, the old interior garage was replaced with a brand new light-filled kitchen. Staples of a contemporary kitchen - cement flooring and stainless steel worktops and appliances - complete the minimalist look of the cupboards.
4. Keep it Country
The sad and tired 1970s kitchen of this listed cottage was ripped out and replaced with a homely and timeless cooking area that oozes charm and suits the character of the house while still being up to date with the latest mod-cons.
5. Contemporary Design with Natural Materials
Simple lines and minimal materials give a slight nod to Scandinavian inspiration in this modernist kitchen design. The sink, tap and extractor are no-fuss while the stone, wood and glass surrounds take centre-stage.
(MORE: Get a quote for your new kitchen)
6. Broken Plan Layout
After the long love affair with open plan living spaces, a new desire for semi-sectioned off areas has taken its place. This remodelled 1930s Bauhaus home uses a partition between the kitchen and living room but an interior window makes sure the space is still social.
7. Adding Appliances
High-tech appliances scattered through this orangery-style kitchen mean that while traditionally laid out, the space remains contemporary and practical. The family budgeted for the quality of appliance so fitting out their kitchen didn't break the bank.
(MORE: Get a quote for your new kitchen)
Technology Integration
Re-doing your kitchen is something that might only be done once every 20 years and, although we don't recommend leaving it quite that long, when you are designing it you might want to fill it full of all the technology the fast-growing market has to offer. 
From temperature-zoning wine chillers to fridges that remind you what's nearing the end of its use-by-date — for every simple kitchen appliance that just does the job, there's another linked to a smartphone app that will do it before you've even got home.
8. Bi-fold Doors
A favourite for installation in kitchen-diners with an exterior wall, bi-fold doors provide for a seamless finish to a modern kitchen. Matched with a unique new twisted ceiling, these doors fold beside the wall to create a truly special space.
9. Mood Lighting
Lighting this small kitchen inside a remodelled terrace has been cleverly installed between the built-in cabinets so no space is left dark and wasted. The warm hue of the spotlights complements the stainless steel worktop and give a homely atmosphere to the contemporary style.
10. On a Budget
Replacing the old 1960s kitchen units with new ones from Howdens was the most extravagant expense in this remodelled terrace house kitchen. The oak worktops were found online and the homeowners shopped around for appliances to keep costs down and the entire house was completed remodelled for just £45,000.
11. Take it Back in Time
Rather than striving for a contemporary style that could go out of date in the decade, this family chose to remodel their kitchen (and home) inspired by traditional Tudor dwellings. Beatutiful natural wood worktops and a clay tile floor complete the look effortlessly.
(MORE: Get a quote for your new kitchen)
12. Open Spaces for Natural Light
Victorian terrace houses are plagued by awkward spaces and a rabbit-warren feel with little natural light but this terrace-turned-office-turned-modern home was no different. After knocking down the walls between the kitchen and old scullery - although the chimney breast remains - the natural light introduced by the rooflight flows throughout the kitchen.
Knocking Down Walls
Making the kitchen the most important room of the house is the goal for many renovators and remodellers. A social space can be maximised by having an open plan layout, but if you're thinking about knocking down supporting interior walls, costs beyond the demolition should be taken into consideration - this by itself can make up a huge amount of a budget. 
The lack of wall space also means the kitchen has to make up for the lost storage areas elsewhere. Perhaps units and larder cupboards that were previously fixed on three walls might only reside on one, and if you have free-standing furniture the lack of leaning space might disrupt how you want to present the style.
14. Mix and Match Materials
This beautiful kitchen is not afraid of using a multitude of well-designed materials to create structure and spacing. Quirky and thought-out, this style means there is separation between the cooking space and living area in this large room. 
Get a Quote for Your New Kitchen
Homebuilding.co.uk partners with the UK's best kitchen specialists to match your requirements with their services. 
Simply answer a few questions on what you need from your kitchen and we'll put you in touch with a suitable partner.
How It Works
1. Enter your details below. Tell us a bit about your project and what you are looking for, and leave some contact details.
2. We search our database. We'll match your requirements with the products and services that our partners offer.
3. Partners will contact you. Don't worry about being bombarded - only the suppliers that match your requirements will contact you.
Homebuilding & Renovating Newsletter
Get the latest news, expert advice and product inspiration straight to your inbox.
Thank you for signing up to Homebuilding. You will receive a verification email shortly.
There was a problem. Please refresh the page and try again.