Kitchen Remodel Ideas: 20 Inspiring Ways to Revamp Your Space
By Amy Reeves published
Our selection of amazing kitchen remodel ideas will inspire ways you can revamp, renovate and update your space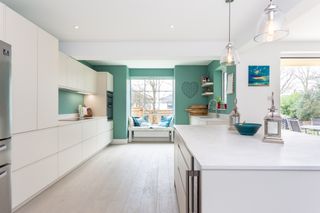 (Image credit: Rational)
Kitchen remodel ideas will go a long way to inspiring how you change or update your current space, whether you're taking on a renovation project, or a kitchen extension.
You'll want to get the best from your kitchen design so we've pulled together some of the best kitchen remodel ideas for you to help you get the best from your redesign.
From how you work in a kitchen island to being budget savvy with your kitchen remodel, to ways to incorporate kitchen lighting ideas or patio doors, we've got all areas covered in this guide to kitchen remodel ideas.
Kitchen Remodel Ideas Must Strike the Right Balance
It can be tempting when taking on a kitchen remodel to overfill the space. So try not to cram in an island, dining table, sofa and TV if everything will feel on top of each other. It'll make the kitchen remodel feel cramped and overcrowded so consider your kitchen design carefully.
This design by Trend Interiors Bedrooms, Bathrooms and Kitchens shows how you can balance the kitchen space with an area to eat, cook and relax. A fresh cohesive colour palette helps tie this open-plan space together.
(MORE: How to Remodel a Kitchen)
Make a Kitchen Feel Bigger When Remodelling
When taking on a kitchen remodel there are tips and tricks you can employ to make the space you have feel bigger.
Mirrors can work wonders — and they don't have to be obvious. In the kitchen pictured above, mirrors cleverly added to the back wall up above the kitchen units cleverly reflect the beams above and give the impression there's more space beyond the back wall of the kitchen making the space feel much bigger than it is.
Reflective surfaces, without going too overboard, can help bounce light around the kitchen to make it feel brighter and bigger, too.
(MORE: Kitchen Layout Ideas)
Add a Statement Worktop as Part of a Kitchen Remodel
If you want to make a real style statement when undertaking a kitchen remodel then choosing a wow-factor kitchen worktop or side/end panel can spice up a space no end. Think chunky marble or striking onyx for a kitchen island, as in the example pictured in Cappuccino onyx from Cullifords (opens in new tab)above.
Even if your kitchen space isn't on the roomy side, you can still opt for a statement worktop or end panel. Just be conscious of how it'll impact the overall space because you can't hide it once it's in!
Choose a Kitchen Island When Remodelling
When remodelling a kitchen it does give you ample opportunity to think about the layout and adding a kitchen island can bring another dimension to the space. The key is to get the balance of an island right with the rest of the remodel. If space is at a premium incorporate a small dining island onto the end of an existing run of worktops at a lower height so that you can place dining chairs under it. A design with soft, rounded edges, will happen soften a space and is a great option if you have small children.
If you're making more space as part of your kitchen remodel, then opt for an island that does it all – integrated appliances, space to sit and entertain and ample storage.
(MORE: Kitchen Island Ideas)
Budget Savvy Kitchen Remodel Idea
Combining high-end elements with more cost-effective features is a great way to achieve a unique kitchen remodel without letting the budget run away from you.
The homeowners of this Victorian terrace undertook a whole house renovation and the kitchen formed the basis of the whole project.
They wanted to create a multi-functional room that didn't break the bank so chose plywood for the in-frame bespoke cupboards – from The Main Company (opens in new tab) – while the Douglas Fir flooring was reclaimed.
Incorporate a Larder in Your Kitchen Remodel
One on-trend feature for kitchens this year has been the larder — although it's a classic so incorporating it into your remodelled kitchen design won't really ever mean it's particularly off-trend!
Larders are a great addition to any kitchen remodel, whether you've large amounts of space or not. There are slimline models which mean you can add in a small version for tins and dried goods or larger designs for bigger kitchens that can include space for crockery as well as food.
The larder in this picture is a pre-loved Mark Wilkinson pantry unit, an example from Used Kitchen Exchange (opens in new tab).
(MORE: Second Hand Kitchens)
Focus on Flooring When Remodelling a Kitchen
It's amazing how updating flooring can really transform a room. From the warmth of engineered wood to punchy patterned vinyl, researching flooring as part of a kitchen remodel is definitely worth doing.
It's a chance to bring an open-plan kitchen space together or an opportunity to add some personality and colour to the room with something like this patterned Kansas Bronson Lively Vinyl Flooring from Lifestyle Floors (opens in new tab).
(MORE: Types of Flooring)
Futureproof a Kitchen Remodel with Smart Technology
Smart home tech is a must-have for futureproofed kitchen remodels. Whether it's something simple like a voice-activated speaker or full house automation, smart home tech can make daily life that little bit easier.
This smart kitchen includes a single point of connectivity to control all aspects of modern lifestyles — from lighting and music, to unlocking doors and heating the room.
(MORE: How to Design a Smart Home)
Design a Kitchen Remodel Around Quirky Features
A great example of a remodel truly working in tandem with family life is this American-inspired kitchen-diner design. The exposed brick wall and contemporary use of space means there are no wasted areas between 'zones'.
Create Split Level Spaces for a 'Broken Plan' Kitchen Diner
A change in level between kitchen and living area can really help zone an open-plan space, as this London terrace remodel and extension shows.
Design and build company Patrick + Rosie (opens in new tab) suggested to the homeowners that digging down would give extra ceiling height in the new kitchen space, while old and new spaces feel connected yet zoned from each other.
(MORE: Open Plan Kitchens)
Reposition the Kitchen when Remodelling
When dealing with an existing home, it is tempting to only think in terms of the current layout, but rethinking the spot your kitchen resides in can be transformative.
Does the front of your house get the morning light when busy family members fill the room, or will the back provide the ultimate link from the kitchen into the garden spaces?
When this run-down cottage was remodelled and extended by Amy Jones (founder of Greta-Mae Interiors (opens in new tab)), she and partner Bryn chose to reposition the kitchen from the dark back of the house to the vista-facing front.
A Country-Style Kitchen Update in the City
When renovating her second-storey flat, Pippa Jones expressed her love of 'cottage-core' through her kitchen design. Timeless shaker kitchen units were paired with a Belfast sink while a modern colour palette roots the space in the present.
She also lifted the ceiling as part of her kitchen remodel and loft conversion/extension project — the tall ceilings now add volume and drama to this room.
Use Natural Materials for a Timeless Kitchen Remodel
Simple lines and minimal materials give a slight nod to Scandinavian inspiration in this modernist kitchen design. The sink, tap and extractor are no-fuss while the natural materials – stone and wood – and view beyond take centre-stage.
Introducing High-Tech Appliances
High-tech appliances scattered through this orangery-style kitchen mean that while traditionally laid out, the space remains contemporary and practical. The family budgeted for the quality of appliance so fitting out their kitchen didn't break the bank.
Technology Integration
Re-doing your kitchen is something that might only be done once every 20 years and, although we don't recommend leaving it quite that long, when you are designing it you might want to introduce some elements of technology that this fast-growing market has to offer.
From temperature-zoning wine chillers to fridges that remind you what's nearing the end of its use-by-date — for every simple kitchen appliance that just does the job, there's another linked to a smartphone app that will do it before you've even got home.
Include New Patio Doors in a Kitchen Remodel
A favourite for installation in kitchen-diners with an exterior wall, bifold or sliding doors provide for a seamless finish to a modern kitchen.
Matched with a smoked glass splashback to reflect the light, these doors fold beside the wall to create a truly special indoor-outdoor space.
Think About Lighting Small Spaces in a Kitchen Design
Every inch of this remodelled kitchen in a terrace home has been put to good use, including the workspace and sink area, nestled between built-in cabinets.
The warm hue of the spotlights complements the stainless steel worktop and give a homely atmosphere to the contemporary style.
Remodelling a Kitchen On a Budget
Replacing the 1960s kitchen with new units from Howdens (opens in new tab) was a key part of this kitchen remodel.
The oak worktops were found online and the homeowners shopped around for appliances to keep costs down. The entire house was completed remodelled for just £45,000.
Choose Classic Cabinets for an Elegant Kitchen
Rather than striving for a contemporary style that could go out of date in the decade, this kitchen embraces traditional styles that will never tire.
Pale blue and white shaker units with brass cup handles and fixtures complete the look effortlessly.
Add a Great Lighting Scheme
From natural light infiltration and an ambient glow provided by the LED strips under the cupboards to plenty of downlights and statement pendents — this kitchen has got every aspect of a good lighting design covered.
Victorian terrace houses are plagued by awkward spaces and a rabbit-warren feel with little natural light, but this terrace-turned-office-turned-modern home was no different.
After knocking down the walls between the kitchen and old scullery - although the chimney breast remains to zone the spaces – a contemporary flat rooflight was added.
Knocking Down Walls to Remodel a Kitchen
Making the kitchen the most important room of the house is the goal for many renovators and remodellers. A social space can be maximised by having an open-plan layout, but if you're thinking about knocking down internal walls, costs beyond the demolition should be taken into consideration — this by itself can add considerably to the budget.
The lack of wall space also means the design has to make up for the lost kitchen storage opportunities. Perhaps units and larder cupboards that were previously fixed on three walls might only reside on one.
Zoning a Modern Kitchen Remodel
This beautiful kitchen is not afraid of using a multitude of well-designed materials to create structure and spacing. Quirky and thought-out, this style means there is separation between the cooking space and living area in this large room.
Partial room divides help zone this kitchen in this large living space.
Assistant Editor Amy began working for Homebuilding & Renovating in 2018. She has an interest in sustainable building methods and always has her eye on the latest design ideas. Amy has interviewed countless self builders, renovators and extenders about their experiences for Homebuilding & Renovating magazine. She is currently renovating a mid-century home, together with her partner, on a DIY basis, and has recently fitted her own kitchen.
Homebuilding & Renovating Newsletter
Get the latest news, reviews and product advice straight to your inbox.
Thank you for signing up to Homebuilding. You will receive a verification email shortly.
There was a problem. Please refresh the page and try again.