House Renovation Costs: How to Keep Your Project on Budget
House renovation costs have the potential to be unpredictable and can spiral out of control — our guide will ensure you know what to expect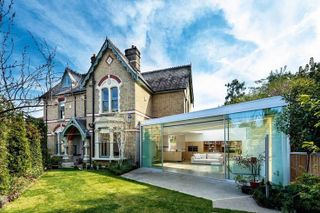 (Image credit: Simon Maxwell)
You've fallen in love with the wreck of your dreams — but don't forget to think about the house renovation costs. Without knowing what you might be walking into you risk buying a property that could end up costing more than you can afford to restore.
Houses in need of renovation are often in high demand, meaning that they commonly end up going to sealed bids or best and final offers, often selling for well over their asking price. Although it can be tempting to be the highest bidder, knowing what the house is likely to cost you in order to transform it into the home of your dreams will mean you won't end up paying over the odds.
Our guide is here to break down the individual elements associated with renovation projects — and also includes a list of the hidden costs that often trip people up.
While all renovation projects are different, there are usually common themes and jobs that need undertaking, so these are what we have focused on here.
Damp Treatment Costs
One of the first things people renovating a house tend to be faced with when inspecting their new project is damp.
While this is nothing to panic about, knowing what type of damp you have and how to treat it will allow you to work out how much it will cost to put right.
You can read all about it in our how to treat damp guide.
How Much Does it Cost to Insulate a House?
Old houses were often poorly insulated by today's standards and by draughtproofing and adding in extra insulation you will find yourself with lower heating bills and less of a need to pile on the jumpers once winter rolls around.
However, before you begin adding in insulation it is important to understand how old buildings work — houses constructed before around 1919 often feature solid walls of soft, permeable materials. They are unlikely to include vapour barriers or damp proof membranes, instead relying on natural absorption and evaporation — or breathability.
Any work you undertake to your renovation project should maintain the breathability of the building's fabric. You can read all about how to insulate an old house and how much this is likely to cost in our guide.
Cost of Rewiring a House
There are few properties in need of modernisation that don't require rewiring. Tell-tale signs that your renovation needs rewiring include:
Old rubber insulated cabling
Fabric insulated cabling
Lead insulated cabling
A dated consumer unit with no circuit breaker or residual circuit devices
If you are concerned about exactly how much rewiring is going to cost, you could ask a qualified electric to carry out a survey even before you have exchanged on the property. You can expect fees of around £100-£150 for this kind of survey and report — although a full electrical survey is more likely to cost around £240-£350.
Although the cost of your rewire will depend on the size of your house, access issues, unforeseen complications and the specification you are aiming for, an average cost of £3,500 for a three-bed semi is common.
How Much Does a New Plumbing System Cost?
Not only will replumbing a renovation project add value to your home but it will also ensure you can install a system that is suited to your lifestyle, your energy usage and the new demands that extra bathrooms or modern fittings are likely to entail.
Although there is a chance that you might find that the heating has recently been updated, new radiators may still be required as old radiators usually suffer from cold spots caused by a build up of sludge. Alternatively you might wish to add underfloor heating — which will add further to costs.
Whatever your plans, be sure to get three quotes from qualified plumbers (an NVQ City & Guilds level 3 qualification is desirable). You will also need to get the work signed off by a member of a Competent Person's Scheme or an inspector from Building Control.
Also bear in mind that if you are having a new gas boiler, it must only be commissioned by a Gas Safe Registered heating engineer. If your boiler uses another fuel source, such as oil, a Competent Persons Scheme-approved installer should be used.
A fully qualified plumbing and heating engineer will be able to calculate the size of the heating appliance and the number and size of the radiators you'll need. As a rough guide, you can expect the following costs:
New radiators: Approx. £30 each
New condensing boiler: £1,500-£3,000
Labour for new plumbing system: £3,500
New Kitchen Costs
One of the main questions asked by renovators is 'how much does a new kitchen cost?'
Sadly there is not a clear cut answer to this one – kitchen costs will vary depending on the size of your space, the specification you are opting for, the style of the units, how much of the work you are willing to put in yourself when it comes to sourcing and fitting your kitchen and the kind of appliances you want.
You will also need to factor in the removal of your old kitchen and the additional electrics and pipework that will be required.
Those on a budget are best off opting for a flat pack kitchen that is assembled on a DIY basis. If you take the budget kitchen you could achieve a new kitchen (minus appliances and worktops) for as little as £1,000, although a more common price for a complete kitchen tends to fall around the £8,000 mark.
Custom made kitchens are far more costly, although for many they are worth it. Tailored to meet your exact requirements and space, they tend to start at around £20,000 rising to well over £50,000.
A good option for those after a designer kitchen without the hefty price tag are second hand kitchens. They offer fantastic savings on the original RRP — often 50% to 70% depending on their age – and commonly come with appliances and worktops too.
Whatever route you take to your new kitchen design, there are several factors to bear in mind when it comes to considering what it will cost. These include:
Plumbing and electrics
Extraction
Lighting
New flooring
Final decoration
Installation (unless fitting on a DIY basis)
Delivery
How Much Does a New Bathroom Cost?
As with kitchen costs, the cost of a new bathroom will vary wildly depending on size and specification.
It is quite possible to buy complete 'bathroom bundles' consisting of a basin and toilet and sometimes a bath too for around £200-£250. However, these costs might not include fixings and pipework and won't include installation either.
New bathroom costs tend to fall between £3,000 to £6,500 although for higher spec, larger spaces, costs from £7,000 upwards can be expected. Of course, if you plan on fitting luxury items such as freestanding stone bathtubs and luxury shower cabins your costs will easily extend beyond this.
You will also need to factor in bathroom installation — as well as the removal of your old suite.
A like-for-like replacement bathroom could be installed for around £1,000, while, according to Victoria Plum, an entirely new bathroom is more likely to cost £6,500 to install.
When it comes to bathroom renovation costs, don't forget to factor in:
Wall and floor tiles
Plumbing work (including waste)
Lighting
Extraction
Floor reinforcing
Waterproof backing board and/or marine grade ply
Storage
Heated towel warmers
Window Repair Costs
Original windows can be a thing of beauty and if you are lucky enough to be renovating a house that still has them in place then you should go to every effort to restore them if you want to retain the character of your home.
You can read all about how to restore old windows in our expert guide. When it comes to window repair costs, expect to pay around around £500 per window. It might sound pricey but when you compare it to replacement windows it really doesn't seem so bad.
Hidden Costs of Renovating a House
In addition to all of the more obvious jobs associated with house renovations there are also some pretty pricey hidden costs that it is crucial to note when budgeting. These include:
Natasha is Homebuilding & Renovating's Associate Editor and has been a member of the team for over two decades. An experienced journalist and renovation expert, she has written for a number of homes titles. She has renovated a terrace and is at the end of the DIY renovation and extension of her Edwardian cottage. She is now looking for her next project.
Homebuilding & Renovating Newsletter
Get the latest news, reviews and product advice straight to your inbox.
Thank you for signing up to Homebuilding. You will receive a verification email shortly.
There was a problem. Please refresh the page and try again.