The Best Bathroom Radiators for a Stylish and Toasty Space
By Michelle Guy
These are the best bathroom radiators to keep your towels, and room, warm and cosy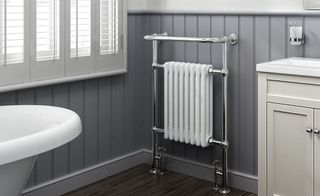 (Image credit: Amazon)
Choosing the best bathroom radiator for your space can be a little overwhelming. You can end up with plenty of questions before you've even starting browsing, and we're here to help. 
Before you buy you need to consider whether you need dual fuel or electric? Are you going for a contemporary bathroom design or looking for something more traditional? 
Whether you're renovating a house and looking to replace your bathroom radiators or taking on a self build and looking for styles to include, we've picked a range of bathroom radiators for all styles and budgets that will keep your room (and towels) toasty.
(MORE: Choosing Radiators)
Best Bathroom Radiators
1. Terma Michelle Towel Warmer
The best contemporary buy, with a high heat output
Heating Type: Dual fuel - central heating; element needed for electric heating | Material: Mild Steel | Dimensions: 1200mm (H) / 500mm (W) | Colour: Orange and Graphite
Contemporary floating bar design
600W+ heat output
Suitable for all boiler types
Slightly higher price point
Electric element needed to make it dual fuel
If you're looking for a dual fuel model that's contemporary in design and has a heat output of 600W+ then this is a good pick. 
The Terma Michelle can run off the central heating system in the winter months and can be switched to run as an electric towel radiator during the summer. You will need a Terma heating element and the Terma Integrated Valve with Immersion Tube to make it dual fuel.
This is a two-tone graphite and orange model, but there are other colour combinations like copper and cream to match your bathroom design colour scheme.
Rather than the standard ladder design, the Terma Michelle features a masking cover that discreetly hides two upright collectors, which makes the bars appear as if they're floating.
Buy Terma Michelle Graphite & Orange Towel Warmer
---
2. NRG Traditional Bathroom Heated Towel Rail Column Radiator
The best bathroom radiator to achieve a traditional style
Heating Type: Central heating | Material: Cast iron | Dimensions: 952mm (H) / 659mm (W) | Colour: Anthracite and Chrome
Connects like a radiator to the central heating system
Heat output of a radiator
Fixing pack included
Only suitable for a towel or two
The NRG column style heated towel radiator in anthracite will add a classic twist to a contemporary bathroom or feel right at home in a traditional scheme.
It connects to the central heating system so has the heat output of a radiator but can be used as a towel rail to keep soggy towels at bay.
It's also available in white and chrome and in smaller, narrower sizes, too.
Buy the NRG Traditional Bathroom Heated Towel Rail Column Radiator
---
3. Terma Outcorner
The best space-saving radiator
Heating Type: Electric | Material: Steel | Dimensions: 1005mm (H) / 300mm (W) | Colour: Modern grey
Corner design
Powder coated
Passive rust protection 
Only fixings are included
Slightly higher price point
If space is a little tight, then this electric corner towel heater will be a modern addition to your bathroom, keeping towels and the room warm with a heat output of 547W.
It's made from low carbon steel, has a double layer powder coating and an anti-rust protection, too. And it come with an eight-year manufacturer's guarantee. 
Buy the Terma Outcorner 547w Electric Modern Grey Radiator
---
4. NRG Straight Bathroom Heated Towel Rail
Good value, long ladder design
Heating type: Central heating (can be dual fuel) | Material: Steel | Dimensions: 1100mm (H) / 500mm (W) | Colour: Chrome
Good value
Fixing pack included
Different sizes available
Fixing pack excludes valves
If you're looking to install a good value, straight ladder design then the NRG bathroom heated towel rail ticks the right box. 
Its unfussy design has 23 bars, spaced in a 4-5-14 combination so you can hang towels easily. 
It's made from durable steel with a chrome finish. A fixing pack is included, complete with plugs and vents and it has a working max pressure of 7 bar.
Buy the NRG Straight Bathroom Heated Towel Rail in Chrome.
---
5. Ximax Parallel-Rail 694W Electric Towel Warmer
Make a real design statement
Heating Type: Electric | Material: Steel | Dimensions: 1762mm (H) / 650mm | Colour: Chrome
Elite design 
Generous heat output
High price point
If you want to add a bathroom radiator and towel rail that packs a punch the Ximax Parallel-Rail will make a real statement in any bathroom.
With seven protruding sections, you'll be able to dry multiple towels at once so it's a great option for larger families. 
The electric statement towel rail has a generous heat output of 694W.
Buy the Ximax Parallel-Rail 694W Electric Towel Warmer
---
What to Consider When Buying a Bathroom Radiator
Bathroom Specific
It sounds obvious, but make sure the radiator and/or towel rail model is suitable for bathrooms. Many are powder coated and have a waterproof or rust proof top layer to help them withstand moisture in a bathroom.
Electric VS Plumbed-in Vs. Dual Fuel
Electric models are the easiest to install by a qualified electrician. They can be plugged in and work separately to the central heating.
Plumbed-in models connect to your hot water system – your boiler – and are controlled via your central heating system.
Dual fuel models offer the best of both – they can connect to your hot water system and feature an electric element that, using a T-piece fitting, can isolate the radiator or towel rail from the central heating. This means you can connect to your heating system during the winter months and switch to electric during the summer months when you don't need to use it to the heat the room.
Where to Install a Bathroom Radiator
If you're renovating a bathroom then the simplest solution is to put a new radiator or towel rail in the same place as the one you're replacing. This will keep costs down, if you're replacing like for like – a plumbed-in version for example – as the plumbing will already be in place. Just make sure to check measurements between the valves and the profile of the new emitter to ensure it'll fit.
If you're starting from scratch, or moving the position of the emitter then consider the position of plumbing and pipework or electric sockets; windows and doors; sanitaryware and the size and shape of the space to pick a model that works.
(MORE: Finding the Right Plumber)
What is a BTU Rating?
British Thermal Units – or BTU – measures the heat output of a radiator. You need to work out the heat requirement of your bathroom to make sure you install a radiator that will keep your space warm. 
There a few things that will affect the BTU value such as the size of the room and the types of windows you have.
There are many online calculators or a qualified plumber will be able to help you work out the BTU value so that you can choose a bathroom radiator that will be efficient enough for the space.
Michelle is Homebuilding & Renovating's Deputy Editor. With an editorial career spanning more than 18 years, Michelle spent time working on educational magazines and websites until her career took an exciting turn into the world of homes and interiors. Working on sister titles Real Homes and Period Living, she then joined the Homebuilding team in November 2018. She's just completed her second kitchen renovation project, armed with an ever-growing knowledge of homebuilding advice and design inspiration. She's just about to embark on another bathroom refurb project.
Homebuilding & Renovating Newsletter
Get the latest news, reviews and product advice straight to your inbox.
Thank you for signing up to Homebuilding. You will receive a verification email shortly.
There was a problem. Please refresh the page and try again.