What is a multi-generational home? Plus golden design rules
By Amy Reeves published
Find out what you need to know about multi-generational homes and how to create the perfect layout for an extended family with our ideas and expert tips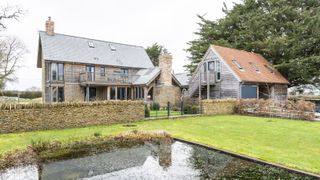 (Image credit: Stuart Cox)
The multi-generational home is a growing trend that is informing how we are planning and designing our homes.
A survey by Aviva found that a third of UK homes are already set up for multi-generational living, the equivalent to more than 9million homes, mainly due to adult children still living at home.
Below, we delve into multi-generational home design, covering both self builds and extensions, with expert comments from experienced architects and loads of inspiration and ideas.
What are multi-generational homes?
"Commonly defined as a household where grandchildren, parents and grandparents all live under one roof, this family choice is commonplace across Asia and becoming more prevalent in the US and UK, where the rise of boomerang children is becoming more common," explains Allan Corfield, founder of AC Architects (opens in new tab).
"NHBC (Nation House-building council) estimates that there is demand for around 125,000 multi-generational homes per year in Britain. Given the difficulty younger generations currently face in getting a foot on the property ladder, it isn't surprising that three in five Brits would consider living with relatives."
1. Decide on a Good Brief Before Visiting Designers
"It can be challenging enough designing a home for one set of needs and requirements, but designing for three different generations under one roof is not for the faint-heated," Allan Corfield says.
"A detailed and well thought-out brief will identify everyone's priorities and almost as importantly, the things they don't want. It's key to work out how the family dynamic will work: do you have your own entrances, do you all eat together etc. These choices will have a big impact on design and budget."
In the self build above, the homeowners used an 'off-the-shelf' design from Welsh Oak Frame that can be adapted as their needs change further down the line. Two of the bedrooms have their own en suites, making it easier to create a self-contained suite for an adult child or grandparent in the future.
2. Choose an architect with experience designing multi-generational homes
While not essential, choosing an architect who has prior experience designing a multi-generational home can be a good first step. A good architect will be able take multiple needs into account and help assimilate these into a design.
"Each case will have its own unique set of relationships, with different perceptions of privacy and desire for independence," says Nimi Attanayake and Tim O'Callaghan, co-founders of nimtim Architects (opens in new tab). "The complexity can make the briefing and consultation process even more critical to finding the right approach.
"We all know communicating with family can be tough due to long-established hierarchies and dynamics. It can help to have someone from the outside to structure and guide the discussion."
Roderick James Architects (opens in new tab) designed this oak framed annexe space in addition to the main house self build. The homeowners use it to rent out, or in the future, for their parents to reside in.
3. Extend to cater for different generations
"We're quite into houses (as opposed to flats) in the UK, which offers some flexibility because you can usually extend a house or add space with a loft conversion," say Nimi and Tim. "Anything that has clear potential for extending and adapting will keep your options open for the future. You might not want to do everything straight away, so work out which projects can be done in stages.
"Weigh this against what different members of the household are likely to need. A multi-storey house with lots of stairs might present challenges for elderly relatives, but could be perfect for young adults."
The floorplan of this multi-generational home adapted by nimtim Architects by building an extension to provide the family with space that works now and that can be adapted as the needs of the household change over time.
4. Self build with the whole family in mind
For households requiring living space for three generations, it can be tricky to adapt an existing property to provide the right amount of living space (even if you extend).
Self building a lifetime home provides a blank canvas for homeowners to create a completely customised floorplan and layout. Plus, if different generations pool their resources together a house of higher value can usually be created, opening further possibilities.
The brief for this self build was to include space for the client and his wife, their children, grandchildren and 93-year-old mother. Square Feet Architects (opens in new tab) created a three storey home that is adaptable for the future.
5. Think laterally with an annexe
"Consider the garden space as well. How flat and accessible is it?," ask Tim and Nimi. "Is it big enough to extend or add an annexe in? Outdoor space is important in itself, of course, so be sure to retain enough of it if you extend. One alternative to extending is building an outbuilding to provide additional space for family members.
Creating a garden room or outbuilding might also not need planning permission, but it's best to check with your local planning team before making any significant additions.
"The Permitted Development (PD) guidelines allow for quite significant 'outbuildings' to be built on a property providing they fit within a series of parameters identified in the guidance," explain Nimi and Tim.
This pool house, designed by Oakwrights (opens in new tab), includes its own kitchenette and storage space which can be used as a bedroom for when the homeowner's daughter moves home.
4. Put accessibility in focus in a multi-generational floorplan
"It is obviously impossible to anticipate everything that could happen, but it can be good to think about different circumstances that might arise, from the everyday things like everyone needing to use the bathroom in the morning through to special events and occasions," Nimi and Tim suggest.
"Planning for accessibility means making sure you have significantly wide doorways and level thresholds — maybe even space for a lift. It might also mean planning in a ground floor bedroom and bathroom. Lastly, it's worth thinking about how to avoid isolation and loneliness in the future."
When self building this dormer bungalow, the homeowners took care to include multiple accessible features for their daughter who is a wheelchair user. This included robust channel tracks for the external sliding doors, a wetroom, no narrow hallways, and wide doorways.
5. Consider multiple points of access
"A secondary entrance can be great benefit for a multi-generational household because it can give the people residing there a sense of independence and privacy," explain Nimi and Tim. "An existing side or rear door can often be repurposed as a more formal entrance."
Any secondary entrance will need to comply with Building Regulations Part M (access to, and use of, buildings) and Part B (Fire).
Rules around council tax and ownership will also need to be closely examined before any changes can be made.
This self build was designed by Border Oak (opens in new tab) with three distinct sections, one for the homeowners, a home office with garages, and a link annexe for the homeowner's parents with its own separate entrance.
6. Take measures to soundproof spaces
"If you want to go belt and braces, you can follow the prescriptions set out by the 'robust details' document (usually used for new adjoined dwellings like new flats), which sets out standard approaches for separating walls to provide good levels of sound separation," say Nimi and Tim.
"A similar approach is to make sure any walls and floors have mineral wood insulation in the space between the stud and joists. You can also upgrade plasterboard to soundboard to provide even more resistance to noise transfer."
This granny flat was updated and rearranged to increase privacy while renovating the house with the living areas moved to the first floor and the bedrooms to the ground floor.
What are the benefits of living in a multi-generational house?
Multi-generation households provide many advantages, including:
allowing young adults to stay with parents for longer as a result of the current cost of properties
enabling older generations to provide childcare
increasing budget for extensions and self builds as families pool their resources
providing an alternative to nursing homes or other care facilities as younger generations can care for relatives.
Multi-generational living is also the norm is many other cultures as the co-habiting dynamic benefits from daily interaction.
What are some disadvantages of multi-gen homes?
Multi-gerational living might offer less privacy than traditional set-ups unless properly designed. The increase in space during an extension or self build might also mean more housework and increased living expenses.
Assistant Editor Amy began working for Homebuilding & Renovating in 2018. She has an interest in sustainable building methods and always has her eye on the latest design ideas. Amy has interviewed countless self builders, renovators and extenders about their experiences for Homebuilding & Renovating magazine. She is currently renovating a mid-century home, together with her partner, on a DIY basis, and has recently fitted her own kitchen.
Homebuilding & Renovating Newsletter
Get the latest news, reviews and product advice straight to your inbox.
Thank you for signing up to Homebuilding. You will receive a verification email shortly.
There was a problem. Please refresh the page and try again.