13 Bathroom Design Ideas
By Claire Lloyd
Bathrooms need not be boring — as these design solutions go to show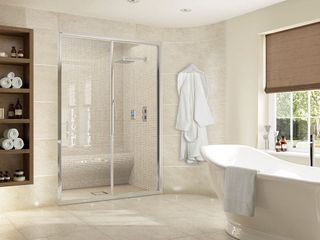 (Image credit: Aquata)
If you're planning a bathroom or en suite for your self build or renovation project, careful planning and attention to detail can result in both a stylish and functional space. This selection of design solutions will help you create a truly unique bathroom.
1. Mirrored Bathrooms Walls
Mirrors are not simply a practical addition — well placed, they can be used to create an illusion of space in a small bathroom, and bounce light around the room.
What's more, large mirrors could represent a cost-saving solution compared with tiling the area.
2. Consider Built-in Storage
Built-in shelves and alcoves are not only useful for displaying bottles and other wares, but can add interest to a bathroom scheme.
3. Solid Bathroom Surfaces
Solid surfaces have been popular in the kitchen for some and as with many trends which begin in the kitchen, this one is making its way into the bathroom, providing a hygienic, waterproof surface in this room too.
4. Make a Statement with Bold Bathroom Tiles
A bold tile or colour scheme can lift a bathroom from ordinary to extraordinary — as this bathroom goes to show.
Here, encaustic-style cement tiles (from American-based Rustico Tile & Stone) have been paired with mirrored antiqued mirror wall panels (from Rupert Bevan) and a mirrored bath (the Tay bath from Drummonds) to create a stunning bathroom.
5. Clever Bathroom Storage
Clever and plentiful storage is a good way of ensuring your bathroom surfaces remain clutter-free (and will not become home to a multitude of half-empty bottles).
Laundry baskets can be an untidy addition, but this neat solution from Hammonds Furniture puts the space beneath the bathroom basin to good use.
6. A Stylish Steam Room
Aqata's Exclusive Solutions ES300 Sliding Door Recess Option is suitable for power showers, body jets and steam, meaning you can transform an alcove within the bathroom into a multi-purpose showering and steam enclosure.
A tiled seating area is a good optional extra.
7. Introduce Partial Walls
When it comes to designing a new bathroom, sanitaryware does not always need to be placed against walls. Partial room divides can be used to zone large bathroom and conceal plumbing.
This is a look which requires planning from the outset to ensure the hot and cold feeds, and waste, are in the right place.
8. Solutions for Sloping Bathroom Ceilings
Rooms with sloping ceilings (think loft conversions and homes with vaulted ceilings) can lend themselves to bathrooms. The eaves space can provide an ideal place to introduce plumbing and/or create built-in alcoves or storage.
The bathroom below has been created within a loft conversion; the homeowners have made the most of the space with a luxurious shower enclosure, and specified dark tiles to help define the sloping ceiling.
9. Decorative Screens
Shower screens need not be boring — as this eye-catching design proves.
10. Utilise Alcoves
Alcoves can be put to good use as shower enclosures, as this bathroom goes to show.
11. Basin Ideas for Kids
Family bathrooms – particularly in those households with young children – should be fun as well as functional, as these examples show.
This colourful basin with vanity unit has been created in HI-MACS, an acrylic stone composite that boasts a hygienic finish and waterproof qualities — ideal for children.
12. Introduce Natural Light
Building a new home, or extending an existing property, provides an opportunity to design in windows as and where you need them — rather than working around what's already there.
That said, overlooking and privacy can be issues — but there are solutions, as these bathrooms go to show:
13. Timber-Clad Bathrooms
Timber cladding has been big news in interiors in recent years, but it's a look that requires thought within the bathroom.
In bathrooms with a shower or bath, which tend to more humid than cloakrooms, timber should be used sparingly and in areas which won't come into direct contact with water.
Cloakrooms, however, where there is typically minimal risk of humidity and splashes, can be good places to introduce timber cladding.
Homebuilding & Renovating Newsletter
Get the latest news, expert advice and product inspiration straight to your inbox.
Thank you for signing up to Homebuilding. You will receive a verification email shortly.
There was a problem. Please refresh the page and try again.