20 Bathroom Design Ideas That Will Transform Your Space
By Claire Lloyd , Natasha Brinsmead published
Our best bathroom design ideas will transform your bathroom into a blissful, spa-like retreat in no time — no matter what your budget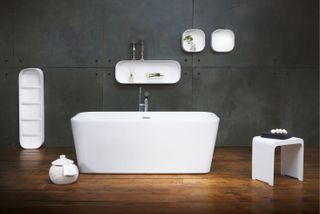 (Image credit: Waters Baths of Ashbourne)
After some inspirational bathroom design ideas? You've come to the right place.
We have rounded up the very best bathroom ideas around — a brilliant mixture of tried and tested classics along with some just-launched bathroom trends.
So, whether you're planning a multi-tasking family bathroom or a luxury en suite for your self build or renovation project, we've got you covered.
Designing a bathroom from scratch? Visit our ultimate guide to bathroom design.
1. A Wet Room/ Walk-in Shower Combo is a Brilliant Bathroom Design Idea
Whilst wet rooms and walk-in showers are nothing new in the world of bathroom design ideas, the newest showering launches combine the two in order to overcome the issues often associated with traditional wet rooms.
Offering more space than standard walk-in enclosures yet eliminating the chance of flooding the entire bathroom, these are seriously stylish showering solutions.
2. The Best Bathroom Design Ideas for Avoiding Fights - Twin Basins!
If you regularly find yourself with a queue outside the bathroom in the morning rush, consider twin basins (and even showers). Perfect for en suites and family bathrooms alike.
3. Smart Lighting is a Smart Idea for Your Bathroom Design
Smart home technology hasn't bypassed the bathroom and one of the best bathroom ideas we have seen is bluetooth bathroom lighting, combining a speaker with LED lighting — sure to enhance your bathing experience.
4. Opt for Large Format Wall Tiles
Along with textured wall tiles and highly patterned designs, large format tiles remain a popular design feature in bathrooms — they offer a sleek, eye-catching finish, plus there is less grouting to clean.
5. Built-in Bathroom Storage is an Essential Bathroom Design Idea
Bathroom storage is vital for the space to work well and feel uncluttered, yet you don't want it eating into valuable floor space.
Use built-in storage and create alcoves in showering and bathing areas to provide handy spots for bottles and jars.
6. Adopt a Broken Plan Layout as a Bathroom Design Idea
Bathroom layouts can be difficult to get right, particularly if you want to incorporate a walk-in shower or wet room space and are concerned about water spraying everywhere.
Consider a 'broken plan' layout and use partial walls and screens to define the various areas of the space.
7. Use Waterproof Wallpaper
After alternative wall covering ideas for your new bathroom? If you fancy something other than plain painted walls or tiles, why not consider one of the new waterproof wallpapers now on offer instead? They offer visual interest and are easy to clean.
8. Incorporate a Bold Basin Design in Your Bathroom Idea
Whilst we are not suggesting you swap your white bathroom suite for an avocado one, there is definitely something to be said for introducing a bit of wow and design bravery into the bathroom in the form of a statement basin.
The latest launches include some really intricate and beautiful patterns that, when combined with a simple suite, could really enhance your bathroom.
9. Layer Your Lighting
Forget an unflattering central light in your bathroom — the last thing you want when looking in the mirror as you exit the shower.
Instead, use multiple layers of lighting that can be operated separately — wall lights over or around mirrors, under-cabinet LEDs and recessed spots all work well.
10. A Freestanding Bath Creates a Luxurious Bathroom Design Idea
There is something about a freestanding bath that screams luxury and indulgence (remember that Flake advert?) — particularly when it features decorative feet. If you are worried about the weight of a cast iron rolltop or similar then fear not, there are models available made from acrylic and steel to overcome the issue.
11. New Bathroom Blues
For a long time it was felt that blue in the bathroom had the potential to make the space feel cold and unwelcoming — and so it fell from favour.
But now blue is back and this time it is bold and warm — reminiscent of stormy summer skies or the vibrant blues found in far flung places.
12. Bringing in Furniture from Elsewhere in the House is a Great Bathroom Design Idea
Perhaps it is a desire to forge somewhere to retreat to for longer than the time it takes to hop in and out of the shower, or maybe it is just an increased realisation that the bathroom should be a spot in which to fully de-stress.
Whatever it is, bathrooms these days are frequently featuring furniture that was previously seen as more at home in the living room.
13. Copper Brassware is a Hot Bathroom Design Idea Right Now
Copper finishes are hot news in the world of interiors right now, and the bathroom is no exception. Copper brassware looks great paired with bold blues and greens, as well as pinks.
If you want to keep the look more subtle, opt for copper bathroom accessories instead.
14. Create a Jaw-Dropping Bathroom Design Idea withIndustrial Fittings
Some of the latest industrial style bathroom fittings are truly jaw-dropping. No longer stark and cold, these designs are contemporary and eye-catching and can be successfully combined with more classic sanitaryware for a softer overall look.
15. You Can Find Freestanding Baths for Small Spaces
Even small bathrooms can have rolltops and freestanding — many bathroom suppliers now offer back-to-wall baths that replicate the look.
16. Panelled Walls in the Bathroom
Wood panelling or timber cladding on the walls in a bathroom can add a real sense of warmth.
Ensure you choose a moisture-resistant engineered timber to prevent it warping or moving and paint or oil it with a suitable finish.
17. Statement Bathroom Tiles Can Create a Wow-Factor Bathroom Design Idea
Bring your bathroom walls to life with some stand-out tiles — whether you opt for a vibrant colour, a zingy pattern or a interesting format, your walls can become works of art in their own right.
18. Give Your Bathroom Design Idea the Metallic Treatment
The copper trend doesn't end with brassware — baths and showers have got the metallic treatment too.
But if a solid copper bath is beyond your budget, consider a cheaper alternative such as copper effect.
19. Don't Be Afraid of Using Colour in Your Bathroom Design Idea
It can be tempting, when faced with a small space, to err on the side of caution when it comes to using colour. However, bold patterns and dramatic shades can actually deflect the eye away from the proportions of a compact space.
20. Embrace Wooden Finishes in Your Bathroom Design
Providing the timber you use in your bathroom is engineered or treated to ensure it is moisture resistant, there is no reason why it should not be used for all kinds of applications, from bath surrounds to basin vanity units.
Claire is Editor of Homebuilding & Renovating and has been a member of the team for over 13 years. An experienced homes journalist, her work has also appeared in Real Homes and Period Living magazines. She has a particular interest in green homes, and interior design is also a passion; she has undertaken qualifications in this area. Claire has recently finished her renovation project — and is now onto the next.
Homebuilding & Renovating Newsletter
Get the latest news, reviews and product advice straight to your inbox.
Thank you for signing up to Homebuilding. You will receive a verification email shortly.
There was a problem. Please refresh the page and try again.