Renovating a Bathroom: Guide to Overhauling a Tired Space
If you've taken on the modernisation of an old house, renovating a bathroom will be top of your to-do list. Our guide will ensure your project is a success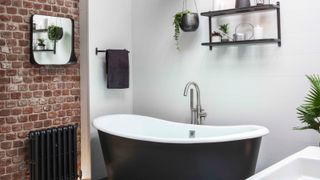 (Image credit: Garden Trading)
Renovating a bathroom is likely to be a huge priority if you have taken on a period property — rarely was this a room given much attention by our ancestors. These days, on the other hand, we expect a great deal from our bathrooms. Not only do we want them to fulfil a practical role, but we also like them to be calming, restful sanctuaries. A cold, poorly equipped bathroom starts and finishes your day on a bad note — while a beautifully kitted-out bathroom has the power to help you feel refreshed or relaxed like no other space in the house.
Bathroom renovations can seem quite daunting when compared to the sprucing up of other rooms — after all, there are all kinds of tasks involved and skills needed. Heating, plumbing, electrics are all involved, not to mention the decisions involved in choosing the right sanitaryware and brassware — in fact a bathroom requires specialist skills more than any room when renovating a house.
Luckily, our guide to renovating a bathroom is here to save the day meaning that before you know it, you'll have a bathroom design you can be proud of.
How Much Does a Bathroom Renovation Cost?
The average bathroom renovation cost is from around £3,000+, but costs will of course vary depending on where you are in the UK, the finish you go for and the size of your bathroom renovation project. Updating the space won't cost as much as remodelling or reconfiguring the layout of the bathroom as moving soil stacks and pipework can be costly. Doing work yourself, like tiling, painting or laying flooring will bring costs down further.
A plumber should take two to three days to remove your old bathroom and retrofit your new one, which will cost around £1,000.
If you're factoring in a tiler, a small bathroom would take one to three days and cost between £350 and £800.
How Do You Design a Bathroom Layout?
You should begin by taking a look at the layout of your existing bathroom, including sanitaryware, windows, doors, pipework and radiators/towel rails. Note down what areas of the space you want to change or retain when renovating the bathroom.
Ask a few questions like:
If it is small bathroom ideas you are after, think about introducing wall hung basins and units. They open up the floorspace creating the illusion that the room is bigger than it is.
Do bear in mind that wall hung sanitaryware often needs reinforcement work to ensure it's fixed securely so may impact your budget. Concealed cisterns, wall mounted taps and wall-hung toilets require stud walls to fit in the workings so they're hidden from view. Sometimes they will fit into the cavity of a stud partition wall but often a stud partition will have to be built, which will increase how much it will cost to renovate a bathroom.
Now's the time to pin down exactly what you want from the space. It'll also help initiate conversations with builders and bathroom companies about what you want and what work will be involved to achieve it vs sticking to your budget.
Keeping the bathroom layout the same will minimise the amount of work involved and therefore the cost of doing it. If you're happy with the current configuration and will keep the plumbing in place, then the design is a lot more straightforward. You'll already have your layout partly done.
Think about how you can create a more functional bathroom with the configuration you have. For example, think about walk-in shower ideas if you haven't already got one, or look at how you could fit built-in storage shelves, a heated towel rail or underfloor heating (UFH).
How Do You Remodel a Bathroom?
Remodelling a bathroom while renovating gives you the scope to play around with the design of the space. For example, bringing together a separate WC and bathroom or removing a boiler or water tank from a cupboard to free up more room.
But, remodelling does also mean more work. Plumbing will need to move to accommodate the new layout when renovating a bathroom so think about what impact this will have on the design and your budget.
Your layout plan will come in handy here. Pay particular attention to the pipework and soil stack. It's important to establish where it all is and where it all goes so that you can be sure your new layout will work. For instance, it can be costly to move a soil stack, so it can often pay to leave the toilet where it is.
You can discuss the relocation of plumbing/pipework at the design stage with your plumber and builder.
How Do You Level Bathroom Floors?
Wonky walls and uneven floors often crop up when renovating a bathroom, especially in older properties. Once floors are ripped up and tiles chipped off, get the surfaces checked out to see if you'll need to replaster walls or screed floors before any finished surfaces get laid. This is often an area where a contingency fund gets spent because you don't know what's underneath until you reveal all!
You definitely don't want your beautiful bathroom flooring ideas to be ruined by an uneven subfloor.
Bathroom Renovation Schedule of Works
Although all bathroom renovation projects are different in their requirements, there tends to be a certain order that tasks are carried out in order to ensure they run smoothly.
A typical schedule of works for a new bathroom runs something like this:
Assess your requirements
Clearly decide on your budget
Come up with a layout and design
Choose sanitaryware, brassware and fittings
Remove old bathroom
First fix plumbing and electrics
Wall tiles or other coverings are installed
Bathroom flooring is laid (be sure that the old floor will take the weight of any new baths)
Sanitaryware plumbed in and fitted furniture fixed into place
Second fix electrics
Final decoration
According to More Bathrooms, the average bathroom renovation takes two weeks.
Bathroom Renovation Checklist
Use this simple checklist to ensure you have thought of all aspects of your bathroom renovation.
The plumbing & soil stack: Is it moving or staying put?
Heating: Think about UFH and heated towel rails
Flooring: Pick a style that's non-slip, easy to clean and suitable for wet areas
Lighting: A bathroom is zoned so make sure any lighting conforms to regulations
Wall covering: If budget is tight, tile just around the shower/bath and basin and paint the rest of the wall.
Storage: Do you need more? Where can it go? Can it be built-in?
Sanitaryware: Shop around and do your research, it pays to be a savvy shopper.
Get the Homebuilding & Renovating Newsletter
Bring your dream home to life with expert advice, how-to guides and design inspiration, direct to your inbox.
Michelle is Homebuilding & Renovating magazine's Deputy Editor. With an editorial career spanning more than 18 years, Michelle spent time working on educational magazines and websites until her career took an exciting turn into the world of homes and interiors. Working on sister titles Real Homes and Period Living, she then joined the Homebuilding team in November 2018.
She's just completed her second kitchen renovation project and bathroom renovation, armed with an ever-growing knowledge of homebuilding advice and design inspo (and a Pinterest board or two, of course).