Renovating a Bathroom: Expert Advice From Start to Finish
By Michelle Guy published
Renovating a bathroom is one of the most rewarding, but challenging projects in the home. Here are some of our top tips for making your project a success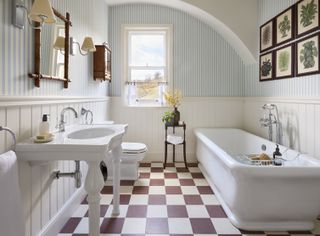 (Image credit: BC Designs/Darren Chung)
Renovating a bathroom can transform how you feel about your home. A bad bathroom starts and finishes your day on a sour note, while a good one can help you unwind and relax like no other space in the house.
However, bathroom renovations can be a bit of a scary process for the uninitiated. With heating, plumbing and electrics all to contend with, it requires specialist skills more than any room when renovating a house, potentially limited the amount of DIY you can do in the space.
Yet, if you get to know the process of renovating a bathroom, you'll soon get to grips with just how involved you need to be in creating your new space. And before you know it, you'll have a bathroom design you can be proud of.
Read on for our guide to bathroom renovations and some key advice to help your project sail smoothly.
How to Set a Budget When Renovating a Bathroom
The average bathroom renovation cost is from around £3,000+, but costs will of course vary depending on where you are in the UK, the finish you go for and the size of your bathroom renovation project. Updating the space won't cost as much as remodelling or reconfiguring the layout of the bathroom as moving soil stacks and pipework can be costly. Doing work yourself, like tiling, painting or laying flooring will bring costs down further.
A plumber should take two to three days to remove your old bathroom and retrofit your new one, which will cost around £1,000.
If you're factoring in a tiler, a small bathroom would take one to three days and cost between £350 and £800.
Creating a Layout When Renovating a Bathroom
First of all plot the layout of your current bathroom, including sanitaryware, windows, doors, pipework and radiators/towel rails for example. Note down what areas of the space you want to change or keep when renovating the bathroom.
Ask a few questions like:
If you have a small bathroom think about introducing wall hung basins and units. They open up the floorspace creating the illusion that the room is bigger than it is.
But do bear in mind that wall hung sanitaryware often needs reinforcement work to ensure it's fixed securely so may impact your budget. Concealed cisterns, wall mounted taps and wall-hung toilets require stud walls to fit in the workings so they're hidden from view. Sometimes they will fit into the cavity of a stud partition wall but often a stud partition will have to be built, which will increase how much it will cost to renovate a bathroom.
Now's the time to pin down exactly what you want from the space. It'll also help initiate conversations with builders and bathroom companies about what you want and what work will be involved to achieve it vs sticking to your budget.
When renovating a bathroom keeping the layout the same will minimise the amount of work involved and therefore the cost of doing it. If you're happy with the current configuration and will keep the plumbing in place, then the design is a lot more straightforward. You'll already have your layout partly done.
So, think about how you can create a more functional bathroom with the configuration you have: space for a shower cubicle if you haven't already got one, built-in storage shelves, a heated towel rail or underfloor heating (UFH).
Remodelling When Renovating a Bathroom
Remodelling a bathroom while renovating gives you the scope to play around with the design of the space. For example, bringing together a separate WC and bathroom or removing a boiler or water tank from a cupboard to free up more room.
But, remodelling does also mean more work. Plumbing will need to move to accommodate the new layout when renovating a bathroom so think about what impact this will have on the design and your budget.
Your layout plan will come in handy here. Pay particular attention to the pipework and soil stack. It's important to establish where it all is and where it all goes so that you can be sure your new layout will work. For instance, it can be costly to move a soil stack, so it can often pay to leave the toilet where it is.
You can discuss the relocation of plumbing/pipework at the design stage with your plumber and builder.
Levelling Floors When Renovating a Bathroom
Wonky walls and uneven floors often crop up when renovating a bathroom, especially in older properties. Once floors are ripped up and tiles chipped off, get the surfaces checked out to see if you'll need to replaster walls or screed floors before any finished surfaces get laid. This is often an area where a contingency fund gets spent because you don't know what's underneath until you reveal all!
(MORE: How to Level a Floor)
Pick Your Sanitaryware Before First Fix
When renovating a bathroom, pick your sanitaryware before first fix stage so that the electrician and plumber know where in the room pipework and electrics will need to go at the design stage. This will hopefully avoid any work being redone.
A Simple Checklist for Renovating a Bathroom
It's easy to get caught up in the design and forget about the function, so use this simple checklist to cover all areas of your bathroom renovation design and budget:
The plumbing & soil stack: Is it moving or staying put?
Heating: Think about UFH and heated towel rails
Flooring: Pick a style that's non-slip, easy to clean and suitable for wet areas
Lighting: A bathroom is zoned so make sure any lighting conforms to regulations
Wall covering: If budget is tight, tile just around the shower/bath and basin and paint the rest of the wall.
Storage: Do you need more? Where can it go? Can it be built-in?
Sanitaryware: Shop around and do your research, it pays to be a savvy shopper.
Michelle is Homebuilding & Renovating's Deputy Editor. With an editorial career spanning more than 18 years, Michelle spent time working on educational magazines and websites until her career took an exciting turn into the world of homes and interiors. Working on sister titles Real Homes and Period Living, she then joined the Homebuilding team in November 2018. She's just completed her second kitchen renovation project, armed with an ever-growing knowledge of homebuilding advice and design inspiration. She's just about to embark on another bathroom refurb project.
Homebuilding & Renovating Newsletter
Get the latest news, reviews and product advice straight to your inbox.
Thank you for signing up to Homebuilding. You will receive a verification email shortly.
There was a problem. Please refresh the page and try again.