Heating a Bathroom: How to Keep Your Space Warm
By Natasha Brinsmead published
Our guide to heating a bathroom will ensure you aren't left shivering when you step out of the shower as cold weather approaches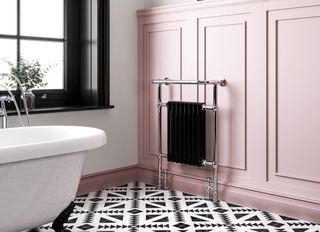 (Image credit: Bathroom Mountain)
No-one wants to step out of a lovely warm shower or bath into an icy cold bathroom — our guide to heating a bathroom is here to make sure that you understand all your heating options so that you can select the right one for you.
We take a look at bathroom heating choices including bathroom radiators, underfloor heating and traditional radiators — and also explain how to calculate how much heat your bathroom will need based on its size and who will be using it.
Choosing your bathroom heating needs to be done early on in your bathroom design to ensure there are no delays later on in the project.
How is Heating a Bathroom Different to Heating Other Rooms?
Heating a bathroom needs careful consideration for a number of reasons. Bathrooms are quite different many ways from the other rooms in your home — for one they are often smaller. Then there is the fact that they produce high levels of humidity and finally there is small yet not insignificant point that you are likely to be half naked in them for much of the time.
Let your bathroom get too cold and you risk attracting damp and a build up of mould on the walls, ceilings and tiles — a particularly problem in bathrooms with poor home ventilation.
You will need to carefully consider you bathroom layout in tandem with your bathroom hearing choices — unless you are opting for underfloor heating you will need to think about the best location for your heat source and find a spot that won't clash with windows, doors, mirrors or sanitaryware.
Bathroom Heating Options Explained
There are several different types of bathroom heating, some of which can be run off your central heating system, others that use the mains electricity supply. The main reason people choose to run their bathroom heating via the electricity supply is so that it can remain warm even in the summer months when the central heating is likely to be turned off.
In general, when looking at heating a bathroom you will come across these main options:
Heated towel rails
Radiators
Underfloor Heating
Fan heaters
What Size Radiator Do I Need?
Your bathroom heating source will need to give off the right amount of heat to ensure that your bathroom is not too cold or too hot.
It is useful to use a BTU calculator for this — BTU refers to British Thermal Units which is the amount of heat a source emits. You can find many free online BTU calculators. These take into account not only the size of the room, but also the number and type of windows, the location of your bathroom and ceiling height, amongst other things.
When you choose a bathroom heater, it should state its BTU output.
Understanding Bathroom Zones
The bathroom is divided into four separate zones based on the risk level of water reaching an electrical supply — an important safety concern. Each of these zones dictates the type of fitting that can be installed here. Carefully consideration to these zones is also required when looking at bathroom lighting ideas.
Zone 0 is the space inside the bath or shower itself.
Zone 1 is the space above the shower or bath to a height of 2.25m from the floor.
Zone 2 reaches 0.6m outside the bath's perimeter and 2.25m from the floor.
Outside Zones Anywhere beyond Zones 0,1 and 2 and where no water jet will be employed.
Is a Heated Towel Rail Enough to Heat a Bathroom?
As well as being a practical bathroom heating option, providing somewhere to hang and dry wet towels and robes, but the right heated towel rail will also act as an effective heat source — providing you purchase one with the correct BTU output for your space.
Large bathrooms may well require another heat source (such as underfloor heating) in addition to a towel rail as they do tend to 'spot heat'.
There are a huge number of different styles heated towel rails available — from tall, narrow designs that suit small bathrooms, to long horizontal models.
Electric Bathroom Heaters
There are several types of bathroom heater that rely on electricity. Electric towel warmers are a popular option that can remain on all year round, even when the central heating is off.
Fan heaters are another option — they are operated much like an extractor fan with a simple wall switch. While they are good for a quick blast of heat on a chilly morning, the don't retain heat and can be expensive to run.
Underfloor Heating in the Bathroom
Underfloor heating is a hugely popular option in bathrooms of all shapes and sizes. It is a brilliant choice of heating for this space as it means bare feet are kept toasty, wet floors quickly dry out and there is no need to find wall or floor space for a radiator.
Larger bathrooms in particular can benefit from underfloor heating as a single towel warmer is often not enough to heat the space — particularly once it is covered in towels.
There are several different types of underfloor heating. A 'dry' or electric underfloor heating system runs off electrical wiring and is a good, less disruptive option, for retrofitting.
A wet underfloor heating system involves a series of pipes run within the floor heated via hot water. This type of system tends to best when installed in a self build or complete bathroom renovation project.
Many people who opt for underfloor heating in the bathroom will also have a towel warmer.
Bathroom Heating Costs
Bathroom heaters such as towel warmers and fan heaters tend to be cheaper to buy and install initially when compared to underfloor heating. However, underfloor heating does tend to work out as a more efficient way of heating when viewed long term due to the lower temperatures needed to heat a whole space and its ability to distribute heat more evenly than other bathroom heat sources.
Natasha is Homebuilding & Renovating's Associate Editor and has been a member of the team for over two decades. An experienced journalist and renovation expert, she has written for a number of homes titles. She has renovated a terrace and is at the end of the DIY renovation and extension of her Edwardian cottage. She is now looking for her next project.
Homebuilding & Renovating Newsletter
Get the latest news, reviews and product advice straight to your inbox.
Thank you for signing up to Homebuilding. You will receive a verification email shortly.
There was a problem. Please refresh the page and try again.