Best Bathroom Paint: 5 Top Picks to Help Keep Moisture and Mould at Bay
By Michelle Guy
Looking for the best bathroom paint but don't know how to choose? Here's our round-up of the best options from high street retailers and specialist brands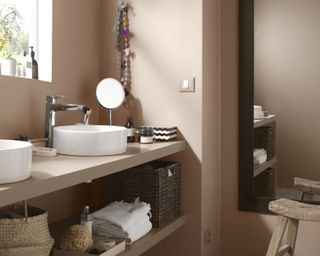 (Image credit: GoodHome)
Picking the best bathroom paint can be daunting when there's so much choice on the market. 
We all know that the bathroom is typically the most moisture-ridden room in the house so the best rule of thumb is to look for paints that are specifically for use in bathrooms. 
Sounds obvious! But unlike standard paint for use on walls and ceilings, bathroom paint contains specific ingredients that make it suitable for a humid, damp environment so will help keep mould and moisture at bay.
Bathroom paints come in an array of colours so if your tying in your bathroom design with a whole house redesign then it's likely you'll be able to pick colours that work with the rest of your home to create a cohesive theme.
What is the Best Bathroom Paint?
1. Dulux Easycare Bathroom+ Emulsion Paint
Mould and moisture resistant paint from one of the top brands
Sizes available: 1L; 2.5L | Finish: Soft sheen | Drying time: Leave 6 hours between coats; 24 before using bathroom | Coverage (per litre): 13/m2 | Recommended coats: 2
Moisture + steam resistant
Guaranteed against mould for 5 years
Lots of colours available
Wait at least 24 hours for paint to dry fully before using the room 
If you're painting over a strong colour you may need to apply more than 2 coats
If you're looking for a good all rounder that's tough on moisture, is mould resistant and gives you plenty of options in the colour stakes, then the Dulux Easycare Bathroom+ Emulsion is a great go-to option to decorate your bathroom. 
Its MouldTec formulation guarantees protection against mould for up to five years, before you have to dig out the rollers and give the walls an extra coat. Plus it's tough on steam and moisture with a soft sheen finish.
Buy Dulux Easycare Bathroom+ Emulsion paint
More of the Best Bathroom Paint
2. Dryzone Anti Condensation Paint (1L)
3 in 1 paint: moisture resistant, reduces mould growth and it creates a surface that's warm to the touch
Sizes available: 1L; 2.5L | Finish: Matt | Drying time: 1-3 hours | Coverage (per litre): 4m2 (based on 2 coats) | Recommended coats: 2
Moisture resistant
Reduces mould growth and condensation
Walls are warmer to the touch
Touch-dry after 1-3 hours
A little pricer than other 1L bathroom paint options
No colour options available
If your bathroom walls are prone to mould growth and condensation then a specialist product like this Dryzone Anti Condensation paint is well worth a look.
It uses advanced glass microsphere technology and boasts  3-in-1 credentials including an open-pore structure that makes it resistant to moisture and allows walls to breathe; it has a preservative surface effect that discourages mould and a thermal effect that creates a surface that's warmer to the touch - a nice bonus in a bathroom!
Buy Dryzone Anti Condensation paint
3. Home of Colour Kitchen and Bathroom Paint Duck Egg (2.5L)
Easy to clean, tough and washable
Sizes available: 2.5L | Finish: Matt + Soft Sheen | Drying time: Touch dry in 2 hours | Coverage (per litre): 30m2 | Recommended coats: 2
Moisture and grease resistant
Tough and washable finish
Touch dry in 2 hours
Can be used on walls and ceilings
Only 2.5 L available
Now this is a great paint if you've little ones running around! It's specially formulated to be moisture and grease resistant but it's tough and washable too. So any greasy hand marks or scuffs can be wiped away keeping your walls looking fresher for longer. 
This is also a good option if you have a bathroom that you want to refresh fairly quickly as it's touch dry in 2 hours and you can apply a recoat in 3-4 hours. 
Buy Home of Colour Kitchen and Bathroom paint 2.5L
4. Polycell One Coat Damp Seal
Great for sealing damp patches before painting
Sizes available: 500ml, 1L | Finish: n/a | Drying time: 4 hours | Coverage (per litre): 5m2 | Recommended coats: 1
Seals patches of penetrating damp on interior walls and ceilings in just one coat
500ml available for smaller areas
Touch dry in 4 hours
Strong odour, keep room well ventilated
If you're renovating a bathroom that has small patches of penetrating damp that you'd like to seal before painting then the Polycell One Coat Damp Seal gets a thumbs up.
You don't have to paint the entire wall, you can focus on the spots that need coating, which makes it a prep job before you paint over it with your chosen bathroom paint.
It is recommended for use on plaster, cement and stone so it's an option for period property bathroom renovations as well.
Buy Polycell One Coat Damp Seal
5. Wickes Frosted White - No. 135 Bathroom Soft Sheen Emulsion Paint - 2.5L
Low odour and easy to apply
Sizes available: 50ml tester pot; 2.5L | Finishes: Soft sheen | Drying time: 2-4 hours | Coverage (per litre): 13m2 | Recommended coats: Not given
Low odour paint
Protects against mould
Moisture- and steam-resistant
Tough and washable
Easy to apply with low spatter tendency
Only available at 2.5L
This affordable option from Wickes is a tough, washable and moisture resistant soft sheen paint.
But it's the low odour levels that make it a standout choice if you have children and/or pets. Plus it's touch dry in 2-4 hours making it a good choice for a busy family home where you might need to get a refresh done fairly quickly.
It's also available in different colours, can be applied with a brush or roller and is suitable for walls and ceilings.
Buy Wickes Frosted White Bathroom Soft Sheen paint
How to Buy Bathroom Paint
When it comes to buying the best bathroom paint for the job, here are a few key things to think about...
Drying time
If you've only got one bathroom or a young family for example that might mean you need to get your bathroom back up and running again pretty speedily, then choosing a bathroom paint that's got a quick drying time will be key. 
You'll want it to be touch-dry within a couple of hours to recoat and to dry quickly enough for you to use the room again within the day. 
Maintenance
Many products are mould and steam resistant but it's worth checking whether they come with any guarantees as to how long it'll prevent mould from growing back. 
And tough, wipeable bathroom paint is definitely a feature to look out for if you like a room looking spotless! 
Coverage
Check the coverage per litre because you might find that if you're using a specialist bathroom paint product to seal in damp patches first, for example then you might not need a larger tin. And equally, don't pick a range that only has 2.5L tins available if you'll end up with loads left over.
Odour
Some products can have high VOC levels and can be very potent so if you can't ventilate the room well, have children or pets for example, then opt for a low odour option. This is also key if you want to use the room quite quickly after decorating (as mentioned in Drying Time above).
Homebuilding & Renovating Newsletter
Get the latest news, expert advice and product inspiration straight to your inbox.
Thank you for signing up to Homebuilding. You will receive a verification email shortly.
There was a problem. Please refresh the page and try again.