5 Great Accessible Homes
By Daisy Jeffery published
Whether you're building a home for life or designing with someone's mobility in mind, accessible homes are a sure-fire way of catering to all current and future needs. These projects demonstrate how accessible homes can also pack the wow factor too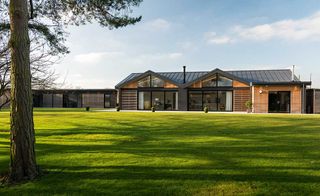 (Image credit: Jeremy Phillips)
In order to design a lifetime home (opens in new tab) with accessibility in mind – whether this be with an eye to the future, or to cater to the needs of a family member – there are plenty of design considerations to factor in — from the number of storeys (and do you need a lift), to the width of corridors and door openings, level thresholds, bathrooms, and even the height of your kitchen units and windows.
Here, we list some inspiring accessible homes that prove you don't have to sacrifice good design in the process.
1. An Accessible Eco Home
Thanks to their son, architect Olly Bray of award-winning practice OB Architecture, Mike and Linda Bray have created a bespoke, futureproof home (opens in new tab) which caters to Mike who lives with multiple sclerosis.
The house has been designed so that the bedrooms are positioned on the ground floor, with a lift up to the open plan kitchen/dining/living space (opens in new tab) and balcony on the first floor — ensuring that Mike is able to access every room with ease. Sliding glass doors open directly to the terrace on the ground floor, with no steps or changes in floor level.
2. A Home for Life
In order to cater for their daughter who has Angelman Syndrome, Neil and Fiona Blakeley have self built their new home with an internal therapy room, swimming pool (opens in new tab) and sensory room at ground level. A guest bedroom suite on the ground floor further helps to futureproof the house.
3. A Modern Low-Maintenance Home
With a view to creating a low-maintenance home fit for their retirement, Charles and Pennie Denton commissioned Strom Architects (opens in new tab) to design a stylish single-storey property which sits perfectly on its site.
Ultra-wide corridors and open plan living, complete with level thresholds leading out to the garden through large glazed doors, allow the home to be accessibility friendly, which meets the needs of their daughter who uses a wheelchair and regularly comes to visit.
4. An Accessible Home on a Garden Plot
"We needed absolutely everything to have level access and wanted the house to be as spacious and light as possible with no narrow corridors," explains Lara Lessman, who is a wheelchair user. Along with husband Dieter, the couple have created a contemporary home carved from a building plot at the back of their former garden.
In order to allow Lara to go about her day-to-day life with ease, level thresholds between rooms and to the garden have been introduced, and with kitchen worktops at a level that can be reached from a seating position. A compact wheelchair lift was introduced to carry Lara to the lower level which houses the physiotherapy room.
5. A Stylish Accessible Home
Replacing a bungalow on the site, the motivation behind the design of this striking contemporary home was ensuring the owners' eldest son – who has cerebral palsy and relies on a wheelchair to get about much of the time – can be as independent as possible.
The accessible home benefits from large, open plan spaces, wide corridors, carer's accommodation and fully accessible bathroom with tracks recessed into the bathroom ceiling for hoists.
Daisy was Features Editor on Homebuilding & Renovating for more than five years and had a passion for all things design. She has since moved on to pastures new.
Homebuilding & Renovating Newsletter
Get the latest news, reviews and product advice straight to your inbox.
Thank you for signing up to Homebuilding. You will receive a verification email shortly.
There was a problem. Please refresh the page and try again.