Bathroom Splashback Ideas: Practical Need Not Mean Boring
By Natasha Brinsmead published
Our fantastic pick of bathroom splashback ideas is here to help you think beyond the usual patch of plain tiles stuck behind the basin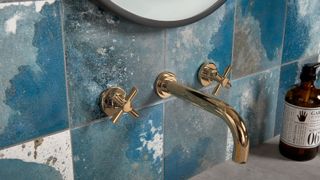 (Image credit: Walls and Floors)
The best bathroom splashback ideas should combine two things — beauty and practicality.
While the primary function of a bathroom splashback should be to protect the wall behind your basin from getting sodden with water or damaged, it should also have aesthetic appeal. It is the seemingly smaller details such as this that should form the core of your bathroom ideas.
The go-to solution used to be to dig out whatever tiles were leftover from tiling elsewhere in the room and fix a small area of them behind the basin. While there is certainly nothing wrong with this method, it won't necessarily inject a huge amount of personality or design finesse to the space.
Our round-up of brilliant bathroom splashback ideas is here to provide you with all the inspiration you need to ensure that your carefully chosen basin really stands out without compromising on the practical side of this feature.
Bathroom Splashback Ideas: Keep it Practical
As mentioned before, the bathroom splashback needs to be able to perform a practical role in this hardworking space. Just like the best kitchen splashback ideas, the material you choose needs to be waterproof, low-maintenance, easy-to-clean and durable — as well as looking great.
Do think through your material choices carefully. While solid timber cladding may look stunning, for example, it will require great care to ensure it doesn't quickly deteriorate due to moisture. Likewise, if it is family bathroom ideas you are after, think twice about fitting a splashback made from a material that shows up fingerprints or smears easily.
1. Rethink Your Tile Choices
Just because wall tiles have been the method of choice for creating bathroom splashbacks in the past, there is no reason why opting to go down this route has to mean a bathroom lacking in personality or style — in fact this remains a fantastic option.
The key to creating interest with bathroom tile ideas is to think beyond plain and standard sized (although these too can be used to conjure up some interesting effects if used wisely). Opt for bold shades that draw the eye, and take a look at geometric shapes, mosaic patterns and oversized formats.
The striking effect here has been created using long narrow rectangular tiles fixed in an on-trend herringbone pattern.
2. Go For a Whole Wall Splashback
Using the same splashback material for the entire wall will ensure all eyes are drawn to that spot. This is a bold statement that really makes the basin, particularly if wall-mounted, as here, pop.
To ensure the drama of this idea, pick a strong pattern for your tiles or a bold shade of bathroom paint
The Ca' Pietra's Atlas from Hyperion Tiles (opens in new tab), shown, are porcelain tiles that would really work well in a period property.
3. Consider Bathroom Wallpaper
While 'bathroom' and 'wallpaper' might not be words you would expect to hear together (a bit like bathroom and carpet), this is one idea to revisit.
Before you rush off to buy rolls and rolls of paper though, note that not any old wallpaper is suitable for bathrooms — particularly when being employed as a splashback. You must choose one designed specifically with this task in mind if you want to avoid your splashback turning into a peeling, mushy mess in no time at all.
Bathroom wallpaper is often made from PVC or has been given a special coating to make it impermeable to water and moisture. The gorgeous Portuguese tile-inspired wallpaper here, from Lime Lace (opens in new tab), is a PVC product that is water and heat resistant — all you have to do is cut it to size and stick it on.
4. Keep it Simple With an All-in-One Solution
Often referred to as 'laboratory' or 'cleaner' sinks, this is a design that incorporates a splashback into its form, negating the need for a separate solution.
The model shown here, from Omvivo, is the Vision Wall Basin, featuring a splashback, shelf and handy built-in towel rail too.
An all-in-one solution such as this is ideal if you want to cut down on bathroom cleaning hours — with no joints, grout lines or grooves there is nowhere for dirt to hide.
5. Take a Monochrome Approach
Introduce a little hotel luxé into your bathroom by sticking to large format, pale tiles for your walls, floors and splashback. This will create a calming, yet opulent feel that is easy to work with and can be paired with a range of brassware designs and sanitaryware styles. It's a bathroom trend which is here to stay.
The tiles here are Riviera Onyx Frost Porcelain Tiles from Boutique Stone.
6. Use Wooden Panelling With Care
Wall panelling ideas can be used to add depth to pretty much any room of the house — but can it be used in bathrooms, as a splashback?
The answer is yes, providing you know the maintenance required and take care when fitting and choosing a product.
Introducing wood – or any other porous natural materials for that matter – to your bathroom comes with certain challenges. You will need to treat the wood with an oil or sealant, or paint it with waterproof paint.
Alternatively, you could consider using a look-a-like wood tile or a moisture-resistant MDF wood panel designed specifically for bathrooms, for a lower-maintenance option.
7. Incorporate Storage Into Your Splashback
Perfect for anyone after nifty bathroom storage ideas — turn you splashback into a storage shelf and get more for your money.
For this idea to work you will need to investigate how to build a stud wall — something you may well be doing anyway if you have opted for wall-hung sanitaryware. When constructing the wall, take into account the recess that will be required. Once you have covered the wall with moisture resistant plasterboard, you can clad it in you splashback material of choice.
8. Inject Industrial Style With Exposed Brick
Exposed brick walls will add bags of rustic charm to any room — bathrooms included. However, there are a few things to note if you like the idea of an exposed brick splashback.
Firstly, you will need to ensure the wall is clean and free of dust and debris, before filling any large gaps in the brick with mortar. You can then use a terracotta or brick sealant to prevent further dust and particles from falling into your basin.
If you would prefer, you can paint exposed bricks instead for a fresh feel. Providing you have used a primer, you can just use a water-based acrylic paint using the same roller you used to prime the surface. Use two coats of paint as exposed brick is more porous than plaster walls.
9. Use Your Splashback For Colour
There is no reason why bathrooms have to be white and sterile spaces — in fact some of the best bathroom designs feature bold colours that can really work to warm the space up and create a restful feel.
Your splashback can be the ideal way of introducing colour and it need not be all one colour either — a two tone approach can work brilliantly. Here, Original Style's (opens in new tab)glazed Artworks tiles in Baroque Blue , Jade Breeze, Jet Black and Odyssey Penshaw Black all work together to create a striking effect.
10. Don't Forget The Bath Splashback
Bathroom splashbacks are not just for basins — any wall that could be frequently exposed to splashes and drips will benefit from the addition of a waterproof protective surface.
Why not tie your bath splashback in with your basin design for a nice cohesive look? Here, Vintage Olive Green Rustic Wall Tiles from The London Tile Co (opens in new tab). add a fresh, classic look.
Natasha is Homebuilding & Renovating's Associate Editor and has been a member of the team for over two decades. An experienced journalist and renovation expert, she has written for a number of homes titles. She has renovated a terrace and is at the end of the DIY renovation and extension of her Edwardian cottage. She is now looking for her next project.
Homebuilding & Renovating Newsletter
Get the latest news, reviews and product advice straight to your inbox.
Thank you for signing up to Homebuilding. You will receive a verification email shortly.
There was a problem. Please refresh the page and try again.