Small Bathroom Guide
By Claire Lloyd published
Follow our top tips for making the most of small bathrooms, including advice on wetrooms, minimum sizes and circulation space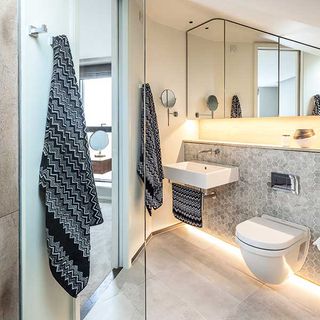 (Image credit: Simon Maxwell)
The bathroom is not only a necessity in the home but also somewhere to relax and unwind. However, despite our passion for stylish and luxurious bathrooms, not all of us have the available space for huge bathing areas. Follow our top tips for making the most of a small bathroom.
Prioritise Space According to your Needs
Thorough planning of how to best use your modestly scaled space and good design will help you make the most of a small bathroom. Before coming up with any potential layouts, you should give thought to what you need from your bathroom.
Ask yourself the following questions:
Who will be using the room? Is it an en suite, or a family bathroom that needs to take into account the needs of small children?
Will you need a bath, or would a shower be sufficient for your needs? Or would you ideally like both?
How much storage will you need for towels, toiletries and other bathroom essentials?
Once you have answers to these questions, you can begin to think about drawing up a plan for your small bathroom.
To draw up a plan, measure the internal dimensions of the room, taking doors and windows into account, as well as any features such as sloping ceilings, awkward corners etc. Using graph paper, draw a scaled plan (using a 10:1 ratio).
Finally, don't forget to consider the direction that doors and windows open, or to mark on heating, ventilation and storage space.
Consider a Wetroom
Wetrooms – where the bathroom floor effectively acts as the shower tray – are often one of the first solutions that spring to mind when dealing with a room that seems too small for a traditional bathroom layout. However, they do not always work well in compact areas.
Bear in mind that in a small wetroom all fixtures and fittings are in close proximity to one another, so consider adding a glazed panel to contain some of the water.
Underfloor heating (UFH) is strongly advised to help things dry out quickly and good ventilation is a must.
Don't Tile Every Wall
Limiting the amount of tiling is a great way to reduce costs. This can be a good solution in small bathrooms for an aesthetic reason too, as architect Emily Naylor-Burnett, director of Gruff Ltd, explains: "An entirely tiled room can look smaller, so a balance of larger areas of tiling with painted plaster tends to be better."
Introduce Mirrors
A mirror not only fulfils a functional role, but can help create an illusion of space in a small bathroom; reflecting light around the room and adding visual interest to walls.
Choose a Neutral Scheme
A light, neutral interior scheme will help a small bathroom feel larger — particularly those rooms which lack natural light. A further benefit is cost; white ceramic tiles can be purchased from upwards of £8/m2.
Bold Patterns Add Wow Factor
Contrary to the above, a bold print or pattern, introduced wisely, can create a real talking point in a small room. Pairing light, plain walls with a bold floor tile is one example.
"If you are looking to use print, stick to one colour as too much print in a smaller bathroom can make the room look smaller," advise the experts at Topps Tiles.
On walls, cool colours such as pale greens and blues are often best utilised. Cool colours tend to be 'receding' — they make a room look larger, whereas warm 'advancing' colours, such as red, can create a sense of enclosure.
Natural Light is Key
The centre of the floorplan is often a good place to plan in bathrooms — allowing living spaces and bedrooms, for instance, where we spend more time, to enjoy the best of the views and natural light. However, small bathrooms without windows can subsequently feel claustrophobic.
The solution? A high-level internal window is a clever means of stealing light from other areas of the home, without compromising on privacy or usable wall space. A rooflight is another good option.
Opt for Back to Wall Sanitaryware
Back to wall toilets and basins offer a streamline look in small bathrooms, as compared with their closed-coupled and pedestal counterparts.
There's typically more work involved when it comes to installation. A waist-height studwall is usually constructed to 'box in' the cistern and the plumbing. If the toilet is wall hung, the associated framework will have to be concealed, too.
Choose a Sliding or Pocket Door
The configuration of your bathroom door can also impact on usable floor space. As such, sliding doors and pocket doors can be space-saving solutions.
A pocket door (in basic terms, a door which slides out of view into a cavity in the adjacent wall) is often best incorporated when building bathroom walls from scratch.
Sliding doors offer a good retrofit solution. The trick is to choose a runner which complements your interior scheme — and importantly, supports the weight of your chosen door.
Things to Remember in a Small Bathroom
Bathroom sizes: While there is nothing in the Building Regulations to dictate how big a bathroom must be, it is advised that around 4.5m² (49ft²) provides a comfortable space.
Bath sizes: Standard rectangular baths measure 1,700 x 700mm. However, they are available in sizes as small as 1,500 x 700mm (and smaller). Consider corner baths or deep tubs to save space.
Shower tray sizes: Although there is not a standard size as such, 900 x 900mm is fairly typical for a square shower tray and will provide a comfortable place to shower.
Circulation space: You should also allow around 700mm in front of a WC and basin and at least 1,000mm in front of a bath.
Claire is Editor of Homebuilding & Renovating and has been a member of the team for over 13 years. An experienced homes journalist, her work has also appeared in Real Homes and Period Living magazines. She has a particular interest in green homes, and interior design is also a passion; she has undertaken qualifications in this area. Claire has recently finished her renovation project — and is now onto the next.
Homebuilding & Renovating Newsletter
Get the latest news, reviews and product advice straight to your inbox.
Thank you for signing up to Homebuilding. You will receive a verification email shortly.
There was a problem. Please refresh the page and try again.