10 Mistakes You Need to Avoid When Converting Your Loft
By Natasha Brinsmead published
Ensure your project is a resounding success by taking note of our guide to the most common loft conversion errors made by homeowners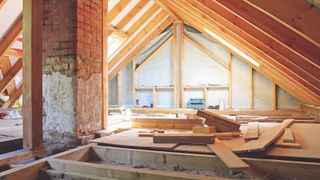 (Image credit: Getty)
Converting a loft space has the potential to transform a home, adding useful extra space and value while really enhancing the way a house can be used. Whether you're looking to add a new master suite, a quiet home office or extra living space which takes in the views, a loft conversion is one of the most cost-effective ways of adding space to an existing home. However, there is also the chance that, if done badly, it can ruin a property.
From ugly conversions that mess with a house's proportions to badly planned projects that cost thousands yet add little to no value — we give you the 10 most common loft conversion mistakes so that you can ensure your new space is a triumph rather than a fail.
1. Failing to Check You Have Enough Head Height
Missing this all important step of checking the headroom available in your loft is a massive mistake.
The minimum headroom should be 2.2m, however, a more comfortable 2.4m is easier to live with. This means you're realistically need 2.8m once the floor has been installed, insulated and the floor finish added.
To check whether your loft is suitable for conversion measure from the highest point of the space (usually the underside of the centre ridge timber) to the top of the floor joist beneath.
If you do discover you have insufficient headroom, take a look at the different types of loft conversion out there — modular loft conversions and some styles of mansard roof conversions can work to increase head height. Alternatively, there is always the (rather disruptive) option to steal some space from the rooms below.
2. Taking Planning Permission For Granted
Never simply assume a loft conversion will fall under permitted development — this is a huge no-no.
Although it is true that many loft conversions don't require planning permission – simple rooflight and rear dormer conversions often fall into this category – hip-to-gable designs and those that alter the façade of the building, such as large modular loft conversions, may well require you to apply for permission. This will also be the case if your home is listed, or you live within a designated area such as a conservation area.
3. Failing to Adhere to the Building Regs
Which brings us nicely on to the next regulations-related point — the Building Regulations. It might seem like a drag to have to apply and adhere to Building Regulations but ask yourself this: would you want to risk a creating a space right at the top of your house that was unsafe? Thought not.
You will always need Building Regulations approval when carrying out a loft conversion — a specialist loft conversion company, builder or architect should be able to advise you here.
In short, loft conversion Building Regulations relate to windows, fire regulations, sound proofing, headroom, electrics, insulation and wall and floor construction, along with ventilation.
4. Getting The Proportions All Wrong
It is easy to get carried away designing the interior layout and trying to get the very most space out of your new loft extension — but don't forget what it is going to look like from the outside and how it will affect the rest of the exterior of your home.
It is all well and good creating a super spacious master bedroom with dressing room and en suite in your loft, but if your house is left looking horribly top heavy you could well regret it — plus it could negatively affect the value of your property.
You might also run into some difficulties with the planners — they will be keen that any loft conversion has a positive impact on the existing house as well as the surrounding area.
5. Forgetting About The Stairs
Your new loft conversion will be utterly useless if you can get to it — yet it is amazing how many people forget to consider where their new loft conversion stairs to will fit in.
Ideally your new stairs will be positioned directly above your existing staircase and lead to a space around the edge of the new loft room — you want to avoid a staircase that pops up right into the centre of the room. If landing space is tight or a roof slope is in the way though, you might have to reconsider.
Some people choose to steal some space from a bedroom below for the new staircase, but this isn't always ideal.
6. Spending Too Much
While a basic rooflight loft conversion could cost as little as £25,000, a more realistic starting price for a fully finished loft is £35,000 (particularly at this time when material prices have risen), with modular and mansard roof loft conversions easily costing right up to £80,000+.
Having a concise, detailed budget is important but so too is knowing the ceiling price of properties in your area — you don't want to go spending thousands with a view to adding value to your home only to find it was money wasted. This is key if you plan to move on in the near future.
7. Forgetting to Tell Your Insurance Provider
When beginning any home improvement job, particularly extensions, it is important to inform your current home insurance provider. You may well find that you won't be covered for building work and need more specialist insurance, so if anything goes wrong during the project you could find yourself facing some hefty payments.
While most builders or loft conversion specialists should have their own insurance policies (including public liability insurance) you still need to check with your own insurance provider what you are covered for.
And, once the loft conversion is complete, you need to let your provider know — your current policy will need to take into account the changes to be valid.
8. Being a Bad Neighbour
If you live in a terraced or semi-detached house and are considering a loft conversion then you may well need to comply with the Party Wall Act 1996 — plus, letting any adjoining neighbours know your intentions is just good manners.
A Party Wall Agreement with your neighbours will be required if the shared wall will be in any way affected by the work. Although the Act doesn't actually contain enforcement procedures for failure to serve a notice, should you start work without first giving notice in the proper way, your neighbours could try to stop your project through a court injunction — a headache no-one needs.
9. Not Considering the Impact of Lighting
When it comes to your loft conversion's interiors, taking a considered approach to lighting design is far more important than many people realise.
When we talk about lighting design, we are talking about both natural lighting and artificial lighting.
In terms of natural lighting, you need to think just as hard about how you will bring the light in as you will about how to keep the light out at certain times of day — if the loft conversion is to be a bedroom, for example, good blackout blinds will be needed to avoid being woken by a stream of sunlight to the face. Likewise, home office loft conversions will benefit from good window shading if screen glare is to be avoided.
When it comes to artificial light sources, consider how your chosen fittings will work with low and sloping ceilings — often recessed downlighters, flush ceiling lights, wall lights and table lamps work better than low hung pendants.
10. Creating a Noise Nuisance
The importance of good sound proofing when carrying out a loft conversion should never be underestimated and there are two ways to look at this. Firstly, if the new space you are creating is to be a quiet relaxation space or a home office, you want to ensure walls, floors and window glazing all offer adequate sound insulation.
Secondly, if the space is going to be a games, hobby or music room, you want to make sure the rooms beneath are protected from any resulting rackets emerging from the new space.
From simple measures such as thick underlay and good quality carpet to, double glazed windows and soft-close internal doors — it will all make a difference.
You should also seriously consider laying an acoustic mineral wool between the floor joists, or an acoustic quilting product under the new floor. If you are installing a new bathroom in the loft, it is wise to look at fitting acoustic pipe insulation to stop noise from flushing toilets and gurgling waste pipes intruding into your lower storeys.
Natasha is Homebuilding & Renovating's Associate Editor and has been a member of the team for over two decades. An experienced journalist and renovation expert, she has written for a number of homes titles. She has renovated a terrace and is at the end of the DIY renovation and extension of her Edwardian cottage. She is now looking for her next project.
Homebuilding & Renovating Newsletter
Get the latest news, reviews and product advice straight to your inbox.
Thank you for signing up to Homebuilding. You will receive a verification email shortly.
There was a problem. Please refresh the page and try again.