8 Conservatory Interior Ideas to Create a Stunning Space
By Amy Reeves published
These conservatory interior ideas, with expert tips, will inspire an update or new design of a stylish room with views of the garden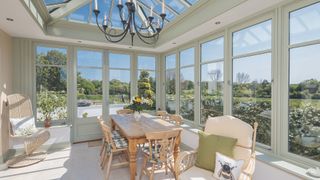 (Image credit: Simon Maxwell)
Conservatory interior ideas are often overlooked — whilst our social media accounts are filled with gorgeous images of dramatic living rooms, newly decorated bedrooms and bold bathrooms, conservatories rarely feature. These interior spaces are not always given the proper amount of attention to detail that they require.
From family sitting areas and children's playrooms, to dining rooms with views of the garden, conservatories can fulfil all sorts of functions. And they have come a long way from rooms of the past that are either too hot or too cold. As such, spending time researching conservatory ideas, and considering how you will style and decorate the space will impact how often it is inhabited.
Take a look through our expert interior design suggestions and stylish real home examples to find out where to start.
Conservatory Interior Ideas
While it may be tempting when looking at new conservatory interior ideas to include the latest trends, investing in timeless materials and fixtures will be worth your while, while soft furnishings and furniture can be adapted to suit changing styles.
"Interior design trends are good to look at in order to be inspired by what is happening around you, they can influence design but we don't believe in when designing a space going by a trend. The trend will end and you'll have to wait 20 years for your home to be en vogue again," advises interior designer Ana Engelhorn.
"Interior design is a creative outlet that all homeowners love indulging in," continues Lisa Morton, director at Vale Garden Houses. "We have seen a continued love for the traditional soft colours which we are known for, but also a rise in individuality and the use of focal colours and wallpaper in orangeries and conservatories.
"Neutral tones, which harmonise with the outdoors have been key. Making our interiors feel like we are at one with nature," she says.
1. Let Nature Inspire the Interior of a Small Conservatory
Conservatories are light and bright spaces by design, and provide a connection between the home and the garden beyond. Take that one step further in small timber conservatories by letting the wood become a part of the interior design.
Oak frame conservatories work particularly well with this style, but other timber structures can also bring a certain charm and natural feel to conservatory interiors, as this petit garden room goes to show.
Natural and reclaimed materials, like the stone dwarf wall and the tile flooring, further inject an identity that makes the space an interesting and inviting place in which to entertain.
2. Choose the Right Lighting for a Conservatory Interior
A well-considered lighting scheme is key part of a conservatory's decor. The merits of different conservatory lighting ideas will depend on the function the space performs in the home.
For a garden-facing dining room, low-hung pendant lighting can look particularly effective at night, but for a family snug room, dimmable downlights will be a better option.
This narrow conservatory lets the spotlights take a back-seat in the interior design during the sunny daytime, but allows interesting features, such as the beams and windows to be highlighted once night falls.
3. Let Flooring Inform Your Conservatory Interior Ideas
Flooring makes a large impact on how we perceive a room, and how it functions on a practical level, so take this into consideration when designing the interiors of a conservatory.
Many feel as though conservatories are a temporary space adjacent to a home so are reluctant to invest in the flooring in the same way as the 'main house'. However, it's best to install durable and long-lasting materials, where possible.
"Conservatory flooring ideas and trends have remained in the classic stone corner, maybe as a reflection of our love of natural elements," comments Vale Garden Houses' Lisa Morton. "Limestone is a particular favourite with its natural warmth and qualities working especially well with underfloor heating.
"When paired up with our Victorian-esque floor grills the look is timeless, with a contemporary edge. The cast iron floor grills have increasingly been supplied as a decorative feature, but can also be supplied as a heat duct which can be connected to the house heating system."
4. Add a Splash of Colour to a Conservatory Interior
"We love using colour and natural building materials. Although, natural building materials are always usually brown, grey, black and neutral tones, which is why we love including dashes of colour to awaken your emotions a bit," explains Ana Engelhorn, who designed the interiors of the deep purple conservatory dining area pictured.
While a conservatory interior doesn't need to be filled with a strong colour, using the 'built' elements of the structure to influence the interior design of a conservatory is a fantastic idea.
This could be something as simple as creating a feature of the house's exterior wall, or painting the dwarf wall under windows. If the structure is made of timber this can also be a canvas on which to inject a little personality into these notoriously washed-out spaces.
5. Use Blinds to Introduce Pattern — and Useful Shade
A long-standing complaint of conservatories is that there is rarely a time when they can be inhabited comfortably — they're always either too hot or too cold.
So, take inspiration from great sunroom ideas (they have solid roofs where conservatories are all glass) and try to include shading elements in a conservatory's interior design. This will help to prevent overheating and, if you purchase insulating blinds or curtains, will help to retain warmth in the winter.
Plus, extra interior elements such as blinds and curtains are a way of introducing texture, visual interest and colour in a non-permanent way to a conservatory interior, so they can be swapped out if your tastes change.
6. Create a Space for All Seasons
Smart interior design can further make a conservatory a space to be used all year round.
Use neutral colours to create a pared-back backdrop for the views towards the garden in the summer but, in a similar way to glass box extension ideas, when winter comes around be sure to create a separate focal point, like a stove, that will draw the eye.
If you're thinking of replacing a conservatory with an extension, this is all the more pertinent to get right to create a welcoming space.
7. Use Texture for a Homely Conservatory Interior
A great way to make a conservatory interior feel more homely is to play with textures around the room — from rugs and blankets, to timber internal cladding and interesting flooring.
"A conservatory made out of glass is usually quite hard looking — including soft furnishings makes the room much more balanced and homely," explains interior design Ana Engelhorn. "We believe this philosophy works in all rooms of the home. Always try to find the right balance for the look you are trying to achieve."
This bright conservatory utilises the existing brick wall of the house to create a contrast for the sitting area. Durable and dark flagstone flooring is contrasted with light-colours furniture while plants scattered around the room provide further texture to the interior.
8. Solve Interior Issues by Looking at the Structure
Damp, draughts and cracks are unfortunately a common thing in older and less structurally considered conservatories. Although looking at interior design will help, until these issues are solved, a splash of paint can only go so far.
"Building anew is sometimes necessary for the homeowner, the existing building may have been poorly designed originally; resulting in a lack of space or poor flow," explains Lisa Morton of Vale Garden Houses. "But the main problems which can arise from old conservatories is the linkage between the original building and the additional building. If poorly connected the join will leak, and damp and heat loss may occur."
Addressing these issues first will be key to transforming a conservatory interior.
Assistant Editor Amy began working for Homebuilding & Renovating in 2018. She has an interest in sustainable building methods and always has her eye on the latest design ideas. Amy has interviewed countless self builders, renovators and extenders about their experiences for Homebuilding & Renovating magazine. She is currently renovating a mid-century home, together with her partner, on a DIY basis, and has recently fitted her own kitchen.
Homebuilding & Renovating Newsletter
Get the latest news, reviews and product advice straight to your inbox.
Thank you for signing up to Homebuilding. You will receive a verification email shortly.
There was a problem. Please refresh the page and try again.