Bathroom Flooring Ideas: 10 Practical and Stylish Designs for Your Project
By Hugh Metcalf published
These bathroom flooring ideas offer up the best inspiration for materials, styles and layouts for your project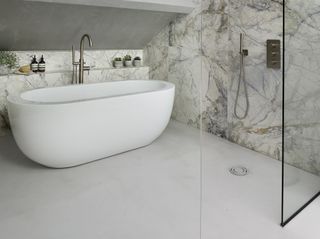 (Image credit: BC Designs)
Bathroom flooring ideas aren't in short supply — because of the size of these rooms and the availability of tiles and other types of flooring in an almost endless variety of styles, the bathroom is one room in the house that it pays to get creative with your flooring.
But as well as making up a large part of your bathroom design, the best bathroom flooring ideas are also the most practical.
Take a look at some of the key trending ideas in bathroom flooring right now in our gallery.
1. Patterned Bathroom Flooring Ideas are Perennially Popular
Patterned bathroom flooring ideas have grown in popularity in recent years. Patterned tiles in particular look great in a bathroom, especially when teamed with simpler wall tiles, as the size of UK bathrooms generally means the room isn't expansive, and so doesn't get overwhelmed by pattern.
While traditional Victorian style floor tiles are a safe bet for the longevity of your love for your bathroom flooring, especially in a period home, there are also many more modern tile designs that will work just as well, and give your home a fresh new twist on a patterned flooring.
(MORE: Modern Bathroom Ideas)
2. Keep it Simple with Plain Bathroom Floor Tiles
Not everyone enjoys a maximalist design, especially in the bathroom which is supposed to be a calming space to spend time in. Keeping your bathroom scheme simple with plain or lightly patterned or textured tiles can be really effective design-wise, especially if you lean in to a more minimalist approach.
The likes of wood or wood-effect flooring can also work well in an uncomplicated space, with the texture of timber acting almost as a neutral, while adding warmth and a sense of comfort to your bathroom.
3. LVT is a Great Flooring Choice for a Bathroom
If you're thinking of a wood finish for your bathroom flooring, LVT is likely to be the best choice available to you. While engineered wood flooring can technically be used in the bathroom, you run the risk of damaging it with excessive water exposure.
LVT flooring trumps over the likes of vinyl as many styles have a texture that makes the tiles look more realistic, while LVT is also a super durable, easy to clean option that works excellently with underfloor heating.
4. Opt for Vinyl for an Easy Clean Option
Vinyl flooring is a great choice for the bathroom, especially for those on a budget. Modern vinyls are much better quality than you might think, and come in a range of designs, from tile and stone effects to solid colours and interesting patterns. Plus, vinyl flooring is easier to clean, as it doesn't have gaps or grouting for dirt to get trapped in.
5. Try Chequerboard Flooring for a Classic Bathroom Idea
Chequerboard is a classic design for bathroom flooring, and lends your space an air of heritage when used in the right way. Sold black and white floor tiles can feel a little harsh, however, so for a more modern way to implement this design, try lightly patterned tiles such as marble effect to soften the look, or use less stark contrasts such as this burgundy and cream bathroom suite.
6. Or Try an Oversized Chequerboard Design for a New Twist
Large format floor tiles look great in a larger space, helping to add a sense of proportion to the room. We love this bathroom design idea for an oversized chequerboard made by mixing two colourways of the same tile, and this just goes to show how effective mixing and matching tonal tiles can be in a bathroom.
7. Opt for Dark Flooring for a Dramatic Finish
Bathrooms don't necessarily have to be an all-white affair, and while brightness and light should be something you consider for all bathrooms, a dark bathroom floor can add some real flair to your space, not to mention hiding dirt a little better than a white flooring.
8. Try a Bold Terrazzo Style Bathroom Flooring
Terrazzo is traditionally a type of poured flooring which contains chips of marble to make a decorative design. It's expensive, and not often used in a residential setting, but many porcelain tile designs now mimic the look, including supersize terrazzo designs that bring oodles of character to the bathroom.
9. Mosaic Tiles can be an Effective Idea for Bathroom Flooring
While you might think of mosaics more as a wall tile, there's a growing trend for them being used for flooring, especially circular 'penny' tile designs. If you're worried about keeping grout looking its best when using a small scale tile on the floor, make sure you invest in a quality stain-resistant grout, and why not choose something like this dark grey colour to contrast, which will fair much better than a traditional white grout?
10. Polished Concrete Bathroom Flooring Ideas
Polished concrete style flooring is a great choice for a bathroom, as it doesn't have joins that can harbour bacteria and dirt. For ease of installation and for the fact that they aren't porous like traditional poured concrete, microcement floors are often preferred for bathrooms.
Microcement can also be used on the walls and ceilings, as in this design, to create a textural, industrial feel in a bathroom.
Hugh is Digital Editor of homebuilding.co.uk and has worked on a range of home, design and property magazines, including Grand Designs, Essential Kitchens, Bathrooms, Bedrooms and Good Homes. Hugh has developed a passion for modern architecture and green homes, and moonlights as an interior designer, having designed and managed projects ranging from single rooms to whole house renovations and large extensions. He's currently renovating a Victorian terrace in Essex, DIYing as much of the work as possible. His current project is a kitchen renovation which involves knocking through walls and landscaping a courtyard garden.
Homebuilding & Renovating Newsletter
Get the latest news, reviews and product advice straight to your inbox.
Thank you for signing up to Homebuilding. You will receive a verification email shortly.
There was a problem. Please refresh the page and try again.