How Much Does a Bathroom Renovation Cost?
Bathroom renovation cost calculations can, at first, seem tricky to comprehend — fear not, our guide to how to budget for a bathroom refurb makes it simple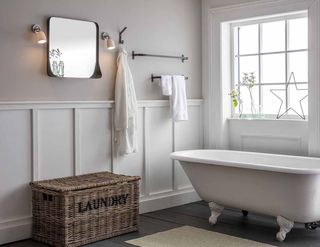 (Image credit: Garden Trading)
Trying to work out what a bathroom renovation costs? You are not alone. Price is one of the biggest factors in any home modernisation project.
VISIT THE HOMEBUILDING & RENOVATING SHOW
Need more advice or inspiration for your project? Get two free tickets to the Homebuilding & Renovating Show

The great news is that there is no reason why bathroom renovation costs need to get out of control. There are plenty of ways to get your dream bathroom without spending a fortune and if you are trying to achieve a new bathroom on a budget you are in exactly the right place.
Our bathroom renovation cost guide breaks down each element of bathroom design so that you can see what is involved and how much it will set you back.
The cost of your bathroom renovation will depend on a number of factors, including:
The size of your bathroom
The amount of renovation work needed
The quality of finish you want
The spec of materials you choose
How much DIY you are willing to take on
The plumbing system you already have in place
Whether or not you will require a new boiler
Even with these variables to bear in mind, it is still possible to give an estimate of the kind if bathroom renovation costs you can expect.
A basic new bathroom suite could start from as little as around £250. But this is just the start. You also need to factor in installation, tiling, heating, lighting and bathroom furniture.
According to Victoria Plum, the average cost of installing a new bathroom in the UK is £6,500. However, depending on the amount of work you are happy to do yourself, this could come much lower. Equally, larger spaces, those that need more renovation work and those that are using luxury products will see prices range from £7,000 - £15,000+.
These costs don't just include fitting new sanitaryware. They are also based on the installation of heating in the form of heated towel rails or underfloor heating, lighting, plastering and decoration, extraction units, furniture and shower trays and tiling too.
How Much Does it Cost to Fit a Bathroom?
When working out your bathroom renovation cost it is important to factor in fitting costs. Don't forget labour costs, tiles, heated towel warmers, lighting and frames for baths to be built in to.
As a starting point, a plumber should be able to carry out a simply like-for-like bathroom retrofit in two or three days, as well as removing the old one — this would cost around £1,000.
How Much Does Bathroom Tiling Cost?
Prices to tile a bathroom fall at around £85/m². However, these prices will vary depending on the tiles you have chosen and the size of your bathroom.
Your bathroom flooring has to look good, suit your chosen fittings but also most importantly has to stand up to water, humidity and be slip resistant.
The types of materials you choose will also affect the cost - you can choose from vinyl, ceramic, stone, engineered wood and even concrete.
How Long Does it Take to Tile a Bathroom?
It is hard to pinpoint how long it takes to tile a bathroom, but the average is somewhere between one and five days. This will depend on how much of the room you are having tiled and the size of the room, as well as the tiles you have chosen.
How Much does a Bath Cost?
Low end: from £80
Average cost: from around £300 to £700
Top end: Anywhere between £800 and £3,000
Remember:
A standard bath size is 700 x 1700mm and this what most high street manufacturers will sell.
If you buy a bathroom suite it's worth remembering that baths tubs tend not to be included (usually this only includes the WC and basin) so a bath is likely to be something you will need to buy separately.
The cost of a bath will depends on the material it is made from and whether it is a standard size or a more unusual size.
The very cheapest baths are usually made from thin acrylic and come ready to be built in to a frame, which can then be tiled or finished with a purpose-made bath panel which you will have to buy separately.
(MORE: Where to Find Cheap Bathroom Suite)
Cheap acrylic baths cost from around £80, but can be flimsy and easily crack, so do give them a thorough check before buying.
Not all acrylics baths are cheap though and those made from thicker, fibreglass-reinforced acrylic are of a much better quality. Acrylic also keeps the water warm for longer than steel.
Steel baths are perfect for those on a budget who want durability without the hefty price tag. They tend to be more hardwearing than very low-cost acrylic baths and often cost little, if any, more — starting from around £120.
Once you start looking at cast iron, timber, composite and stone, the prices rocket. However, if you want to make a statement in the bathroom this is the way to go. Prices for these baths start from around £600, but can reach prices of up to £3,000.
How Much Does a New Shower Cost?
Low end: £50
Average cost: £60 – £500
Top end: £500 – £2,000+
If you want to know how to choose a shower, then first look to electric showers. These are the cheapest option and are ideal for those looking to carry out a quick, low cost bathroom update.
Electric showers have a connection to just the mains cold water supply and heat water on demand. This means that they struggle to reach the level of power provided by power showers and those using stored hot water, although choosing one with a higher kilowatt rating will help.
On the plus side, they are economic to run, installation is straightforward and they start at around £50.
Bath/shower mixers are another good option for those looking to keep their bathroom renovation costs low, with prices from £50.
(MORE: Family Bathroom Design Ideas)
The shower hose and head are combined with the bath mixer tap and this is how the temperature is adjusted. They are easy and cheap to fit, but the pressure can be lacking and getting the water temperature right can be fiddly.
A manual shower mixer (from £60) has the hose and spray coming out from a wall unit, with a temperature control to adjust the temperature.
Thermostatic mixers are similar to manual mixers but have a built-in thermostat that automatically adjusts the water temperature (but not the pressure) if a tap elsewhere in the house is being used. They start at £125.
Power showers start at £150 and are connected to an integral pump to boost flow rate. However, they are not compatible with combi boilers as they need a supply from both a cold water cistern and a hot water cylinder.
These are just the basic shower types. Digital showers, shower towers, columns and cabins all offer a luxury showering experience, with a multitude of sprays and jets — at a cost of course, from £250 upwards.
Shower Enclosure Prices
Low end: from £100
Average cost: £120 – £300
Top end: £550+
If you are in the process of shopping for shower enclosures you will have already realised that shower enclosure prices very much depend on configuration and materials.
Basic shower enclosures featuring one glass side panel and a door, or a quadrant enclosure with double doors, can cost as little as £100.
Don't forget, however, that you still need to factor in the cost of a shower tray, which will cost from £60 at the lowest end.
A complete 'wet room' style enclosure, complete with walk-in tray and frameless shower screen will cost from £550. A frameless fixed enclosure, with no door, will start at around £200.
Wet room kits can also be purchased. These come complete with everything you need to form a platform, drainage and waterproofing equipment (but excluding tiles) — they cost around £500-£600.
How Much Does a Basin Cost?
Low end: from £50
Average cost: £60 – £150
Top end: £300+
From as little as £50 you can pick up a ceramic pedestal basins.These are also convenient in that all pipework can easily be concealed behind the pedestal.
If you are after a more contemporary basin, consider a semi-pedestal or wall-hung basin. These basis cost from around £60. Remember that a wall hung basin will require a stud wall to be constructed from which to hang it and conceal the pipework.
Basins designed to sit in or on top of a vanity unit (including freestanding basins and semi-recessed models as shown above) allow for useful storage beneath. These basins cost from £90, but remember to factor in the cost of the unit they sit on or in, too.
While most basins are ceramic, glass, metal and stone are all options but cost more. The most common basin size is 550mm x 400mm.
How Much Does a Toilet Cost?
Low end: From £50
Average cost: £200 – £400
Top end: £500
Floor-mounted, low-level WCs cost from £50. Traditional-style high-level toilets are another option, as are more modern-looking wall-mounted WCs — here the cistern and pipework is typically concealed within a frame in a studwall.
Bathroom Tap Prices Explained
The very cheapest type of bathroom taps are pillar taps (taps with a separate tap for hot and for cold). They cost from £30 per pair.
Mixer taps that have separate controls for hot and cold flow tend to be next up the scale, from around £45, with monobloc mixers (where flow and temperature are both controlled from one lever) usually at the top, from £50 up to the low £100s.
Your choice of sanitaryware will affect which taps you can have. Counter-top, bowl-style basins, for example, will require wall-mounted taps or those set into a vanity unit, while freestanding baths will need wall- or floor-mounted taps.
These can be more costly than simple mixer taps located on the bath or basin, both to buy and fit.
Hidden Bathroom Renovation Costs
In addition to the obvious bathroom renovation costs, such as basin and toilet, don't forget to figure in extras such as:
An extractor fan
Bathroom flooring
Underfloor heating
Towel warmers
Plastering
Removing an old bathroom suite
Tile adhesive and grout
Lighting
Decoration
Floor reinforcement where nesessary
Bathroom cabinets
Get the Homebuilding & Renovating Newsletter
Bring your dream home to life with expert advice, how-to guides and design inspiration, direct to your inbox.
Natasha is Homebuilding & Renovating's Associate Content Editor and has been a member of the team for over two decades. An experienced journalist and renovation expert, she has written for a number of homes titles. Over the years Natasha has renovated and carried out a side extension to a Victorian terrace. She is currently living in the rural Edwardian cottage she renovated and extended on a largely DIY basis, living on site for the duration of the project. She is now looking for her next project — something which is proving far harder than she thought it would be.