Home Design Apps: 6 Ways to Visualise Your Project Digitally
By Hugh Metcalf published
These home design apps will aid you in visualising your project. From simple mobile apps to more complex modelling software, here's our pick of the best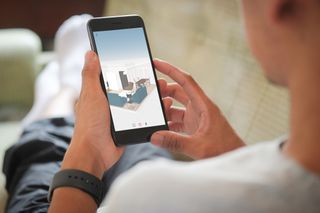 (Image credit: getty images/Roomle)
Home design apps can be very useful, whether you're building, renovating or simply re-designing your home's interiors. Not only do these apps give you an opportunity to visualise the space, both for yourself and for explaining your plans to your builder or decorator, but also a to-scale model for planning the layout and position of furniture.
But what is the best home design app? Here's 6 of the best apps that can be used to help visualise your project.
1. SketchUp
SketchUp (opens in new tab) is a 3D modelling application that's favoured by design professionals throughout many disciplines, but it's something that you may find your architect or design company uses to bring your build plans to life. Absolutely anything can be modelled using SketchUp's design tools (and specific objects can be imported into the design too), and the space can be explored in three dimensions.
SketchUp isn't really suitable for the dabbler, however. It takes some time to get to grips with the modelling controls and it's a programme more aimed at professional users. However, there are plenty of resources around to learn how to use it, from free YouTube videos and web pages to online courses aiming to teach you the basics of SketchUp design.
There's a free version of the app that can be used online with limited features — after that, you'll require a paid-for monthly subscription.
2. Roomle Floorplanner
Roomle's Floorplanner (opens in new tab) app may be more limited in its design offering than SketchUp, but it more than makes up for it in user friendliness. We got to grips with the controls very quickly, scaling out a room with windows and doors to test furniture layouts.
This is where this app's strengths lie — while you can only use pre-modelled furniture that's supplied in the app already, you can get a good idea of how furniture will fit into your room and play with different layouts and configurations easily. These can be explored in 2D and 3D too.
Floorplanner can be used on your desktop, tablet or mobile device. You'll get a few plans for free, before being asked to upgrade to a paid subscription.
3. Planner 5D
Planner 5D (opens in new tab) goes a little bit further than Roomle with its offering, allowing photorealistic renders of completed designs that wouldn't look out of place in an architect's office. Planner 5D can be used for exterior design too, including houses and gardens.
While the interface may take a little while to get to grips with, Planner 5D's desktop version also has an amazing array of templates that you can use to start your design for free — a great place to hone your skills before rendering your own design.
Like many of these apps, Planner 5D is free to use to a certain extent, but for the realistic photo renders and more access to furniture designs and plans, you'll likely have to take out a subscription.
The mobile app also has a beta-version feature which allows you to upload your floorplan and instantly convert it into a room design.
4. Roomstyler
Roomstyler (opens in new tab) is probably the best home design app that's free to use as its without limitations such as number of plans or furniture available. The furniture models used in this app is based on real designs, including from the likes of John Lewis and M&S, as well as classic designer pieces.
How Roomstyler differs from many of the other home design apps is that you can only design the space in 2D mode. While you can see a 3D image of the room through a small box to the top right of the design, it doesn't quite offer the same ease of use and ability to 'walkthrough' the space that's so useful for planning layouts.
5. MyRoomPainter
The MyRoomPainter (opens in new tab) app from Crown isn't a modelling too like many of these other apps, but instead an augmented reality app that allows you to see your potential colour choices in your actual home.
Simply download the app, use it to snap a picture of your space and you can then see how different colours will look on your walls, no Photoshop required.
It's a free app and super easy to use, so if you're unsure of how a colour will look, it's definitely worth giving this one a go.
6. IKEA Place
IKEA Place is free to download and use reality technology, IKEA's Place (opens in new tab) app allows you to see how furniture fits and sits in a space without having to model the entire room yourself.
Download the app, and use it's clever technology to map out your space. Then you'll be able to simply drop pieces of IKEA furniture into your space to see how they fit, while seeing them on your phone screen in the space in real time.
IKEA Place is free to download and use.
Hugh is Digital Editor of homebuilding.co.uk and has worked on a range of home, design and property magazines, including Grand Designs, Essential Kitchens, Bathrooms, Bedrooms and Good Homes. Hugh has developed a passion for modern architecture and green homes, and moonlights as an interior designer, having designed and managed projects ranging from single rooms to whole house renovations and large extensions. He's currently renovating a Victorian terrace in Essex, DIYing as much of the work as possible. His current project is a kitchen renovation which involves knocking through walls and landscaping a courtyard garden.
Homebuilding & Renovating Newsletter
Get the latest news, reviews and product advice straight to your inbox.
Thank you for signing up to Homebuilding. You will receive a verification email shortly.
There was a problem. Please refresh the page and try again.