6 Inspiring Coastal Houses With Incredible Sea Views
By Hugh Metcalf published
Coastal houses are in high demand, and with self builds and renovations like these six outstanding examples, it's not hard to see why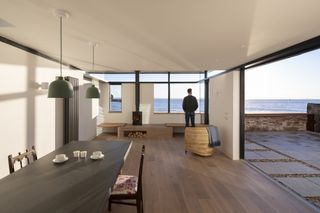 (Image credit: Dapple Photography)
Living by the sea in a coastal house is a dream for many people looking to escape the city bustle, whether for their main home or for a weekend escape. However, with land and property prices in many of the most popular coastal destinations at a premium, finding a plot to self build or the right property for renovating is a huge challenge.
However, it's a challenge that's well worth the effort in surmounting. Coastal homes have a special quality about them, often designed with incredible sea views that really connect the indoor spaces to their outside environment.
Location really does drive the design in coastal homes, so we've pulled together some exemplary examples of self build homes and renovations by the sea to serve up as inspiration for your dream beachfront project.
1. Coastal Bungalow Extension in South Cornwall
Image 1 of 4
Image 2 of 4
Image 3 of 4
Image 4 of 4
Nick Purchase and Tim Hubbard's renovation and extension of a dilapidated bungalow perched on the rocks above Mounts Bay in west Cornwall was a tricky project thanks to its extreme location, however the result is now a beautiful three-bedroom home with spectacular views in every direction.
Nick's choice of materials, including zinc, local stone, slate and some render is sympathetic to the setting: "Even fishermen have commented on how it blends in." says Nick.
(MORE: How to Extend a Bungalow)
Internally, the finishes are neutral allowing the views to do the talking. Internal glazed balustrades allow for views from the sitting room over the kitchen and out to sea. Outside, the garden areas presented their own challenges. Nick and Tim kept the existing retaining walls, but re-landscaped, with special measures taken to shield the garden from salt-laden easterly winds, including building hessian screens to protect the young plants in winter.
2. A Sculptural Self Build on the Kent Coast
Image 1 of 4
Image 2 of 4
Image 3 of 4
Image 4 of 4
Located in an Area of Outstanding Natural Beauty on the dunes between Dungeness and Greatstone-on-sea, this intriguing and sculptural self build by architects CZWG takes on a different appearance from every angle. Working with patient and visionary clients, Mark and Daniella Randall,
Inspired by its coastal location CZWG say that the shape, combined with the timber cladding, is inspired by "the inverted hulls of ships which feature constantly on the horizon."
Internally, two bedrooms sit snug on the ground level, while the first floor makes the most of the seascape with the living areas and main bedroom suite. A cantilevered balcony projects into the dunes, while a further deck is accessible from the upper mezzanine level.
(MORE: Balcony Ideas)
"We also have private access to the beach and it's wonderful to simply step out onto the sand," says Mark. "I love being able to sit quietly and look at the sea; it's quite mesmerising."
3. Sea Wall Build Near Edinburgh
Image 1 of 4
Image 2 of 4
Image 3 of 4
Image 4 of 4
When Archie and Tricia inherited a dark, one bedroom 1980s conversion of an old stable outbuilding in Musselburgh, they had big plans to renovate it into their ideal coastal home.
"It was too small — there was only one bedroom and bathroom. And, strangely, very little sea view," says Tricia
The 17-month build project finally went on site once the radically revised planning application was accepted. The end result is a traditional meets contemporary seafront house featuring a new wedge-shaped extension occupying the raised terrace at the east end of the site.
Though the couple had intended to try and preserve the original building, it was discovered the walls weren't safe when construction started, so the original idea of renovating a house was out of the question. Architect Matthew Johnson of A449 Architects came up with a plan that demolished three walls of the existing cottage, preserving only the sea wall. This meant they could approach the project as a new build and save money by reclaiming VAT.
(MORE: Reclaiming VAT on a New Build)
4. A Home Built on a Slope Over a Devon Estuary
Image 1 of 4
Image 2 of 4
Image 3 of 4
Image 4 of 4
While Mark and Janine Harris' home in Salcombe may not be directly on the seafront, it's elevated plot delivers views of the water that are perhaps even more impressive than if they'd be located at coast level.
However, when they first uncovered the site with an uninspiring bungalow located on it, it was a completely different story. "The existing bungalow didn't have any connection to the garden or coastline," explains architect Ian Phillips from van Ellen + Sheryn. "But it is an amazing plot, with access from the road at the top through a driveway. Behind the bungalow, the site just dropped away with no way to enjoy the garden space."
The finished house now offers a clear connection with the sea views and vast expanse of coastline that lies beneath. Despite clearly being a new addition to this part of the Cornish coastline, the materials used, as well as the way that they have been applied, means the house offers an exciting, warm and characterful take on contemporary design.
5. A Listed Building Extension on the Sea Wall in Fife
Image 1 of 4
Image 2 of 4
Image 3 of 4
Image 4 of 4
What was once a neglected, listed building on the coastline of Fife has been given a new lease of life via this renovation project by WT Architecture, which includes an impressive extension replaced some insensitive alterations made over the years, including a PVC extension which compromised the property's historic character, which included a courtyard which leads directly down to the beach.
Centuries of weathering and salt had weakened the old house walls which crumbled on opening up, so care had to be taken not to loose valuable building fabric during alterations. The new structures had to essentially be removable without diminishing the intrinsic value of the original building.
The new extension was clad in copper, bowing to the inevitable weathering to the sea and oxidising to a beautiful green hue.
6. Self Build on the Isle of Skye
Image 1 of 4
Image 2 of 4
Image 3 of 4
Image 4 of 4
Ian and Marcella Grant built a the single-storey, two-bedroom family home inspired by traditional Highland longhouses in between a busy high street and the sea on the picturesque Isle of Skye.
While the street-facing entrance is less imposing, the sea-facing façade is more dramatic, featuring a series of cantilevered angled windows, clad in narrow horizontal Scottish larch slats, orientated towards the mountain views.
An open-plan kitchen/living/dining area occupies a large amount of the overall floorplan, with extensive glazing that opens onto a balcony perched above the seashore. The glass walls slide back into a concealed recess and extend the corner of the room into the open air.
(MORE: How to Build on a Sloping Site)
"By day, you are constantly aware of the changing moods of sea and sky, the changing seasons and play of sunlight across the landscape," says architect Ian, who also designed the home.
Hugh is Digital Editor of homebuilding.co.uk and has worked on a range of home, design and property magazines, including Grand Designs, Essential Kitchens, Bathrooms, Bedrooms and Good Homes. Hugh has developed a passion for modern architecture and green homes, and moonlights as an interior designer, having designed and managed projects ranging from single rooms to whole house renovations and large extensions. He's currently renovating a Victorian terrace in Essex, DIYing as much of the work as possible. His current project is a kitchen renovation which involves knocking through walls and landscaping a courtyard garden.
Homebuilding & Renovating Newsletter
Get the latest news, reviews and product advice straight to your inbox.
Thank you for signing up to Homebuilding. You will receive a verification email shortly.
There was a problem. Please refresh the page and try again.