Slate Roofs: Everything You Need to Know Before You Buy
A slate roof offers a timeless natural appearance and is often the go-to roofing solution for many building projects. Here's what you need to consider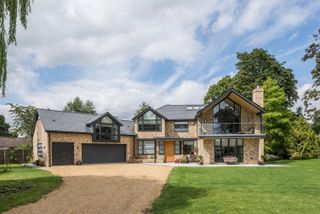 (Image credit: Cupa)
A slate roof is a popular roofing choice for many self-builders and renovators because of its impressive service life, excellent durability and timeless appeal. However, there's more than just aesthetics to think about when it comes to installing a slate roof.
One of the first things to check before laying a slate roof is the origin of your slates. Plus, with such varied quality levels available, how do you know whether the slate product is up to the task? Installation and maintenance are also crucial. So whether you're choosing a slate roof for your self build, extension or renovation project, here's what you need to know.
(MORE: Roof Coverings)
Why Choose a Slate Roof?
Roof slates come in an array of textures, thicknesses and colours, some of which are inherently linked with certain geographical regions of the country.
Welsh slate is known for its bluer tones, while Westmoreland is celebrated for its green-grey hue.
Natural slate can be cut into any shape for installation on your slate roof, although rectangular units are the traditional option in the UK.
Imported slates offer a cheaper alternative for your slate roof, although units sourced from overseas have been subject to some bad press over recent years. However, providing you check your slates meet the required quality standards, they can be a smart purchase.
Chinese and Brazilian varieties typically come at a lower cost. However, they have a very different mineral content to UK slate, which affects the performance of the tiles. "These slates are not suitable for some areas in the UK, mainly coastal regions, due to severe weather conditions," says Rosie Connor, a director at JRC Specialist Slate Suppliers.
Spanish slate "When it comes to slate quality, the country of origin isn't as important as the specific quarry you source it from. Slate varies hugely from quarry to quarry, and even between different veins of rock. The same goes for Spanish slate. There's poor Spanish slate, and world-class Spanish slate. For the best slate, you need to find a well-established, widely respected quarry with excellent quality control, regardless of what country it's in," says Ahmed El-Helw, managing director at SSQ.
Assess the Quality of the Slate
Like many building materials, cost is a pretty dependable gauge in terms of quality — cheaper slates do not typically offer the same durability. "Look for accreditation — quality slate will always carry one. If slate hasn't been tested to BS EN12326 standard and it doesn't have CE marketing, it doesn't meet UK Building Regulations and shouldn't be installed," says Ahmed El-Helw.
Another key area to investigate before laying a slate roof is the rate of water absorption, where lower rates are better. "Regulations require that slate has a water absorption rate of less than 0.6%," says Ahmed El-Helw. "However, that's only recently changed. The standard used to be 0.3% or less, and many in the industry would argue this is still the mark of excellence."
Double check the carbonate content, too — slate that has been graded S1 is the best as it has a carbonate content of no more than 20%. If the level of carbonate is more than 20% it could reduce the durability of the slate.
Installing a Slate Roof
Bear in mind that slate comes in a variety of thicknesses and textures. Therefore, it's vital for your roofer to sort the slate into at least three categories to guarantee a uniform look across the whole slate roof.
"The thinner ones should be used for the top rows of the roof, heavier ones for the eaves courses and those in between should be used for the central rows," says Ben Fernandez, managing director at Iconic Slate. "This gives more weight to the bottom layers and the eaves course, which is more susceptible to wind uplift, as it's the only part of the roof structure that protrudes from the timbers."
An adequate headlap (the distance overlapped by three slates) is needed, too. "Different roof pitches require different headlaps, and therefore different slate sizes are required," says Yasmin Herfegar, specification manager at Cupa Pizarras. "The lower the pitch, the larger the slates." Installing a slate roof or those with a particularly low gradient (typically lower than 20°, according to BS 5534) is not possible.
A small gap of approximately 5mm is required along all the slates' vertical edges to reduce the risk of water travelling upwards between surfaces that are close to one another. "All fixings must be non-rusting — copper and silicone bronze or stainless-steel nails must be used," says Ben Fernandez.
You'll also need to use a high-quality breathable membrane beneath the slates, and ensure that sufficient ventilation space is left between the boarding the slates are attached to and the insulation layer beneath to prevent condensation problems with your slate roof.
How to Maintain a Slate Roof
"The amount of maintenance depends on the quality of the material used," says Ahmed El-Helw. "Poorer quality slate deteriorates quicker and requires more intensive servicing."
Check your slate roof at least twice a year for slates that are cracked or broken and need replacing.
"On roofs surrounded by trees you'll need to check for deposits of leaves, pine needles and excessive moss growth — preferably before winter sets in," says Ben Fernandez. "If the deposits are excessive, they may prevent water running off the roof effectively."
Check the inside of your slate roof space for signs of damp or leaks caused by a damaged slate or one that's slipped out of place.
(MORE: How to Repair a Roof)
How Much Does a Slate Roof Cost?
As a premium natural product, a slate roof isn't cheap. "Roughly, prices range from £26-£35/m2," says Yasmin Herfegar from Cupa Pizarras. Slates quarried in Wales, Cornwall and Cumbria can cost more than £40/m2.
"For a 150m2 roof, the lowest you should pay for budget natural roofing slates would be about £6,300," says Ben Fernandez.
"For a higher quality grade you would be paying approximately £7,800, plus VAT." Factor in installation costs, too.
"The lowest would be in the mid £20s/m2 for the whole roof, with the highest in the mid £40s/m2, based on a traditional method of fitting," says Ben Fernandez.
Synthetic Alternatives to a Slate Roof
Manufactured to a uniform size, colour and finish, man-made fibre-cement tiles are an affordable alternative to natural slate.
The consistent thickness and pre-drilled holes make for quicker and easier installation, too, saving on labour costs.
Concrete tiles are one option, but typically fade in colour over time, so will need replacing in 20 to 30 years. While they have a smart, consistent finish, they lack the charm and variations of natural slate.
Fibre-cement units have a rough, textured edge that looks similar to the real thing. "The uniformity of the tiles means that the time-consuming grading and sorting process is eliminated," says Lisa Grosse from Eternit.
Fibre-cement tiles are suitable for roof pitches as shallow as 20° in locations of moderate exposure. "They are double the size of standard slates, yet can be cut down for details around valleys, hips and verges," adds Lisa Grosse.
(MORE: Ultimate Guide to Roofs)
Get the Homebuilding & Renovating Newsletter
Bring your dream home to life with expert advice, how-to guides and design inspiration, direct to your inbox.
Rebecca began her journalism career writing for a luxury property magazine in Bangkok, before re-locating to London and becoming a features editor for a self build magazine. She is an experienced homes and interiors journalist and has written for many homes titles including Homebuilding & Renovating, Ideal Home and Period Living.
She has expertise on a wealth of topics — from oak frame homes to kitchen extensions. She has a passion for Victorian architecture; her dream is to extend an 1800s house.