Metal roofing: A guide to the options, costs and more
By Amy Reeves published
Find out why metal roofing is becoming more and more popular on contemporary and traditional projects alike with our expert guide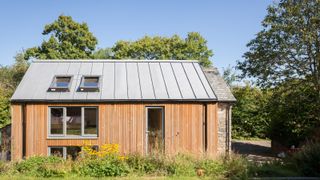 (Image credit: Matthew Smith)
Metal roofing can offer self builders and extenders an eco-friendly, low-maintenance option when it comes to choosing this key material which will above their heads.
With pretty much every style and colour available, metal is an alternative to other more traditional types of roof tile such as slate and clay, and can suit a range of different new home designs, as well as blending or contrasting with existing structures.
Take a look below to discover what metal roof products are available, what they offer and a range of stylish projects which have featured this material.
What are the different metal roofing types?
"From traditional green-hued copper to streamlined stainless steel, there's an array of options when it comes to metal roofing systems," explains homes journalist Rebecca Foster. "This natural materials offers self builders a high-quality, long-lasting solution."
Just like metal cladding, there are a variety of roofing products that can withstand the rain and snow. The main material options include:
Zinc: "While you may think of zinc as a contemporary roofing material, it's been used for almost 200 years," says Rebecca Foster. "One of the beauties of the material is the sheer array of colours and finishes it is available in."
Aluminium: "Coated aluminium is very lightweight and comes in a range of colours," explains Sean McHugh from The Metal Roof Company

(opens in new tab)

. "It uses similar installation techniques to zinc. However, aluminium cannot be soldered, which means certain installations may need to be approached in a different way by your contractor."
Steel: Stainless steel will not develop a patina over time while galvanised or corrugated steel can be used to create an agricultural-inspired effect.
Corten steel: "The heavy-duty steel forms a protective layer of rust on its surface, and this weathering gives Corten its distinctive orange colouring," details Allan Corfield, founder of AC Architects

(opens in new tab)

.
Copper: "Copper can be purchased in a wide variety of finishes, including aged Verdigris green copper and bright raw copper," advises Sean McHugh. "Once installed, the metal will immediately start to oxidise and lose its bright natural patina."
GreenCoat PLX: "This is a coated steel that's popular across Scandinavian countries," continues Sean McHugh. "It's made using eco-friendly coatings such as rapeseed oil. It's ideal as a zinc alternative because of its lower cost and similar installation technique. Also, it looks very similar to zinc but can be supplied in RAL colours to match windows and doors."
Why choose metal roofing?
"When people think of metal roofing, they tend to imagine corrugated metal sheets, however, modern, lightweight metal roofing tiles come in a large variety of colours and profiles; with some manufactured to look like a traditional roofing tile, while still bringing all the benefits of a metal roof," explains David Padmore, sales director at Metrotile Lightweight Roofing Systems (opens in new tab).
Metal roofing offers many benefits that make it is fierce competitor to options such as concrete roof tiles, slate and shingle styles. Not only do metal roofs last a long time – withstanding harsh weather like rain, wind and snow – but they're usually fire, mildew and rot resistant. Plus, unlike some tiles and shingles they can be installed on roof with low pitches.
Metal roofs are also seen as a more environmentally friendly option as many metal products use recycled steels or other products, while the roofs themselves are also recyclable.
"Steel and other metals roofing materials are much more effective at preserving heat than many other tiles (such as clay roof tiles)," adds David Padmore. "They can help to save you money on heating bills as you won't necessarily need to heat the property as much. A metal roof has high solar reflectivity and emissivity, which can cool down the property if it's in a hot place. With conservatory roofs, lightweight roof tiles actually help to keep the conservatory cooler in the summer, yet manage to retain heat in the winter.
How much does metal roofing cost?
"As a minimum, expect to pay £100/m2 for zinc roofs", Rebecca Foster states, but Jonathan Lowy from VMZinc adds that "The location, size and complexity of your project will obviously have an influence on the cost."
For Corten roof designs AC Architects' Allan Corfield, estimates: "You can expect to get quotations from specialist contractors in the region of £280 -£350m2 for a full installed system"
"While metal roofing tiles tend to be more expensive per unit in comparison to asphalt shingles, the investment into a high-quality, lightweight steel roofing tile can prove to be cheaper over its lifespan," David Padmore says. "The lifespan of a roof is a key aspect when choosing which material to go with. Not only for cost savings and removing the hassle of having to install another one, but also it is more environmentally friendly if it lasts longer.
"Unmistakably, lightweight steel roof tiles have a long lifespan. They require little upkeep or repairs, lasting around 60 years, meaning after the initial investment into the roofing materials, there's often no additional costs."
Is metal roofing better than shingles?
"Typically, metal roofs have a far larger life span than asphalt shingles, which are more susceptible to weathering over time and damage in extreme weather conditions," advises Metrotile's David Padmore. "Due to this durability, metal roofs tend to need little to no maintenance once installed, while asphalt shingles often need to be replaced or repaired due to problems with damp, fungus/algae growth, or cracks."
What are the disadvantages of metal roofing?
While there are many benefits to metal roofs, there are also some disadvantages; metal roofs can be noisy when bad weather strikes and can dent if hit by something with enough force.
The initial cost of metal roofs may also be prohibitive to many.
In brief, if you intend to clad the entirety of your home in metal roofing, it's also worth investigating whether your self build mortgage provider or lender will deem this as a 'non-conventional construction'; which could make the project more difficult to finance.
Can you put a metal roof over shingles?
If the roof structures and shingles are in sound condition then yes, you can put a metal roof over the top of the shingles. However, taking the shingles off and starting again will be neater and result in a better finish overall.
"The roof would need to have a breathable underlay lead on top of the existing shingles, then would be counter-battened and have the fascia boards renewed to suit the increased height," adds David Padmore.
Can you walk on a metal roof?
You can walk on many metal roofs as the weight should be distributed onto supporting battens, but some can dent and many materials are extremely slippery so be cautious if you do venture onto the roof.
Assistant Editor Amy began working for Homebuilding & Renovating in 2018. She has an interest in sustainable building methods and always has her eye on the latest design ideas. Amy has interviewed countless self builders, renovators and extenders about their experiences for Homebuilding & Renovating magazine. She is currently renovating a mid-century home, together with her partner, on a DIY basis, and has recently fitted her own kitchen.
Homebuilding & Renovating Newsletter
Get the latest news, reviews and product advice straight to your inbox.
Thank you for signing up to Homebuilding. You will receive a verification email shortly.
There was a problem. Please refresh the page and try again.