Flat Roofs: A Handy Guide
Flat roof structures offer numerous advantages, from design and material options through to cost. But is it the right option for your project?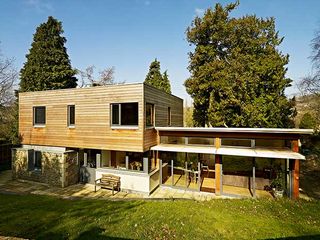 (Image credit: Simon Denison)
Flat roofs are exceedingly popular with those looking to create a cool, modern home. Flat roof options help to free up internal space and are often cheaper that pitched roof options as they require fewer materials to cover the same roof span. There is also the scope to incorporate a green roof onto the flat structure.
What Pitch is a Flat Roof?
If flat roofs are to work well, they have to have a slope, known as a fall, to shed rainwater. The fall should never be less than 1:80 and preferably about 1:40. There are several methods of building in a fall:
One is to set the cross walls at different heights. Most people shy away from this because they don't like the idea of having an internal ceiling that slopes
A far more common method is to use 'firring strips', which are battens cut at an angle and placed on top of the roof joists
Another possibility is to cut a fall into the roof insulation, something several businesses now offer — it's often referred to as tapered insulation
Choosing a Flat Roof Design
There are many advantages to using a flat roof:
Frees up internal space
Freedom to plan interesting shapes beneath a flat roof without having to worry about the way the roof is held up
Immeasurable flexibility
They help to keep the internal temperature stable
With flat roofs you get none of the impression of bulk that you get with a pitched roof, but internal area is not compromised to achieve this
Cheaper to construct than pitched roofs and need less material to cover the same span
How to Build a Flat Roof
How exactly a fall is built in largely depends on how the flat roof is built. There are three main choices:
The cheapest and simplest solution is to construct a warm roof. This is where the roof insulation sits directly on top of the timber structure (thus keeping it warm) and then the roofing membrane is laid over the insulation
A cold roof places the insulation between the rafters, underneath the ply roof covering. It is the standard method employed on flat-roofed extensions but it is rarely used for new builds today. In general, a warm roof is preferable from a construction angle, but it does lead to a higher roof profile, which isn't always acceptable from a planning perspective
There a number of variations of the warm roof, referred to as hybrid roofs, which introduce different elements. In particular, some designs call for a ventilation gap above a warm roof in order to eliminate any possibility of moisture build-up inside the roof structure
It is important that moisture doesn't get trapped within the roof, which can happen from underneath if there is a pathway into the roof via air leaks around badly fitted boards or penetrations, such as downlights or pipes. Condensation risk analysis is habitually undertaken by designers to ensure that any potential dew point that might occur within the roof itself is eliminated.
In truth, it's a confusing topic with claim and counter-claim often being made by manufacturers. Where problems do occur, 99% of the time it's due to air leakage through readily identifiable routes, but however you do it, great care must be taken to avoid air leakage into the roof void. It's no less important than providing a good waterproof covering above.
Flat Roof Coverings
Over the years many products have been used and none has emerged clearly as the best. In practice most people plump for the system their installer or designer likes the most. Generally speaking, the issues to watch are the cost and the guarantee offered. As a rule, don't go for anything less than 20 years. Costs vary from around £35/m2 up to £80/m2.
Applied hot in two or three layers, it remains potentially the cheapest covering but there are several different grades you can specify. The best felt systems are now comparable with any of the alternatives but cost just as much.
Although it's a cheaper product, it is built up in layers and this gives a more robust finish, more suitable for light foot traffic. And the fact that it is applied hot makes it easier to form around penetrations and corners.
Potentially the longest lasting, it is now usually used under roof terraces that will be walked over, so habitually it is laid as a base layer beneath paving slabs.
Widely used and easy to install, it comes on cut-to-measure rolls with its own flashing systems. It is usually bonded to the substrate with adhesive and, done well, should last at least 30 years. Firestone, the tyre manufacturer, is the number one supplier.
These use a variety of materials, of which PVC is the most common, but others are available. Look out for PIB, TPE and TPO, the latter preferred by people wishing to avoid PVC on environmental grounds and consequently popular in Germany.
They are usually fitted by approved installers and, more often than not, customers work with the system their installer recommends. Generally these are a little more expensive than EPDM, but with longer guarantees. Sarnafil remains the best known PVC brand; look at Bauder for alternatives.
Occasionally, complex roof shapes require something a little different and paint-on solutions can be used effectively where other methods struggle. Products like Kemperol have a well-deserved niche, known for their reliability and capacity to overhaul and repair failing roofs. However, on new roofs they are expensive. Fibreglass roofs can also be laid wet and built up with matting.
Replacing a Flat Roof
Flat roofs no longer deserve the bad press they have previously received — modern versions are much less likely to leak and better insulated than versions fitted to slapdash extensions in the 70s and 80s.
If your home does have a poorly fitted flat roof, its replacement will probably be much more cost effective in the long run, than repair. Find out how to replace a flat roof.
Beyond Flat Roofs: Green and Blue Roofs
The fashion for extensive green roofs growing sedums, grasses and mosses shows no sign of abating and, done well, they make truly splendid features.
However, there is a lot more to them than a 'normal' flat roof. They require a root barrier to stop the plants interacting with the waterproofing beneath and a flat roof in particular requires a drainage layer to retain water.
Coupled with some edging features to stop the vegetation leaking away, this makes a green roof build-up quite expensive. They also add to the weight of a roof, and may well require the underlying structure to be beefed up. Another function of green roofs is to hang onto rainwater and reduce the amount of run-off.
A blue roof is one that aims to attenuate rainwater run-off to prevent localised flooding. This is like a green roof on steroids and involves a far more complicated build-up. It is unlikely that self builders will be specifying a blue roof unless planners insist on such a feature.
Get the Homebuilding & Renovating Newsletter
Bring your dream home to life with expert advice, how-to guides and design inspiration, direct to your inbox.
Mark is the author of the ever-popular Housebuilder's Bible and an experienced builder. The Housebuilder's Bible is the go-to hardback for self builders; originally published in 1994, it is updated every two years with up-to-date build costs and information on planning and building regulations, and is currently in its 14th reiteration.
He has written for publications such as Homebuilding & Renovating for over three decades. An experienced self builder, his latest self build, a contemporary eco home built to Passivhaus principles, was created on a tight urban brownfield plot.