Types of Roof: A Complete Guide to the Most Common Options
By Natasha Brinsmead published
There are so many types of roof out there that it can be hard to know which is which and the style that will best suit your home — our guide makes it simple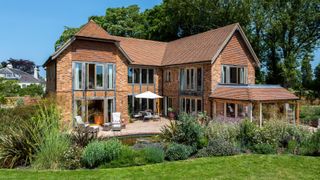 (Image credit: Mark Bolton c/o Oakwrights)
With such a massive range of types of roof in the world of architecture it can feel overwhelming when it comes to either understanding the style you already have in place, or the design which would most suit your new house.
The roof type you choose will have a huge effect on the final look of your home so it really does pay to get to grips with what your options will be and understand the jargon that relates to this crucial design element.
Our guide to roof types is here to simplify things, laying out the most common options here in the UK, along with the houses they best suit. We have also included a handy terminology explainer to ensure that there is no chance of you feeling befuddled by any information you receive along the way.
The Most Common Types of Roof
There is a huge number of types of roof and, to further confuse things, each type is often available in more than one variety. Just as it is important to understand the differences between roof structures, so too is it crucial to get your head around the various shapes and forms out there.
"When designing a building, it can often be taken for granted that the roof is a one shape-fits-all affair, but this is definitely not the case," explains Trevor Corser of JTC Roofing Contractors (opens in new tab). "There are a huge number of roof types, all serving a different purpose and more suitable to certain weather conditions and building styles."
Here, we have aimed to cover the most common types of roof you are likely to come across in order to help you ensure you know exactly what your options are and which style will best suit your needs.
The types of roof we cover here are:
Gable
Hip
Flat
Mansard
Pent (monopitch)
Curved
Dormer
Parapet
Hip and valley
Clerestory
M-shaped
Jerkinhead
Roof Type Terminology
Before getting to grips with the various types of roof out there, it helps to understand the jargon surrounding them.
Gable: The triangular-shaped section of the wall at the end of a ridged roof
Hip: The external angle where two sides of a roof meet
Ridge: The horizontal peak of the roof where roof faces meet
Eaves: The lower edge of the roof (this is usually where soffits, guttering and fascia will all be located)
Dormer: A vertical window projecting out from the main roof, usually at a 90 degree angle
Valley: The internal angle between two sloping roofs
1. Gable Roofs
Gable roofs are one of the most popular choices for UK houses, offering good roof space and being strong, stable and easy to construct. They are also one of the simplest and instantly recognisable types of roof.
The most common type of gable roof is the open gable. This is made up of two sloping roof faces that are equal in size and meet at a ridge at the top. This is the ideal choice for rectangular-shaped houses and results in two walls that reach all the way to the apex of the roof, with the other two extending up to the gutter.
There are several types of gable roof, including:
Box gable: This type of gable roof sits on top of a rectangular house, as a separate element — the gable ends project out a little and are usually clad in tile or weatherboarding as opposed to being made from brick.
Cross gable: Cross gable roofs are used for properties that are a little more complex in their design, as opposed to simply rectangular houses. They feature two or more roof ridges that intersect each other, often perpendicularly.
2. Hip Roofs
Another very common roof type in the UK with hipped roof extensions being really popular right now.
Hip roofs feature two trapezoid-shaped roof faces on the long sides of the house and two triangle-shaped planes on the shorter sides — all sloping towards the exterior walls of the house. There are no gables or vertical sections to the roof and all faces will usually be the same pitch.
As with gable roofs, there are several variations on the hip roof design:
Crossed hip: This is a common roof type that features a perpendicular hip section so that an 'L' or 'T' shape is formed.
Pyramid hip: This type of roof features on a square-shaped building, as opposed to a rectangular one. All four triangular roof sections meet at at a single, central apex point.
3. Flat Roofs
Not actually flat at all, flat roofs should always feature a slight slope to allow water to run off and prevent puddling.
Although they often suffered from a bad reputation in the past, these days they are once again a popular option, whether for single-storey extensions or in the design of contemporary-style homes.
Flat roofs can be covered in a number of materials, including single-ply membrane and make ideal green roofs too. Zinc roofs are often flat, where a traditional batten roll finish is commonly used.
4. Mansard Roofs
This type of roof was named after the French architect François Mansart. Mansard roofs are made up of four sides, each of which features a double plane or slope. The bottom slopes are steeper than the upper slopes.
This is a great option for anyone who wants to ensure they have plenty of room in their roof — possibly to use as additional living space either immediately or at some point in the future. Mansard loft conversions are a popular way of adding extra volume to an existing loft.
5. Pent Roofs
Pent roofs are not just for sheds and conservatories — they can be used on houses too.
Pent roofs are known by several other names, including skillion, lean-to, shed and mono-pitched. They are cheap and easy to construct as they are made of one single piece of roofing, fixed at angle of at least 15 degrees.
Pent roofs are perfect for those interested in solar power, ideally if the roof faces a southerly orientation.
6. Curved Roofs
A curved roof can add great interest to a house and they are often used on contemporary self builds, or on Dutch barn conversions.
This type of roof pairs perfectly with metal roof coverings which is perhaps why so many zinc roofs are curved. They also present the opportunity for some really dramatic, soaring interior spaces.
7. Dormer Roofs
Dormer roofs are often seen where loft conversions have been carried out as they add more space and light than is possible with just the addition of rooflights. They're also a popular feature on one-and-half storey homes or dormer bungalows.
Dormer roofs feature a mini gable roof that projects out at a 90 degree angle from the sloping face of the main roof. There is usually a window on the gable end of this section.
8. Parapet Roofs
A common feature of Georgian houses and new Georgian-style homes, parapet roofs are made up of a flat, or very shallow pitched roofs, concealed by walls that extend up past the roof by several feet. This forms a small wall around the edge of the roof within — perfect if you have any safety concerns surrounding flat roofs as it can prevent the risk of falling.
9. Hip and Valley Roofs
Similar to a hip roof in design, hip and valley roofs are a little more complex in their shape so suit homes with more involved floorplans than those that are simply rectangular in form.
Rather than the rectangular shape in the plan of a simple hip roof, hip and valley roofs have a 'T' or 'L' shape plan formed by another hip roof intersecting the main roof. This means there is an extra ridge, which joins the main roof ridge at the same height, creating a single valley for an 'L' shaped roof or two valleys for a 'T' shaped roof.
The 'hips' refer to the sharp edges where the slopes of the sides of each face of the roof meet, and the valleys are formed at the joins with the extended roof section.
10. Clerestory Roofs
Now commonly used in contemporary buildings, clerestory roofs feature two sloping sides of different heights, with a vertical wall sitting between. It is common for clerestorey windows – large horizontal windows, or banks of smaller windows – to be set along this vertical wall which can draw in large amounts of natural light to the interior of the house.
11. M-Shaped Roofs
This style of roof is really striking. It is basically two gable roofs joined together, with either side of the whole roof resting on the outer, loadbearing walls.
In order to prevent water pooling in the centre of the 'M' a gutter should run between the pitches.
12. Jerkinhead Roof
Popular all over the UK and particularly well-suited to traditional-style homes with clay roof tiles, jerkinhead roofs are also sometimes referred to as 'clipped' or 'snub' gables.
They have many similarities to a gable roof but the two peaks of either end are 'clipped off' — looking a little like they have been folded over. This means there is more headroom than with a hip roof — plus it increases the roof's wind resistance.
Natasha is Homebuilding & Renovating's Associate Editor and has been a member of the team for over two decades. An experienced journalist and renovation expert, she has written for a number of homes titles. She has renovated a terrace and is at the end of the DIY renovation and extension of her Edwardian cottage. She is now looking for her next project.
Homebuilding & Renovating Newsletter
Get the latest news, reviews and product advice straight to your inbox.
Thank you for signing up to Homebuilding. You will receive a verification email shortly.
There was a problem. Please refresh the page and try again.