15 Inspiring Eco Homes
Eco homes aren't just environmentally friendly, but tend to have much lower running costs too. Take a look at this design inspiration for your own eco home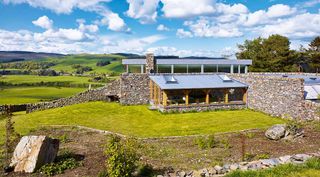 (Image credit: Andrew Lee)
The term eco home is used broadly to describe any house which has been designed with sustainability or environmental concerns in mind. This can range from kitting your home out with the latest renewable technology for heat and power, to building a home that has a low energy demand in the first place.
With so many factors to consider, eco homes are deemed to be a complicated endeavour, but take inspiration from our choice of incredible environmentally-friendly designs.
1. Sustainable Scottish Home
This extended cottage is a great example of using natural materials – a green oak frame and organic paints – to create interesting shapes and a beautiful finish. A ground source heat pump and sheeps wool insulation were used to retain a low carbon footprint. The extension scheme was designed by the owner's architect son-in-law, with the the oak frame engineered and crafted by Carpenter Oak and Woodland.
2. A Scottish Earthship
Stephen and Rhona Graham spent six years building their own low-impact self build in north Scotland — the build cost just £80,000. Rubber tyres, beer cans and straw bales make up the house which is topped by a turf roof.
3. Timber-Framed Green Home
Anthony Lamb and Andy Andrews have self-built a charming new sustainable home using Douglas fir frame and straw bales. The house's sustainable nature is present throughout the finish as the lime render on top of the bales gives a rustic and relaxed feel while the triple glazing and solar photovoltaic (PV) panels installed are displayed externally.
4. Contemporary Turnkey Passivhaus
Richard and Rachel Stent replaced their old 1930s home with a contemporary PassivHaus — in just four months. Their new, white-rendered home was built as a turnkey project by package company Hanse Haus. 
5. An Eco Home in the Woods
Almost entirely submerged in forestry, this self-build is as green as they come. Constructed from structural insulated panels (SIPs) in the garden of the homeowners' old home, the external finishes on the walls, roof and windows are certified sustainable softwood grown in Scotland.
6. A Zero Carbon Home
Architect-owners Catherine Roberts and Steven Harris built their zero carbon home for just £175,000. Creating a highly insulated, airtight build was essential. To do this, they kept it simple: the house is built with standard blockwork cavity walls, with a 300mm cavity – rather than 100mm – packed with Rockwool cavity batt insulation.  
The home also features a solar thermal array and a woodburning stove with back boiler. Both are connected to a thermal store that provides all the hot water and space heating needs for the house.
7. An Organic Eco Home
A fabric first approach was taken to build this self build on a sloping site. High levels of insulation and airtightness were key when designing and building this new home. The house also features renewables and eco-technologies such as ground and air source heat pumps, solar PV panels and thermal solar power, as well as a passive ventilation system.
8. A Carbon-Negative Farmhouse
Generating more energy than it uses, this off-grid house was built using as many locally sourced materials as possible. For instance, the self builders behind this project, farmer Neil Gourlay and his wife Mary, sourced 500 tonnes of stone for the cladding from surroundings fields. Oak cladding was sourced from the surrounding wind-felled trees and the 150mm thick sheep's wool insulation is from Neil's own flock.
9. Cutting-Edge Self build
Built on a budget of just £123,000, this house displays great use of eco-minimalism — high levels of insulation mean it has a low heating demand, negating the need for potentially expensive renewables.
10. Oak Frame Passivhaus
Phil and Yvonne Garnett self build is the UK's first oak frame certified Passivhaus. Designed by Eroarc, this self-build used a highly insulated encapsulation system (provided by Oakwrights) to achieve passivhaus status.
11. Passivhaus Treehouse
Jon Martin and Noreen Jaafar self-built this Passivhaus-certified treehouse on a wooded plot in the centre of a Cotswold market town. In addition to a highly insulated superstructure, this eco self build features triple glazing and a mechanical ventilation with heat recovery system. The couple even repurposed beech wood from a sports hall as flooring.
12. Angular Eco Home
Simeon Rich and Sarah Farquharson have transformed a modest 0.1 acre plot into the site of their striking contemporary home — built for just £825/m². Solar thermal and solar PV panels cement this home's eco status. The contemporary house is built from blockwork due to the site's awkward size.
13. Eco Cottage
When George and Sue Davies decided to downsize to a smaller, more efficient home, they chose their side garden as a suitable plot for their self build. SIPs (structural insulated panels) were chosen to provide "exceptional airtightness". An air source heat pump powers the underfloor heating, meaning this contemporary eco cottage's energy bills are minimal.
14. Architecturally Significant Sustainable Home
A hybrid system of timber and steel frame was used to engineer this stunning building. A ground source heat pump provides space heating for this hugely insulated structure, and a heat recovery ventilation system ensures a comfortable living environment.
15. Energy Efficient Kit Home
The highly insulated timber frame for this eco self build was built off-site by Potton. Overheating was a concern here, but triple-glazed windows and overhangs were designed in to reduce solar gain. Photovoltaic panels, hidden behind a parapet on the flat roof, provide a significant contribution to the bills. LED lights throughout minimise energy use too.
Homebuilding & Renovating Newsletter
Get the latest news, expert advice and product inspiration straight to your inbox.
Thank you for signing up to Homebuilding. You will receive a verification email shortly.
There was a problem. Please refresh the page and try again.