Inspiring Eco Homes: 15 Sustainable, Efficient and Beautiful Designs
Eco homes are as beautiful as they are environmentally friendly, as these stunning and sustainable home designs demonstrate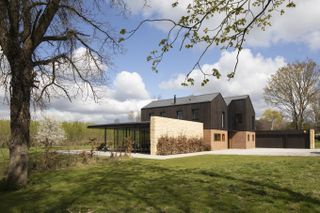 (Image credit: Richard Chivers)
Sustainable and environmentally conscious, eco homes are fast becoming a popular consideration for self-builders and renovators alike. According to the UK Green Building Council, the built environment contributes around 40% of the UK's total carbon footprint and as we understand more about how our homes impact the climate, new steps are being taken to solving the issues, one great design at a time.
When discussing eco homes, it's important to understand that the term can broadly be use to describe any house which puts sustainability or environmental concerns at the forefront of design. An eco house can include everything from adding renewable technology to an existing house during a renovation, to a full fabric first approach during a self-build.
Whether you're looking to take a leap into green home design or would like to make some efficient improvements to your home, take a look at the houses below for invaluable advice, tips and ideas from those who were once in your shoes.
1. An Eco Home Built for £130K
Proving the building sustainably doesn't have to cost the earth, Ian and Marcella Grant's self-build was constructed using Insulated Concrete Block to provide an efficient shell, as well as one which would limit road noise from the busy street.
The highly insulated structure contains a single wood-fired stove in the main living are that heats the entire house, while the south-oriented roof glazing makes the most of the sun to warm the exposed concrete block interior walls and the quarry tiles floor that run through the house.
(MORE: 7 Ways to Build a Greener Home)
2. A Sustainable Twist on a Traditional Design
"We wanted our house to be sustainable to build, and then to live in afterwards," explains self-builders Tony and Emma Cooke. "We chose Roderick James Architects as they're renowned for doing oak frames, which we wanted, and they really understand sustainability."
"We went for new, thicker high spec structural insulated panels (SIPs) which meant that we didn't need to install a heat pump; instead we have two woodburners that heat the whole house and an MVHR (mechanical ventilation with heat recovery) system that means we get fresh air every three hours."
3. A Rare EnerPHit Barn Conversion
Richard Clayson held a life-long dream of converting a barn while still ensuring his home was energy efficient. He worked with a Passivhaus designer and PHPP modelling to achieve an airtight shell and while the barn is connected to water and electricity mains, there is no oil or gas to keep the home as carbon neutral as possible.
The barn was only the seventh property in the UK to reach EnerPHit Standards. Work included:
The barn's original mud floor was dug out, levelled and insulated with Celotex
A timber frame structure was build within the barn ("It's a house within a house," says Richard.)
The walls were insulated with mineral wool
The windows are triple glazed
Heating is provided by an air source heat pump, connected to the underfloor heating, and the house has an MVHR system
Richard planted 1,000 trees on his plot which will eventually provide biomass fuel
4. An Affordable Zero Carbon Home
Architect-owners Catherine Roberts and Steven Harris built their zero carbon home for just £175,000. Creating a highly insulated, airtight build was essential. To do this, they kept it simple: the house is built with standard blockwork cavity walls, with a 300mm cavity – rather than 100mm – packed with Rockwool cavity batt insulation.
The home also features a solar thermal array and a woodburning stove with back boiler. Both are connected to a thermal store that provides all the hot water and space heating needs for the house.
5. A Contemporary CLT Eco Home
Designed and built by James Risebero of Field House Studio, this home was constructed using cross-laminated timber (CLT) panels which form a solid panellised wall that provides the structure as well as the internal finish.
These engineered panels are incredibly strong, with the panels (100mm for the walls, 140mm for the roof) wrapped externally with 140mm PIR insulation boards, a breather membrane and then untreated cedar cladding.
"We were informed by Passivhaus principles but didn't want to strictly adhere to them. The design, and this site, is all about the view and we didn't want to be constrained in terms of smaller windows — we also wanted woodburners which isn't always easy in a Passivhaus," James explains.
The house has an air source heat pump and an MVHR system.
6. Contemporary Turnkey Passivhaus
Richard and Rachel Stent replaced their old 1930s home with a contemporary Passivhaus — in just four months. Their new, white-rendered home was built as a turnkey project by package company Hanse Haus.
7. Affordable Eco Kit Home
First-time self-builder Paula Harte chose a pre-designed kit house (Caber type C) by Caber House for her eco home. The self-build was the first kit home to reach Passivhaus standard in the UK due to its fabric first approach.
Constructed with SIPs with high levels of airtightness the house has an air source heat pump to feed the underfloor heating and an MVHR system.
8. A Sustainable Prefab Self-build
A Healthy Home
Low toxicity materials were also used, including a toxin free fire retardant paint for the timber.
The timber frame shell of this contemporary self-build (designed and built by Edgley Design) was built off-site in Ireland to give greater control over the insulation and airtightness. The panels arrived on site drylined with sockets and switches ready to go.
"The technology came after the design of the fabric," explains Jake Edgely. "An important part of sustainability is to build something that is flexibile enough to stand for a long time. Once we were happy with that we installed and MVHR system, an air source heat pump and a sewage treatment plant."
9. An Organic Eco Home
A fabric first approach was taken to build this self build on a sloping site. High levels of insulation and airtightness were key when designing and building this new home.
The house also features renewables and eco-technologies such as ground and air source heat pumps, solar PV panels and thermal solar power, as well as a passive ventilation system.
10. A Small, Affordable Passivhaus
Clever design allowed downsizer Elizabeth Sharp to build a super efficient news house in south London on a modest budget of just £245,000.
The small house (110m2) was built using SIPs, triple glazed windows (quadruple for the skylights), solar PV panels and a stand-alone heat pump to heat the hydrotherapy pool.
Elizabeth's annual energy bills now come to around £300.
11. A Carbon-Negative Farmhouse
Generating more energy than it uses, this off-grid house was built using as many locally sourced materials as possible. The self builders behind this project, farmer Neil Gourlay and his wife Mary, sourced 500 tonnes of stone for the cladding from surroundings fields.
Oak cladding was sourced from the surrounding wind-felled trees and the 150mm thick sheep's wool insulation is from Neil's own flock.
12. Cutting-Edge Self build
Built on a budget of just £123,000, this house displays great use of eco-minimalism — high levels of insulation mean it has a low heating demand, negating the need for potentially expensive renewables.
13. A Green Retrofit
20 years after Piers Taylor (of Invisible Studio) constructed a timber frame extension to a dilapidated folly, he picked up the tool belt once more to retrofit the structure to increase its inherent efficiency.
Under Permitted Development, he put on layer after layer of insulation and wrapped a continuous airtight membrane around the whole house. New solar PV panels power the electric underfloor heating (and off-set the typically high running costs) and new, more efficient double glazing was installed.
14. Oak Frame Passivhaus
Phil and Yvonne Garnett self build is the UK's first oak frame certified Passivhaus. Designed by Eroarc, this self-build used a highly insulated encapsulation system (provided by Oakwrights) to achieve passivhaus status.
15. Passivhaus Treehouse
Jon Martin and Noreen Jaafar self-built this Passivhaus-certified treehouse on a wooded plot in the centre of a Cotswold market town. In addition to a highly insulated superstructure, this eco self build features triple glazing and a MVHR system. The couple even repurposed beech wood from a sports hall as flooring.
Get the Homebuilding & Renovating Newsletter
Bring your dream home to life with expert advice, how-to guides and design inspiration, direct to your inbox.
Assistant Editor Amy began working for Homebuilding & Renovating in 2018. She has an interest in sustainable building methods and always has her eye on the latest design ideas. Amy has interviewed countless self builders, renovators and extenders about their experiences for Homebuilding & Renovating magazine. She is currently renovating a mid-century home, together with her partner, on a DIY basis, and has recently fitted her own kitchen.