Turnkey Homes: How to Choose a Supplier
By Jason Orme published
Opting for a turnkey home supplier to manage the design and build of your new home is highly attractive, but makes the choice of supplier all the more critical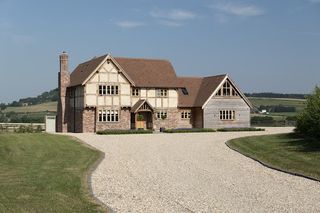 (Image credit: Jeremy Phillips)
Turnkey home suppliers (also known as package suppliers, design and build companies or even occasionally custom build companies) typically offer pretty much the same thing — a hands-off self build.
The company will design the house, source all the materials, arrange the labour and get the thing done. All you have to do is pick and choose what you want, and pay for it.
It sounds all too easy, and it comes at two significant costs.
The first of which, of course, is the price itself. Price in building terms is all about risk. By transferring the risk of construction to another company, they are going to factor all the associated things that can go wrong (material prices rocketing, contractors providing poor work etc.) to the customer. People building a home through a package company would expect to pay extra to reflect this fact.
The second cost of using a turnkey company is an addendum to the first, on risk. Because, regardless of who you use, you can't completely eliminate risk from a building project. Companies don't always offer the service they promised, and sometimes they go bust. This means making a choice of package company is critical — so, how do you choose?
How Does the Turnkey Home Route Work?
Different turnkey home suppliers offer different processes, but the following is typical:
Plot analysis Your package supplier might have a list of available plots; they may help you assess sites and guide you through the purchase
Feasibility Study A consultation session to go through your broad brief, your intentions, and budget to assess if you are able to proceed
Design Consultation You may work with one of the company's designers (either in-house or freelance) to create a design to your brief and budget
Planning & Building Regs Approvals The package company will administer your relevant Building Regulations, warranties, etc. as required
Off-site Manufacture After committing to the project you will order your 'kit' frame and it will be manufactured by the supplier off site
Groundworks Most package suppliers do not include groundworks in their contracts, but may be able to arrange for an approved contractor to undertake the work for you
Delivery and Erection The 'kit' is delivered to site and erected, ready for you to move in.
Structural Systems for Turnkey Homes
Top tip
Turnkey suppliers tend to have their own unique walling and roofing systems. The key is to make sure you're comparing like for like.
If you like the look of the highly efficient timber frame systems, turnkey home companies are the solution for you. In many ways, the turnkey approach is essential to the delivery of highly airtight, energy-efficient wall, floor and roof systems in a way that leaving a build to a series of builders on site isn't.
Most of the UK and continental suppliers offer closed panel timber frame systems which closely resemble structural insulated panels (SIPs), and many companies offer a range of slightly different options — e.g. 'standard', 'eco', 'Passivhaus' (at different price points). Typical U values for these walling systems are in the 0.11-0.18W/m2 range — easily meeting and surpassing standard Building Regulations.
What's interesting too is that these walling systems include parts of the build that might not otherwise have been considered part of the external wall. WeberHaus's ÖvoNatur Therm (their most thermally efficient option) includes not only the exterior render but also the internal plasterboard.
The key is to ensure that you're comparing like for like across suppliers when looking at U values — but also at wall thicknesses. WeberHaus's ÖvoNatur Therm for example, allows for two skins — the regular 165mm timber frame in addition to an extra 160mm thickness of additional insulation. The total thickness including render and plasterboard is almost 400mm.
What's Available in Terms of External Appearance for Turnkey Homes?
This being self build, there is a choice of walling system. Design & Materials have long stood alone in their offering of a comprehensive package service, but in blockwork, rather than timber. They have a wall system that offers U values that beat 0.17W/m2. Similarly, insulated concrete formwork (ICF) suppliers often offer a service that provides airtight and efficient wall systems.
However, if you're making your choice of build route and package supplier on build system alone, then you're probably missing a trick. There are distinct differences in terms of performance and construction system but they pale somewhat when compared to the fact that the end result is usually going to be well in excess of Building Regulations standards. Wall thicknesses do differ, as does the ability to achieve good airtightness levels, but the structural system shouldn't be your main differential.
How Much Does a Turnkey Home Cost?
One thing to note
The European-based package suppliers tend to base their price in euros and with the recent favourable shifts between the pound and the euro, the cost of using them has decreased quite significantly.
There's a surprisingly large variation in guide prices between the suppliers.
Homebuilding & Renovating's analysis of build costs offered by package companies reveals that the costs offered by different suppliers varies just as much as that by builders. In many ways the only truism is that you've got as near to a guarantee as you're going to get that the quoted price will be the finished price you'll pay — after all, marrying the design and build elements is a brilliant way to ensure cost certainty.
It's a wide bracket, but build costs range from £1,000/m2 to at least £2,500/m2.
(MORE: Get a tailored quote for your timber frame project)
Expect to pay around £1,200-£2,000/m2 through the package suppliers that control the whole process (i.e. provide their own labour and materials rather than just materials)
At the top end, Baufritz informs prospective clients that they should budget £2,500/m2 — this is, they claim, due to the highest quality design and construction system.
Potton base their prices on variations from £1,200/m2.
Hanse Haus tend to give clients looking for general steers on costs figures in the range of £1,400/m2.
Oakwrights, the oak frame package supplier, are 'reassuringly expensive' according to owner and founder Tim Crump (most Oakwrights homes tend to cost at least £1,800/m2).
Levels of Service from Turnkey Home Providers
One supplier's 'package' is different to that offered by another.
So-called 'package' companies are remarkably relaxed about the definition of what the package they provide actually is. In short, most companies offer you a range of involvement levels depending on your own preferences.
Potton, for instance, offer five main build route options to their customers after the design and planning stage — which itself includes pretty much every option you could think of, from the conventional package route of using an in-house Potton designer, to bringing your own existing plans to Potton for them to build from. In this sense Potton are effectively a materials package supplier with design and project management bolt-ons.
The actual core provision includes:
the supply and erection of the timber frame superstructure with pre-insulated external panels
roof trusses
first and second fix carpentry (supply only, and including such items as staircase, skirting and architrave, doors, etc.)
It excludes:
footings
roof coverings
cladding
electrics
plumbing
Although Potton will happily arrange these for you if you wish.
This 'frame plus extras' model is quite dominant among the UK suppliers who often get called package suppliers — a far more accurate description would be timber frame suppliers. Oakworth Homes, for instance, bill themselves primarily as timber frame suppliers who, if the customer really wishes, will offer management and even design services.
The model offered by Scandia-Hus, one of the UK's best-known package suppliers, confirms that for the most part, UK package suppliers tend to stop at joinery. They offer a range of transparently priced building 'sets' which include a design service (based on standard design types) for which the price varies depending on the build route chosen. Flexibility is great, but package building in the continental sense this isn't.
Which is exactly the service offered by the likes of Baufritz and Hanse Haus, who offer an initial design consultation, followed by a trip to their European sampling centres to make final decisions, then everything is fixed down ready for off-site manufacture, delivery and construction on site — a true 'package' if ever there was one.
How to Choose Between Turnkey Companies
Top tip
Be wary of companies who put your design through a plans farm or who seem to employ just a few junior in-house staff to be tasked with the mission of creating your perfect home.
So how do you pick between package companies? The choice comes down to the quality of the designers and their willingness to provide the type of services that you might expect from an independent architect (in many cases they are independent designers anyway). So try to find out as much as possible and ask questions. Who will handle your design, for instance? Can you meet them? Can you see previous examples of their work?
Many package suppliers tend to bundle the costs of the design service into the overall package price. That's good for you, in most respects, but be careful to ensure that it doesn't falsely reduce the importance of design to the wider scheme. Most experts agree you should be spending between 7-12 per cent of your build costs on design to give it the time and consideration (and expertise) it needs.
Package Supplier Guide
26 of the best package companies to check out:
The former Editor of Homebuilding & Renovating magazine, Jason is an experienced self builder and has recently finished renovating his 1960s home. Jason is now Managing Director of Future PLC's Homes' portfolio, which includes UK-leading titles such as Ideal Homes, Livingetc and Homes & Gardens. He is also the author of The Self Build Dream. You can catch Jason in the seminar theatres and Advice Centre at many of the Homebuilding & Renovating Shows across the UK.
Homebuilding & Renovating Newsletter
Get the latest news, reviews and product advice straight to your inbox.
Thank you for signing up to Homebuilding. You will receive a verification email shortly.
There was a problem. Please refresh the page and try again.