20 Amazing Kit Homes to Inspire Your Own Package Build
By Amy Reeves published
Kit homes are a fantastic solution for those who want to create a bespoke house but are short on time. We explain what you need to know before building, including designs, prices and amazing completed projects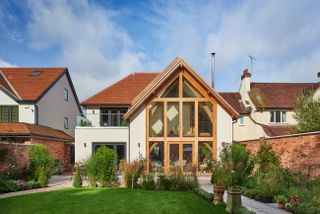 (Image credit: Richard Keily c/o Oakwrights)
Kit homes are ideal for those who want to self build an individual home but don't have the available time or knowledge in order to manage the project first hand. Also known as turnkey or package self build, the route means the house is fully specified at the design stage – including doors, windows, plugs, switches and everything in-between – so by the time you begin on site the management is a doddle.
Usually prefabricated off-site, kit homes are a quick and efficient build process with fewer unexpected surprises, and thus offer more certainty when setting the budget.
These days there is a range of companies and designs to choose from, with many offering bespoke plans or options to alter off-the-shelf homes to suit specific lifestyle needs.
(Still unsure about how you want to build? Take a look at our guide to self build routes for a breakdown of what each option entails.)
What is Included When Building Kit Homes?
Check out our latest subscription offer
The beauty of kit homes as a build route is that it allows homeowners to get as involved as they would like.
Traditionally, the UK self build market has catered for the hands-on self-builder who is prepared to rough it in order to achieve their dream home but our European neighbours (namely the German and Scandinavians who pioneered kit homes in the UK) approached self build slightly differently — and the market is finally catching on.
Building a kit home means houses can be left at a weathertight stage for the rest to be completed by the homeowners, or taken right up until the end with everything from windows and doors to switches and sockets included (usually known as a turnkey solution).
Many companies also offer for planning permission, building regulations and ground works to be included in the construction of their buildings as well.
(MORE: Building Regulations)
How Much Does a Kit House Cost?
Are Kit Homes Cheaper Than Self-Building?
Due to their hands-off nature kit homes aren't necessarily cheaper than building DIY, but modern designs are becoming more affordable, with many companies offering a partial build for self-builders to complete the fitting out of the bathroom and kitchen where further savings can be made.
Kit homes have a reputation for being costly due to their high build quality and hands-off approach.
As the UK market for package build grows (enhanced by high-profile success stories like Graven Hill in Bicester) prices are increasingly becoming more reasonable with the outcome still offering far more value-for-money in terms of materials, volume of space, specification and efficiency than mainstream developer houses.
Some companies (for instance HebHomes and Fleming Homes) offer services to calculate costs based on size and level of input, but many prefer to be contacted in order to give a more precise estimate.
1. An Off-the-shelf Family Home
Dawn and Kevin Truscott chose to adapt an off-the-shelf oak frame design by Welsh Oak Frame. Their WOF 220 barn-style home has the layout reconfigured to suit their lifestyle and to make it more accessibly for their daughter with disabilities.
Supplier: Welsh Oak Frame
Build cost: £400,000
Location: Essex
2. A Cottage Kit Home Under £150K
George and Gabriella chose the Wee House Company for their kit self build due to their traditional designs and modular, hand-off construction. Their two-bedroom house was built as a full turn-key service for a rental investment in the short term, but the ability to choose the layout and finishes for the home means they can move into the house when they retire for a healthier, quieter lifestyle.
Supplier: Wee House Company
Build cost: £150,000
Location: Scotland
3. Eco-friendly Kit Home
After the homeowners choose everything from windows and doors down to fixtures and fittings, Facit Homes use a CNC machine to cut their own Facit Chassis (made from spruce engineered plywood). The speed and efficiency of this process vastly reduces waste and is a hand-off way to creating a dream home.
The owners of this stunning London home were involved in every decision throughout the design process and their new home is design to Passivhaus spec.
Supplier: Facit Homes
Build cost: £1.8million
Location: London
4. An Oak Home for a Farming Family
While still working on their family's farm, Jon and Ali Goodwin turned to Border Oak to create a turnkey package build for them to expand the business. They tweaked the predesigned Manor House layout to suit their family, as well as creating a new hub for the farm.
Supplier: Border Oak
Build cost: £450,000
Location: Hereford
5. Chalet-style German Kit Home
Kerrie Daykin and Emile Borgonha turned to a German package supplier for their eco-friendly chalet-style self build.
The couple had been considering a traditional oak frame property, but instead opted for this contemporary A-frame design, which was constructed by Baufritz to have outstanding green credentials.
The package company positioned the house to make best use of the sunlight. This southern most orientation is complemented by the house's most striking feature, the overhanging roof. It protects the interiors from overheating in summer through several composite tilt and turn windows, while still allowing the low winter sun to penetrate the open plan interiors.
Supplier: Baufritz
Build cost: £450,000 (£2,432/m²)
Location: West Sussex
6. Low Energy Contemporary Package Home
This low-energy, contemporary home was built using an innovative dry construction technique with some of the stages taking place off-site. This meant that the house took just six months to construct. The result is a super-insulated and highly energy-efficient home, with flexible living space and light-filled interiors.
Supplier: Facit Homes
Build cost: £312,000 (£1,560/m²)
Location: Hertfordshire
7. Eco Friendly Log Cabin Kit Home
Constructed in just three months, this eco-friendly log house with its North American lodge vibe features internal walls clad in wood.
The prefabrication construction method used ready-cut redwood pines (along with made-to-measure doors, windows and insulation) imported from Latvia.
The speedy build also meets and surpasses eco requirements and costs the homeowners very little to heat and run.
Supplier: Log Cabin UK
Build cost: £180,000 (£1,059/m²)
Location: Derbyshire
8. Healthy Prefabricated Home in Surrey
Liz and Mike Hauck wanted their new home to be contemporary – unlike the large traditional homes nearby – practical, and easy to maintain as they approached retirement.
They were also looking for a house that wouldn't be a source of toxins, as Liz suffers from multiple chemical sensitivity, a condition triggered by materials in the built environment.
So they chose German package company Baufritz to construct the home, as the company has a unique building system using natural, healthy materials and a carbon shielded coating designed to minimise electronic radiation.
Supplier: Baufritz
Build cost: £2,300/m²
Location: Surrey
9. Self-designed Timber Kit Home
Chrissie and Richard Baker were looking for a contemporary but unfussy design with lots of glass, inside/outside living, an open plan living area and a garage underneath. They also wanted their new home to be low energy.
Rather than using an architect, a quantity surveyor or a project manager, the couple spent many hours planning and designing their dream home on a simple piece of home design software, using magazines and the internet to guide their schemes.
They then turned to Potton, who turned their conceptual drawings into working constructional drawings and planning submissions before designing and erecting the timber kit home.
Supplier: Potton
Build cost: £398,000 (£1,396/m²)
Location: Isle of Man
10. Timber Frame Package Home for Retirement
This timber frame single-storey property was designed to look like two old weatherboarded barns connected by a glazed conservatory link.
Peter and Rita Hutchinson worked with retired architect and friend Clive Plumb to plan their home for their retirement. They then employed a local builder to organise their project, and used a bespoke timber frame kit which was designed and erected by Potton.
The spacious 400m² single storey layout contains only two bedrooms, and has been totally dictated by the couple's lifestyle and their overriding desire for open spaces and large rooms with high ceilings.
(MORE: How to choose a package supplier)
Supplier: Potton
Build cost: £650,000 (£1,625/m²)
Location: Bedfordshire
11. Oak Frame Kit Home for Suburban Road
Penny and Michael Young wanted a traditional-style house that offered a characterful place to entertain while fitting in among their suburban road.
Oakwrights designed, supplied and erected the oak frame with their highly efficient WrightWall and WrightRoof encapsulation system (which was constructed off site) while Penny and Michael employed a main contractor to take over the rest of the work.
High-quality building materials, including efficient triple glazing to the road-facing front and a double-glazed gable overlooking the garden. Internally, the couple could choose to what extent the oak frame was exposed to create the perfect blend of traditional and contemporary suited to their tastes.
Supplier: Oakwrights
Build cost: £500,000 (£1,851/m²)
Location: Coventry
12. Bespoke Timber Frame Kit Home
'Minsters Walk' was constructed as a bespoke timber frame kit, with an off-the-shelf design customised for the homeowners' needs.
The homeowners, Ellen and John McCann, chose the 'Borve' house from Firefly Wood, which is suited to south-facing plots like this one. The layout keeps service zones to the north and living spaces to the south to make the most of the sun and passive solar gain for warmth. The design is open plan and has double-height living spaces to maximise light.
The McCanns decided to dispense with the fourth bedroom, and include a studio and study space instead. They also removed several doors to enhance the open plan arrangement. For the interior, they used oak and ceramic floors with oak detailing in the staircase and kitchen.
Supplier: Firefly Wood
Build cost: £225,600 (£1,376/m²)
Location: Scottish Borders
13. UK's First Carbon-positive House
When Andy and Alison Nicholls first contemplated building their own home, they were driven by their wish to save energy bills rather than any desire to build a pioneering home.
Nevertheless, the Nicholls are now the proud owners of what is believed to be the UK's first carbon-positive home.
The home, which uses natural materials and building methods, locks away more CO2 than was emitted during its construction and manufacture — including transporting the entire building from Germany and even running the house for the first few years.
Supplier: Baufritz
Build cost: £625,000 (£2,050/m²)
Location: Cornwall
14. Passivhaus Kit Home in Area of Outstanding Natural Beauty
First-time self-builder Jean Drydale was in the process of applying for planning permission to knock down her 1950s bungalow and rebuild a more modern home when a representative from German package supplier Hanse Haus (who had been alerted to her online application) made contact.
Faced with the unique and rigorous planning by-laws in Jersey, Jean chose local architect John Leveridge from Axis Mason to design her Passivhaus-certified home with Hanse Haus.
Just five days after construction began, Jean had a watertight home and in nine weeks, the house was completely kitted out.
Supplier: Hanse Haus
Build cost: £875,000 (£3,038/m²)
Location: Somerset
15. Oak Frame and SIPS Cottage Kit Home
This plot was purchased directly from Border Oak with plans for a house already in place. The homeowners, Wendy and Steve Beaumont, were able to tweak the plans to tailor it to their growing family (including moving internal walls and repositioning rooms) and Border Oak constructed the SIPs house shell.
To save money, The Beaumonts chose where they would get stuck into self-build and where they would leave the professionals to it.
Supplier: Border Oak
Build cost: £265,000 (£1432/m²)
Location: Herefordshire
16. Prefabricated Passivhaus Kit Home
Brae Spinney was the first Type C house completed by Caber House, pre-designed to the Passivhaus standard by Colin Potter of Dunoon-based Architecho.
After homeowner and first-time self-builder Paula Harte met Colin at a Homebuilding & Renovating Show, she was drawn to the design-build aspect of kit homes and enjoyed that she could make changes to a pre-existing building.
Supplier: Caber House by Architeco
Build cost: £220,000 (£1,760/m²)
Location: Elgin, Scotland
17. Barn-style Timber Package Home
Homeowners Robin and Miyuki Walden met several package suppliers at a Homebuilding and Renovating Show, including Hanse Haus — the German package company they eventually chose to build their home.
"While Hanse Haus built the home, it was crucial we had our own architect as the planners insisted we respected the local Cotswolds style. Our architect Renato got it spot on. Once he had done the sketches he sent these off to Hanse Haus," says Robin.
The result is a striking home that takes its cue from the nearby agricultural buildings, using Corten steel cladding.
Energy efficiency was another priority for the couple. The home features a host of renewables features including 16 photovoltaic panels, a borehole and air-source heat pump with underfloor heating. Triple-glazed windows, along with masses of insulation, keep the home airtight.
(MORE: Air Source Heat Pumps)
Supplier: Hanse Haus
Cost: £746,000 (£1,445/m²)
Location: Gloucestershire
Three Great Kit Homes to Buy in 2021
The Phia Home by Koto Design
With options to go completely off-grid, the Phia kit homes are a four-bed, three-bath modular build which arrives completely decorated and fitted our with bathroom and kitchen fixtures in place. Priced at £397,000 excluding onsite groundworks, services and consultant fees.
Perfect 206E by Dan-Wood
A charming 1½-storey house, this design includes 4 bedrooms and an open plan kitchen. Available for £234,300 (UK Mainland only), the turn-key price includes interior and exterior painting and decorating, a choice of fixtures, fittings, floorings and technical installations.
TH302 by HebHomes
This bungalow kit home can be constructed using either a closed panel system, SIPs or CLT to a weather tight stage for the homeowner to finish or as a complete turnkey package. The design is available from £119,900 with optional extras for external finishes, site clearance and foundations and more to be included.
Assistant Editor Amy began working for Homebuilding & Renovating in 2018. She has an interest in sustainable building methods and always has her eye on the latest design ideas. Amy has interviewed countless self builders, renovators and extenders about their experiences for Homebuilding & Renovating magazine. She is currently renovating a mid-century home, together with her partner, on a DIY basis, and has recently fitted her own kitchen.
Homebuilding & Renovating Newsletter
Get the latest news, reviews and product advice straight to your inbox.
Thank you for signing up to Homebuilding. You will receive a verification email shortly.
There was a problem. Please refresh the page and try again.