Future Homes Standard: Everything You Need to Know
The Future Homes Standard will be introduced in 2025 and set energy efficiency standards for new homes and extenders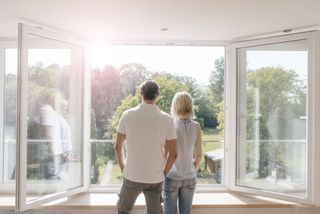 (Image credit: Getty Images)
The Future Homes Standard will come into effect in England in 2025 and ensure that new homes are futureproofed with low-carbon heating systems and high levels of energy efficiency.
Existing homes will also be subject to higher standards, although homeowners will only be affected if they are planning on building an extension or making thermal upgrades.
The Future Homes Standard was announced in the government's spring statement in 2019. Currently, a second government consultation into the standard is underway, so the full details of the standard are yet to be mapped out.
A full technical specification for the Future Homes Standard will be consulted on in 2023, with the necessary legislation introduced in 2024, ahead of implementation in 2025.
An interim step to help the industry adjust towards the 2025 target had been intended to take effect in 2020, but that step was delayed because of the disruption caused by the coronavirus pandemic. An update to the Building Regulations is expected in 2021.
What is the Future Homes Standard?
The Future Homes Standard is a set of standards that will complement the Building Regulations to ensure new homes are subject to higher energy standards.
The standard will comprise a series of amendments to Part F (ventilation) and Part L (conservation of fuel and power) of the Building Regulations for new homes.
Once the legislation is passed 2025, all new homes will have to be built according to the standards.
Eco energy expert Tim Pullen, a contributor to Homebuilding & Renovating magazine, says the new Building Regulations may include changes which ensure:
Mandatory space for hot water storage
No more combi boilers
Heating systems to run at lower temperatures, enabling heat pumps to work effectively
Significant improvements to insulation and airtightness.
"Future Homes is about making homes, to some extent, at least, futureproof," he says.
Why Was The Future Homes Standard Announced?
The built environment accounts for roughly 40% of UK greenhouse gas emissions, with 20% of this coming from the 28 million homes in the UK. The Future Homes Standard is designed to bring these levels down.
The government hopes the standard will go some way towards tackling climate change, and act as a roadmap for the industry and homeowners to reach its net-zero target for 2050.
No new homes will be able to connect the gas network from 2025 - they will instead be equipped with energy-efficient insulation and heated by a low-carbon heating source such as an air source heat pump.
In January, housing minister Christopher Pincher said that "improving the energy performance of buildings is vital to achieving net-zero emissions by 2050 and protecting the environment for future generations to come."
Mr Pincher also said he expects the proposals for existing homes to help reduce energy bills for homeowners.
The government has previously introduced the Zero Carbon Homes Standard (scrapped in 2015) and the Code for Sustainable Homes (which also wound down in 2015), to help assess and certify the sustainable design and construction of new homes.
Will it Only Apply Across the UK?
The Future Homes Standard will only apply in England.
What We Know So Far
The First Consultation Has Finished
The first consultation (The Future Homes Standard consultation) proposed an uplift of building standards for new homes. It ran from October 2019 to February 2020, and received 3,310 responses.
The consultation proposed new energy efficiency measures through changes to Part L of the Building Regs. It also covered the wider impacts of these changes for new homes, including changes to Part F.
In January 2021, the government issued its 114-page response to the consultation and confirmed that all new homes will be required to be equipped with low-carbon heating and be zero-carbon ready by 2025. This uplift is the first step in achieving the Future Homes Standard.
In its response, the government also confirmed the Building Regs will be updated later in 2021, whereby all new homes must produce 31% lower carbon emissions, compared to current levels. This move is designed to help the industry get ready to meet the new standards by 2025.
The Second Consultation is Underway
The second of the two-part consultation (The Future Building Standard consultation), will close on 13 April 2021.
It builds on the first consultation by proposing new energy efficiency and ventilation standards for existing homes and non-domestic buildings, such as offices and gyms. Proposals also include reducing the risk of any potential infections being spread indoors.
Additionally, there are proposals to mitigate against overheating in new homes, which would be addressed via a new overheating mitigation requirement in the Building Regulations.
David Hilton, director of Heat and Energy Ltd and contributor to Homebuilding & Renovating, said of the proposals: "The focus on ventilation is very positive, and very appropriate given that we've spent a huge amount more time in our homes this past year, with families sharing these spaces together. It's an important aspect of the new proposals.
"And looking at overheating in homes is very important as it is probably the most overlooked aspect of modern buildings in the UK and rapidly becoming a major problem with many new build homes."
Will Existing Homes be Upgraded?
New measures for existing homes will apply solely to thermal improvements, such as windows, made by the homeowner. There will be a "significant improvement on the standard of extensions", the government says.
In its response to the first consultation, the government confirmed that the second consultation includes proposals for extenders to meet new standards for making homes warmer.
Home improvers will need to ensure they use energy-efficient replacements and repairs during home improvement work. These include the installation of heat pumps, window replacement and building services, cooling systems and fixed lighting.
Brian Berry, chief executive of the Federation of Master Builders (FMB), believes that the standard should pay greater focus towards improving existing homes.
"A focus on future homes shouldn't forget Britain's 28 million existing homes, many of which are energy inefficient, and 85% of which will still be in use in 2050," he said.
But Hilton believes that the Future Home Standard should focus on new homes. "Just because we can make certain changes to existing homes, it doesn't mean that you can write a guide about it and say 'this is what everyone must do'. Not everyone has the same opportunities."
(MORE: Make green home improvements on the Green Homes Grant)
How Will Energy Standards be Assessed?
There will be four metrics to assess the energy efficiency of new homes, one of which will be the Fabric Energy Efficiency Standard (FEES). The FEES sets performance levels for the building fabric that would reduce the amount of energy required to heat a home, and reach the zero carbon standard.
Reports had previously suggested that FEES would be removed from the Future Homes Standard, but the government confirmed in January 2021 that it will remain a key performance metric for new homes, a move which was welcomed within the industry.
Hilton said: "It is great news if the Future Homes Standard includes a fabric first approach, and if rolled out correctly, it will make fabric first achievable for everybody, and by default rather than expensive design."
Local Authorities Can Set Targets
Local authorities will continue to be allowed to set higher energy efficiency standards for new homes in their area once the Future Homes Standard is published, the government has confirmed.
This marks a U-turn on a previous government proposal to prevent local authorities from doing this, and the government said its planning reforms would clarify the longer-term role of local planning authorities determining local energy efficiency standards.
What Has the Reaction Been?
Following the government's response to the first consultation, Julie Hirigoyen, chief executive of the UK Green Building Council, said: "After a long wait, the government's response brings much-needed clarity to our industry.
"We are pleased to see confirmation that the Future Homes Standard will mean new homes will have carbon dioxide emissions 75-80% lower than those built to current Building Regulations – though it's regrettable that the standard won't be implemented until 2025, despite it being widely trailed that it would be brought forward to 2023."
Crispin Truman, chief executive of CPRE, the countryside charity, added: "Our leaky homes currently churn out carbon emissions that are fueling the climate emergency – the greatest long-term threat facing our countryside.
"The government is absolutely right to be working towards a Future Homes Standard that will improve energy efficiency of new homes, and we welcome the proposal that local authorities will have continued freedom to insist on higher standards in planning policies."
Homebuilding & Renovating Newsletter
Get the latest news, reviews and product advice straight to your inbox.
Thank you for signing up to Homebuilding. You will receive a verification email shortly.
There was a problem. Please refresh the page and try again.