Best Front Door Colours: Make a Stylish Entrance
By Natasha Brinsmead published
The best front door colours can not only enhance the façade of your home — they also have the power to speak volumes about your personality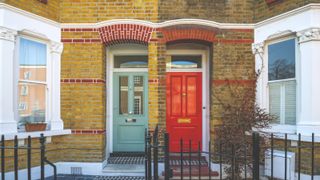 (Image credit: Getty)
You might be surprised to learn that the best front door colours can totally transform the way people view your home, as well as have an enormous impact on the overall appearance of its façade and kerb appeal. They can even affect its saleability when you come to move on.
Front door colours can also reveal a huge amount about the personality of the occupants within, as well as giving off a message to visitors about the interiors that lie past the threshold.
Here, we explain what the best front door colours are, what your choice of colours might say about you and help you make that all important decision.
What Do Front Door Colours Mean?
Colour carries a huge amount of significance and, taking such a prominent position on the façade of your house, the colours you use for your front door, will expose quite a lot about your personality.
When thinking about your front door ideas as a whole, be sure to give plenty of consideration to what colour your entrance will be.
According to colour experts, here is what you choice could say about you:
Red: A symbol of power, strength and confidence
Yellow: Signifies youth, energy, confidence and positivity
Blue: This shade implies calmness, peacefulness and loyalty
Green: A symbol of nature, abundance and health
Grey: Indicates a subtle, tactful and mature personality
Black: Sophisticated, powerful and forthright
White: Clean, serene and organised
Pink: Visitors will get a sense of a homeowner who is romantic, cheerful and generous
Black Front Doors
Timeless, sophisticated and super smart — a black front door can make a statement instantly and will suit all kinds of property type.
That said, it is a shade that does tend to work best in towns or more urban settings. It suits Georgian and Edwardian properties as well as über modern homes really well and pairs brilliantly with both elegant brass and gold door hardware as well as polished chrome.
Some experts suggest avoiding black front doors in parts of the country that don't see much sun, where a softer pastel or sunnier shade could better lift the appearance of houses.
You might also be interested to learn that in Feng Shui, black is often used for north, east or south-east facing doors in order to encourage the flow of positive energy.
White Front Doors
Although a white front door is a classic choice, it has to be noted that is also one that has fallen from favour in recent years. This could have something to do with the fact that homeowners have become more aware of the impact their choice of front door colour can have raising concerns that white could appear a little too safe or imply that they lack imagination. One way around this is to pair white with patterned frosted glazing or stained glass panels.
While a fresh white can really suit cottage style properties and looks great on barn style and stable doors, it might be worth looking at an off-white alternative to add interested and warmth. Creamy vanilla shades and fudgey beige work well on tongue-and-groove and panelled doors alike.
Yellow Front Doors
There has been a flurry of interest in yellow front doors just lately. Perhaps it was sparked by a need for some cheer and a glimpse of sunshine while holidays were ruled out.
Whatever the reason, yellow is a shade that is definitely worth considering, whatever style of house you live in — it offers an instant warm welcome.
Chunky, solid panel yellow front doors look great on Georgian townhouses, while those with a couple of glazed panels really work with Victorian terraces — even stained glass somehow works well with yellow.
Large oversized yellow doors add a wow factor to modern homes, while pastel primrose yellow can add a pretty finish to cottage-style homes.
Pink Front Doors
Pink is a surprisingly versatile shade — from pretty ice-cream hues to lipstick hot pink. Sweet powdery pinks can suit cottages, New England style properties and Edwardian homes well, while brighter shades can really make a fun statement paired with white stucco on period properties or white render on a contemporary house.
Grey Front Doors
Grey is a shade that has enjoyed plenty of popularity as front door colour of late — perhaps due to its ability to adapt to a range of house styles. The abundance of grey aluminium windows out there could also have something to do with it.
Soft, dove grey can look pretty combined with cottage-style homes and on New England properties — particularly with a satin finish paint. A glossy pale grey can also suit Georgian or Victorian properties well, although it is often not quite bold enough to to make a real statement against the strong architecture of this style of house.
Stormy, brooding and dark greys look fabulous on white rendered contemporary homes, although they can work equally as well used as a visual contrast against the more rustic façade of a barn conversion or industrial building.
Blue Front Doors
Blue is a hugely popular front door colour. There are so many different shades of blue that work well on front doors — with each hue suiting a different house type. Dark blues – or heritage blues – such as navy, French blue, midnight blue and rich royal blues tend to look their best when teamed with brick-built properties and really suit houses built during the Georgian and Victorian periods.
A glossy finish can work very well with these rich, darker blues — and brass door furniture is the perfect finishing touch.
Another popular shade is duck egg blue, a soft, pretty pastel that works on a number of property types. This shade suits rendered country cottages and mellow stone clad homes (such as those littering the Cotswolds) particularly well. That said, a duck egg blue front door can also work surprisingly well against white stucco so can be a good match with some Georgian townhouses too.
In terms of door furniture, brushed nickel and chrome keeps with the fresh feel of this shade, although in some cases, wrought iron can be a good match — particularly on period cottages with leaded lights.
Green Front Doors
The current interest in botanicals and Biophilic design has mean the colour green, in all its various forms, has become a firm favourite with homeowners looking to update their homes in a way that gives it a connection to the natural world.
As a front door colour, green can be used in many ways. Dark, forest green is a fantastic, less severe, alternative to black. It is very regal and offers warmth while remaining smart and sophisticated. It pairs brilliantly with brass door furniture — both polished and brushed.
Muted greens, such as sage and mint, are another popular choice — they can work well where the same shade has been used on window frames for a neat, cohesive look. Sage green is popular with owners of country homes and works with a number of different front door styles — brushed chrome, steel and nickel door hardware all work well with this shade.
Don't forget Eau de Nil as a shade of green either — this is a really universal hue that will fit in well with most architectural styles.
Red Front Doors
As a front door colour, red actually has many fascinating meaning in various cultures. In China it symbolises luck, while in Scotland there was supposedly a tradition of painting your front door red once you had paid off you mortgage to show being 'out of the red.'
If you are considering red as a front door colour, do be careful that the shade you choose will complement the other materials featured on the exterior of your home — not all reds will work.
Deep, burgundy reds and berry shades are classic and timeless and suit period properties well — another good alternative to black. Bright, fire engine reds can also work well on a number of period house styles, including Georgian, Victorian and Edwardian. However, these bolder shades can jar a little against the more delicate façades of cottages. If your home is built of red brick, be careful that the red you choose for your front door won't clash.
A fiery red or autumnal shade that incorporates a little orange can work well against dark timber cladding as well as slate shingles — but avoid red if your house has clay tile hanging.
Natural Wood Front Doors
Alternatively, you could skip the colour altogether and embrace the natural wood finish of your door.
Many hardwoods, such as Walnut and Iroko, look utterly beautiful with nothing more than a oiled or varnished finish — their deep, chocolatey tones really adding warmth and character to contemporary homes — especially in the case of oversized or pivot doors.
Pine and oak panel doors with a clear wax or oil look charming on period properties and cottages and look fantastic paired with decorative glazed panels and a range of door furniture finishes.
Natasha is Homebuilding & Renovating's Associate Editor and has been a member of the team for over two decades. An experienced journalist and renovation expert, she has written for a number of homes titles. She has renovated a terrace and is at the end of the DIY renovation and extension of her Edwardian cottage. She is now looking for her next project.
Homebuilding & Renovating Newsletter
Get the latest news, reviews and product advice straight to your inbox.
Thank you for signing up to Homebuilding. You will receive a verification email shortly.
There was a problem. Please refresh the page and try again.