9 Driveway Lighting Ideas to Create a Bright Entrance
By Amy Reeves published
Illuminate your way home with smart driveway lighting ideas, designs, inspiration and expert advice for approaches of all sizes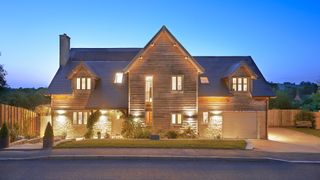 (Image credit: Mark Welsh c/o Oakwrights)
Brightening up your way home with clever and practical driveway lighting ideas isn't just for safety — something as simple as adding post solar lights can create a more welcoming entrance for guests and visitors, as well as boosting kerb appeal and the impact of a first impression.
When applying driveway ideas, like a new lighting scheme, to an existing home or when drawing up design for a new house, talk to your electrician early on in the process so they can provide a complete quote and circuit design. As with landscaping, don't leave these decisions until the last phase of the project as it will be more costly and time consuming to add-on outdoor lighting to an already executed scheme.
Our driveway lighting ideas below will consider the various options for styles, lighting types and how best to illuminate a drive with expert advice so you can get the best from your home.
Driveway Lighting Ideas
"Good external lighting design takes two forms: directional and feature," begins landscape designer Paul Hervey-Brookes. "Directional (or navigational) lighting includes the illumination of steps, slopes and any other change in level for safety, and lighting doorways or entrance points."
"With all forms of lighting, it is worth considering the luminous brightness and the bulb type," he advises. "Decorative lighting can be a feature in its own right and if you intend to place lighting in a prominent place, such as porches, terraces and buildings, then Edison-style vintage bulbs add to the design intention, although they do need to carry the appropriate IP (ingress protection) rating for outdoor use."
The IP rating required for use on a driveway is at least 44, but the higher the rating, the better chance the unit has at resisting water ingress and damage from weather.
1. Let Driveway Lighting Highlight Safety Concerns
If your driveway is long or sweeping, use lighting to guide visitors towards the end destination so those unfamiliar with the route can arrive in the dark without ruining lawns or knocking over pots.
"Steps and terrace edges that are raised can be under-lit, which while not illuminated enough to give high visibility, is enough to make you aware of a rise and reduces the likelihood of night-time trips or falls," comments Paul Hervey-Brookes. "As a rule, I tend to place directional lighting as discreetly as possible; it's best thought of as practical lighting, designed in for a purpose."
This oak frame home was next to a large pond, which falls behind the slope in the land. The homeowners have smartly added a light (right of house) to prevent any mishaps for drivers, while the wall lighting attached to the house beckons visitors to the front door.
2. Use a Front Garden to Light the Way
If your driveway design also includes front garden ideas, why not combine the two and use trees, raised beds or borders to help light up a driveway?
Uplighters are a great addition to shrubbery while string lights could be wrapped around trees for a festive welcome.
When connecting garden lighting to mains power, be sure to do so safely. "Cables underground must be buried in a trench by an electrician at a sufficient depth to avoid damage from garden tools," advises Darren Staniforth, technical expert at electrics regulatory body NICEIC. "All cabling should be suitable for installation outside."
3. Use A Lit Gravel Driveway to Secure Your Home
Lighting and noise are two of the most simple, yet effective deterrents for unwanted visitors.
"Thought should also be given to lights which are sensor or heat triggered for security of areas such as garages and outbuildings, and a programmable system for the main entrance when you are away," says Paul Hervey-Brookes.
Here, warm yet bright outdoor lighting and the gravel driveway have been matched to suit the traditional style of the house, while providing a practical services to the home's perimeter.
4. Light a Carport or Garage as well as a Driveway
No matter if your garage is integrated or located away from the house, ensure a garage or car port is well-lit for arrivals later in the year and as the nights draw in.
If the garage is big enough, it might require a separate circuit, but in most cases the cables will have to be run underground before any hardscaping can be installed.
5. Keep it Simple with Solar Lights
Although a decorative front garden driveway idea, these solar powered lights are bright enough to provide a clear route from the driveway towards the garden path.
Simple to install and maintain, garden solar lights can be suited any style of home or taste and are usually fairly cost-effective, especially when compared to hard-wiring new lighting outdoors.
6. Illuminate the End of a Driveway
Make sure driveway gates and garden dwarf wall or fence ends are lit all year round for a clear and bright approach that doesn't end in a scraped car.
This is equally important for houses that are required to include a visibility splay, as the driveway will naturally narrow upon entry.
In this extended bungalow, the homeowners installed a contemporary downlight to signal the block post and to illuminate the letter box for post-people in the winter months.
7. Use Uniform Wall Lights
Match outdoor wall lights around a property for a uniform and well-considered appearance. This doesn't only present a smart, tidy look with the right warmth and brightness, but, when positioned at regular intervals, ensures consistent levels of light.
"Current trends in outlet lighting are for minimal well-designed lighting that is unobtrusive, meaning it goes unnoticed during the day but performs its job well once dusk arrives," comments Paul Hervey-Brookes.
8. Include Ground-level Lighting
Include low-level lighting around the borders of a driveway for a neat and contemporary finish. Installing lights like these at intervals of 3 metres or so, depending on the brightness, to achieve a warm wash over the surface that isn't overwhelming, but provides good illumination.
9. Guide Guests from the Driveway to the Front Door
Porch lighting ideas often overlap with ways to brighten a driveway so create a complete design by leading guests from their cars towards a front door for a great first impression.
Lights with night-sensors or timers are a great investment in this instance, so energy is not wasted during the day, as are smart home hubs so lighting can be controlled via a smart phone from anywhere in the world.
Assistant Editor Amy began working for Homebuilding & Renovating in 2018. She has an interest in sustainable building methods and always has her eye on the latest design ideas. Amy has interviewed countless self builders, renovators and extenders about their experiences for Homebuilding & Renovating magazine. She is currently renovating a mid-century home, together with her partner, on a DIY basis, and has recently fitted her own kitchen.
Homebuilding & Renovating Newsletter
Get the latest news, reviews and product advice straight to your inbox.
Thank you for signing up to Homebuilding. You will receive a verification email shortly.
There was a problem. Please refresh the page and try again.