Small Hallway Ideas: Great Ways to Create a Warm Welcome
By Amy Reeves published
Try these small hallway ideas to make the most of any compact space — from lighting and layout to furniture and flooring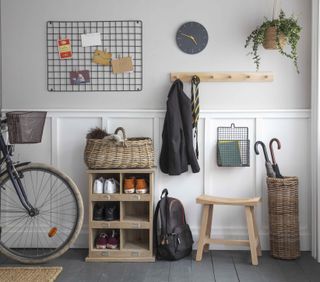 (Image credit: Garden Trading)
These small hallway ideas will make the difference between a narrow dumping ground and an inviting space with immediate impact when you enter your home.
Hallway design is important to get right as it is often one of the busiest spaces in the entire house. Plus, when you're dealing with an entryway that is smaller than average, being smart about storage, décor and introducing natural light is essential.
Scroll down to find some top tips for designs, advice on maximising space and a gorgeous image gallery of stunning, but spatially-challenged, hallway ideas.
Look Out for Practical Small Hallway Ideas
With so many beautiful designs for entryways out there, it can be easy to lose track of what is important in a hallway, big or small. Try to not get swept away in décor and be sure to prioritise installing flooring, wall coverings and furniture that are appropriate for such a high-traffic area.
When asking yourself 'what should be in a small hallway?', remember that this space will need to cope with muddy boots, shopping bags and deliveries and considerations will need to be made for both walk-ways and storage.
However, unlike larger spaces, small hallways might have to be selective about what can be included in the space. Try to include at least:
A place for coats and bags
A spot for keys, letters and other smaller items
Durable flooring (wood, stone, tile and other easily cleaned materials are good choices)
Practical lighting (wall lights work well in square rooms and spotlights are great in narrow hallways)
Add a Through View to Make a Small Hallway Feel Bigger
A through view is a great way to create a great first impression in an entryway. Providing a line of sight to the garden, picture window or even just an open plan kitchen will feel like even the most narrow hallway is light and bright.
Maximise Space with Hooks and Movable Furniture
It is essential that small hallways have places for coats and bags so you're not tripping over things as you come in from work but built-in storage often isn't the way to go with more compact spaces.
Opt instead for freestanding units or simple hooks, as in this monochrome hallway which perfectly blends functional and stylish furniture.
Make a Small Hallway Feel Bright
As the entrance to a home, the hallway has an important part to play in creating initial wow-factor. However, small spaces often feel dark and dingy so try to maximise the amount of natural light through a partially-glazed front doors or window side panels.
Here, light-coloured tongue-and-groove wall panelling, Crittall-style doors and an abundance of greenery introduces a beachy, vibrant atmosphere into the small room.
Add a Runner Rug in a Narrow Small Hallway
If you're struggling with a long and narrow hallway, a statement rug drawing the eye into the house, towards transition spaces, like the staircase, or social areas will create the illusion of more space and the layout being one larger area.
Brighten up a Hallway with Cheerful Colours
While paler colours might be the initial go-to in small rooms, adding a feature wall with a pop of colour will create a fresh atmosphere to the space without feeling overwhelming.
Remember, hallways are busy area with people coming and going, putting on shoes and throwing bags down after school, so choose a durable paint that can withstand scuffs.
Take Note from Period Houses when Choosing Flooring
From tiled Victorian entryways to durable flagstones in farmhouses, home design back in the day was designed to last, while catering for a busy household.
Even if you're going for a more modern style, investing in good quality hallway flooring will pay in dividends after a few years.
Provide Correct Lighting in Small Hallways
Ensuring users can adequately look for keys, put on shoes and so on with well-considered artificial lighting will make or break a small hallway design.
Whether it is via a pendant light (as shown here), wall lights or simple downlighters, be sure to organise your lighting design so the narrow or small space doesn't mean visitors cast a shadow and can't see what they're doing.
Install Bespoke Storage to Reduce Clutter
Not all of us are lucky enough to have a dedicated boot room or utility room, so hallway often bear the brunt of catering for these functions. When trying to eke out every inch of a small hallway made-for-purpose designs are a smart choice.
Here, a lovely open unit provides a cosy spot to pull on boots while providing the small hallway with a real purpose. A place for everything means bags and shoes are neatly tucked away while full-length units hide coats out of sight.
Think about Internal Doors Leading off the Small Hallway
If your small hallway feels boxed in by multiple internal doors leading to separate rooms, consider introducing glazed units so they hallway doesn't feel cut off from the rest of the house.
Plus, a glazed internal door, as in this small hallway, means that visitors can clearly see social living spaces and won't wonder off into the cloakroom, utility or snug.
Other options can include adding sliding barn or pocket doors to open up the floorplan, while being able to close it away when necessary.
Choose Furniture in Proportion to the Space
To get the best out of small spaces it is best to know what works in different shapes. If a hallway is narrow and long, handy credenzas for keys and flowers will look great and feel inviting, while if your stairs lead right from the front door, perhaps adding under stair storage will solve cluttering issues.
In this small square hallway a convenient bench is the perfect size to divide the small wall, encouraging the feeling of a bigger space.
Get Creative with Decorating Small Hallway
Just because a space is small, doesn't mean care shouldn't be taken to personalise it to your own tastes, as this blue-themed hallway goes to show. The bold lower section of the walls leads through the house, down towards the living spaces (out of shot, left) and up to the modern staircase. By painting the storage unit as well a characterful and unique spaces has been created in a simple but effective way.
Assistant Editor Amy began working for Homebuilding & Renovating in 2018. She has an interest in sustainable building methods and always has her eye on the latest design ideas. Amy has interviewed countless self builders, renovators and extenders about their experiences for Homebuilding & Renovating magazine. She is currently renovating a mid-century home, together with her partner, on a DIY basis, and has recently fitted her own kitchen.
Homebuilding & Renovating Newsletter
Get the latest news, reviews and product advice straight to your inbox.
Thank you for signing up to Homebuilding. You will receive a verification email shortly.
There was a problem. Please refresh the page and try again.