What is a composite door? The pros, cons and costs
Do you want the answer to what is a composite door? Here we give you an insight on what they are made of, how much they cost and how long they last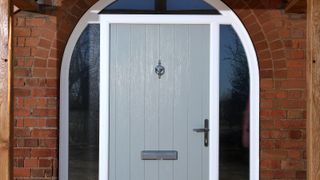 (Image credit: Stormclad)
What is a composite door? It's a question that you'll be asking yourself when on the lookout for a new front door. They are modern-day doors made from durable, long-lasting materials that come in a variety of classic and contemporary colours and styles.
If you're replacing an old front door, a new composite door may also provide superior insulation and draught proofing, which is a further benefit in this age of rising energy prices.

Before jumping in and replacing a wooden or uPVC door with a composite front door you need to know the benefits of choosing one. Here we give you the lowdown on the benefits of owning a composite door and how much they cost. Plus we get the experts to give their thoughts on how you can pick the perfect door for you.
What is a composite door? What they're made of
What is a Rebate?
A rebate refers to a groove in the vertical edge of the door which creates a snug fit between the door and the frame, enhancing the door's thermal qualities.
There's a clue in the name, a composite door is made from a variety of materials — however, while a range of doors could technically be referred to as composite doors, the term usually refers to a specific type of front and back door.
"Typically, a composite front door has a glass reinforced plastic (GRP) skin which can be moulded to allow for a variety of styles and designs," explains Ryan Schofield, Managing Director, Thames Valley Window Company.
The GRP skin helps make the doors extremely tough, rigid and waterproof.
The base of the door is typically a steel/metal with a polyurethane foam core. They can have either an extra insulating double rebate or a more simple single rebate.
What are the benefits of a composite door?
Composite doors represent a practical choice for replacing a front door, as they are extremely durable, weather resistant and provide good home security.
"The exterior door structure of a composite door gives outstanding rigidity and stability," a spokesperson at Eurocell tells us, "so unlike wooden alternatives there's no risk of swelling, shrinking or warping and the door won't stick or let in draughts."
Composite doors also have high thermal efficiency, helping the home stay warm and be more energy efficient. Current building regulations require replacement doors with a U-value of 1.8 W/m2. Composite doors carry a low U-value and are very likely to exceed these requirements.
On a more aesthetic level you can buy composite doors in a host of different shades, styles and finishes, including timber effect, giving you plenty of choice. Plus, they require less maintenance and do not need to be repainted regularly.
But make sure you choose wisely as the best front door colours will enhance the outside of your home and increase its kerb appeal.
Are composite doors better than PVCu doors?
"Arguably, yes. Composite front doors have many benefits, which is why they are more expensive than PVCu front doors," says Ryan. Weighing up the benefits will depend on how much you want to spend.
So, it makes sense that if you are going to have to spend a little more that you consider some front door ideas to make sure you are getting what you want.

PVCu doors can also have a high level of energy efficiency and security for the home, and are available in a wide range of styles. However, overall the strength and high quality of composite doors is what sets them apart from PVCu styles.
How much does a composite door cost?
Composite doors are a premium alternative to the likes of PVCu and some wooden doors and due to its construction and materials you should expect to pay a premium price. While new front door costs for composite doors are typically higher you are getting a durable, good-looking, secure door.
For a basic composite door, expect to pay from upwards of £350 just for the door. Prices of £600+ are common. For installation and a basic composite door expect to pay a minimum of £1,100. But these prices can quickly increase depending on the brand, design and level of glazing you choose.
How long do composite doors last?
Look out for composite front doors with a guarantee — 10 years is a standard offering for many brands. However, a professionally fitted composite front door is designed to last much longer, and should endure around 20-30 years.
Are composite doors worth the money?
Thanks to their longevity and strong thermal properties, composite front doors do arguably represent good value for money.
For the environmentally-minded, the thought of buying a composite front door, plastic components and all, may be less than appealing. However, with its U-value reducing heat loss and therefore energy usage, and the potential to last for 30 years or more, they can perhaps represent a savvy eco buy too.
Some companies also offer composite doors made from recycled plastics with low carbon footprints, further helping to lessen the impact of your purchase on the environment.
Can you repaint a composite door?
Yes you can paint a composite door, but it's worth remembering that the finish won't last as long as the finish the door comes with. When painting a composite front door it is a very similar process as painting a uPVC door. You will need to consider what paint you need to use and make sure that you prep the door properly.
After rubbing down you will need a primer, Zinsser Bulls Eye 1-2-3 is a good choice, while Zinsser Allcoat Exterior makes a good companion paint. It's available in a host of contemporary colours, and is available in matt, satin or gloss finishes.
Get the Homebuilding & Renovating Newsletter
Bring your dream home to life with expert advice, how-to guides and design inspiration, direct to your inbox.
Hugh is Deputy Editor of sister title Livingetc.com and former Digital Editor of homebuilding.co.uk. He has worked on a range of home, design and property magazines, including Grand Designs, Essential Kitchens, Bathrooms, Bedrooms and Good Homes. Hugh has developed a passion for modern architecture and green homes, and moonlights as an interior designer, having designed and managed projects ranging from single rooms to whole house renovations and large extensions. He's currently renovating his own Victorian terrace in Essex, DIYing as much of the work as possible. He's recently finished his kitchen renovation, which involved knocking through walls, and landscaping a courtyard garden, and is currently working on a bathroom renovation.