Aluminium Front Doors: Pros, Cons, Costs and Design Ideas
By Hugh Metcalf published
An aluminium front door is a great choice for a practical and modern entrance to your home. Weigh up the benefits with our guide to the essential, need-to-know details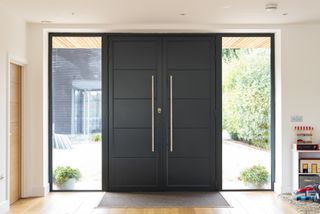 (Image credit: Origin)
Have you ever considered an aluminium front door for your home? While you may be familiar with timber, PVCu and even composite front doors, aluminium designs have a lot to offer in terms of practical benefits and bringing a contemporary style to your home's façade.
(MORE: Get a quote for your front door)
Whether you're building a home from scratch, renovating an existing property inside and out, or are simply looking to replace an old door to improve your home's kerb appeal or energy efficiency, an aluminium front door could be the perfect pick for your property.
Here's everything you need to know, from cost to how aluminium front doors stack up against the competition.
What are the Pros and Cons of Aluminium Front Doors?
Aluminium front doors are innately strong and durable and have secure frames.
"Aluminium doors which are finished with a powder-coating are incredibly low-maintenance, with no need to touch up fading paintwork or conceal chips," explains Victoria Brocklesby, Founder and COO at Origin.
"In addition, aluminium is one of the most environmentally friendly building materials available as it is infinitely recyclable." Modern aluminium front doors also have a good U-value.
Aluminium is also a great choice for those who are concerned about weather-induced warping or movement, to which timber doors often fall victim.
On the downside? Aluminium front doors are more of a premium product, so expect them to be more expensive than other front door options on the market. However, they may prove a worthwhile investment, as aluminium front doors have a far longer lifespan than the likes of their PVCu equivalents.
How Much Does an Aluminium Front Door Cost?
As mentioned above, aluminium doors come at a premium price compared to many of the alternatives. While you may be able to find an aluminium front door from around £1,000, a good quality aluminium design will start from £1,800 - £2,500+.
It's worth noting that this price will largely not include services such as delivery, installation and disposal of the old door, and may also not include elements such as hinges.
Are Aluminium Front Doors Better Than Composite and Timber Doors?
"Aluminium front doors compare similarly with timber in terms of security and insulation values," says Matt Higgs, Director at Kloeber. "Composite doors vary greatly in price and quality so it's difficult to compare but most aluminium doors would be deemed as being of a higher quality than most composite doors."
How Thermally Efficient are Aluminium Front Doors?
Aluminium is a thermally conducting material, however, modern aluminium front doors use a mix of materials to ensure that a door's thermal efficiency isn't compromised. In fact, aluminium front doors can well exceed the requirements of building regulations.
"For example, Origin front doors feature a polyamide thermal break in the profile, which is designed to limit heat transfer from the interior to the exterior and increase thermal efficiency," says Victoria. "The panel is composed of inner and outer layers of aluminium with an ultra-insulating Thermimax core."
Also look for aluminium doors with sophisticated weather seals to ensure optimal performance all year round.
How Secure is an Aluminium Front Door?
Aluminium is a strong and secure material in general. Look for doors with Secured by Design accreditation, or those tested to meet part Q of the building regulations for security.
Is There Any Difference in Installing an Aluminium Front Door?
Installing aluminium front doors is comparable to installing doors made from alternative materials and a well-skilled tradesperson will be able to undertake the installation.
"However, it is vital to carry out thorough research before choosing a tradesperson" says Origin's Victoria Brocklesby. "Your tradesperson of choice will be the one who guarantees the installation, so it's essential to check that they are experienced in installing the product and will be able to complete the work to a high standard."
What are the Main Design Considerations for Aluminium Front Doors?
"Aluminium doors can sometimes lack the character of a timber door, so it's important to consider how it will look in your home," says Kloeber's Matt Higgs.
Aluminium front doors are largely available in more contemporary designs, so think about how a design will play into both the exterior and interior of your home.
Aluminium front doors can be powdered coloured in vibrant colours, so it's still possible to create a statement front door in a similar way to timber and composite designs.
Decide if you want a glazed panel in the door, or whether sidelights or a fan light may be more appropriate. The choice of handle can also make or break the design of your aluminium front door.
Hugh is Digital Editor of homebuilding.co.uk and has worked on a range of home, design and property magazines, including Grand Designs, Essential Kitchens, Bathrooms, Bedrooms and Good Homes. Hugh has developed a passion for modern architecture and green homes, and moonlights as an interior designer, having designed and managed projects ranging from single rooms to whole house renovations and large extensions. He's currently renovating a Victorian terrace in Essex, DIYing as much of the work as possible. His current project is a kitchen renovation which involves knocking through walls and landscaping a courtyard garden.
Homebuilding & Renovating Newsletter
Get the latest news, reviews and product advice straight to your inbox.
Thank you for signing up to Homebuilding. You will receive a verification email shortly.
There was a problem. Please refresh the page and try again.