14 Garden Decking Ideas for Creative Landscaping
By Hugh Metcalf , Amy Reeves published
These garden decking ideas, advice and expert top tips will help you create an outdoor space that looks good and is easy to maintain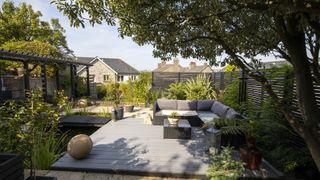 (Image credit: Jeremy Phillips)
The best garden decking ideas are those that really help you make the most of your outdoor area. Decking is a great choice for a garden design, as it's easy to install and look after, while also giving you plenty of options of styles, colours and more.
Whether you go for a traditional timber decking or a modern composite version, it's no wonder it's such a population choice for gardens, and that there are so many clever garden decking ideas around to inspire your space.
Take a look below at all of the material options available, and some great design ideas to make the most of your space.
Where to Start With Garden Decking Ideas
"Outdoor decking provides a stylish element to your outdoor space," says Christopher Ray, outdoor category manager at B&Q (opens in new tab). "Building a decking works well for any garden, regardless of the size and provides an attraction and practical aspect to your garden.
"When choosing your decking there are a number of factors to consider, perhaps try using deck tiles for smaller areas, such as balconies and paths as they are easy to fit and give your garden a quick and simple makeover without complications.
"When choosing your decking, you will need to consider how it will aesthetically match with your existing exterior," adds Nick Whiley, project director at Trekker Global (opens in new tab). "You will also need to consider how much time you think you can allocate in looking after and maintaining your decking."
"If your aim is to create a more spacious outdoor area, try opting for traditional timber decking as they suit all types of projects and are great for raised or large decks," concludes Christopher Ray. "However, if you're looking for easy, long lasting and stress free decking, composite deck boards would be your best bet."
1. Choose a Characterful Garden Decking Idea to Suit Your Scheme
While the classic timber style might be the first to come to mind when thinking of garden decking and patio ideas, there's plenty of different types and styles for any kind of outdoor space. So, if you want to bring a little more character to your garden scheme, why not consider a more interesting decking design?
"We have seen a huge increase in homeowners wanting high end,' show-stopping' areas for dining and entertaining outside," details Caroline Birdstall, director of marketing at Millboard.
This Weathered Vintage decking from Millboard (opens in new tab) delivers all the charm of reclaimed wood with the simplicity of installation and easy maintenance of a modern composite decking.
2. Get the Colour Right for a Modern Decked Area
Rejuvenate old decking or personalise new boards by using the best decking paints to add some colour
"If you want something classic and traditional, I'd recommend hard-wearing but warm wood tones," says Jimmy Englezos, Ronseal (opens in new tab)'s senior product manager, "but if you're looking to treat your decking, fence or shed - or for a more contemporary feel, greys, greens blues and even purples are all great for making an impact or adding a pop of colour."
While light decking colour ideas, like this from Ronseal are perfect for bouncing light around a small garden, remember that it will show dirt and grime far more than when using a dark colour for decking.
3. Install Lighting for a Welcoming Deck
Incorporating garden lighting ideas into your decking is both practical and helps your garden come to life at night time. By integrating spotlights into the decking, you'll not only highlight the path through your garden, but also draw attention to any changes in level that could prove potential trip hazards when out in the garden after dark.
"By adding lighting to your new decking terrace, you naturally soften the space, make it more inviting and look super stylish," says Karl Harrison of Trex (opens in new tab). "There are many types of lights you can use but I prefer to use simple post cap lights, recessed lights, and stair riser lights.
While it's a great idea to plan in decking lighting from the outset so that you can connect it to the mains electricity and add in a switch to control them from the house, if you're desperate to retrofit spotlights in your decking, it's possible to buy the best garden solar lights which you simply cut a hole for in your decking and pop in.
"The best way to illuminate a decked garden is to add lighting into the planting areas. Up lighters can be used," continues Karl Harrison. "They cast shadows and add the most to the space. A garden with lighting will feel cosier during the evenings… When someone asks for that romantic touch in a garden, I always add lighting."
4. Buy Decking with a View Towards Durability
Wood decking vs composite is a new, but important debate to be had when it comes to new designs for an outdoor space.
While timber has always been used traditionally, due to hardwood's inherent charm and durability. Species such as oak and teak can provide a delicate yet contemporary finish and birch, elm, maple and cherry are firm favourites are good reason — although often come with the price to match.
"When choosing your decking material, do bear in mind that timber decking does require regular cleaning and oiling/staining to protect it and keep it looking good and that can be quite time-consuming," says Millboard's Caroline Birdstall.
"Composite decking is a highly durable and eco-friendly alternative to wood that is made from recycled materials, including industrial sawdust and reclaimed plastics. Unlike wood, composite decking resists fading, scratching and mold – and won't rot, warp, crack or splinter, regardless of harsh weather conditions or daily wear and tear," agrees Karl Harrison.
5. Revive Old and Tired Decking on a Budget
If you're unsatisfied with a currently decked area, but don't want to spend on an entirely new structure there are some essential steps to take to refresh the garden space, staring with finding out how to clean decking properly.
This involves using the best pressure washer you can afford to spray away any moss, algae and flaking paint. Then, if your decking is made from timber, use decking paint ideas to find your new style.
"The decking colour is key to the overall look of your outdoor space," says Trex's Karl Harrison. "The right decking colour can enhance your scenery, complement your home or make your deck stand out. However, it's best to leave the colour alone on a composite, it may invalidate the warranty if you apply any chemicals to the surface."
6. Incorporate Planting in Your Decking Design
"Colour and scent is important when it comes to patio or decking planting," explains Chris Bonnet from Gardening Express (opens in new tab). "Also think about what types of plants you want to grow. Are you looking for flowers? Foliage? Do you want edibles or are you looking for something really low maintenance?
"If you're after colour, try Hibiscus trees with their beautiful candyfloss blooms, or the eye-catching Canna Cannova Yellow. Other options include the maroon / crimson Cosmo astrosanguineos Chocamocha which have a chocolate aroma and colourful geraniums which will flower through the summer to late autumn.
"For edibles, salad vegetables are all great to grow, especially if your patio or deck gets lots of sun, and can be grown in containers."
This decking scheme, created with Sadolin (opens in new tab)'s Decking Stain & Protector in Golden Brown, has a lot of points of interest; however, it's the patio edging ideas and integrated planting that's the most eye-catching in this design. By sinking planters into the decking, this garden breaks up the expanses of timber used for a more varied and interesting look.
7. Vary Levels in Your Garden with Decking
Building up levels in your garden is an important part of the design, helping to add interest, zone and avoid the whole scheme looking too flat. Decking offers an easy and efficient way of building up these layers, especially when compared to the alternative of tackling the job with a shovel or building retaining walls.
However, just remember that you can only build a decking platform up to 30cm above the ground, or else you'll need decking planning permission.
8. Use Decking to Zone Areas in Your Garden
If you're unsure of how much decking to use, look to the layout in your garden design for inspiration. Decking is a great way to zone a particular area such as a seating or dining space, helping it to feel contained and cosy, even in a large garden.
In this tricky triangular shaped plot, Instagram user @Rugrats.and.innovation used Composite Prime (opens in new tab) decking to create zones to demarcate different spaces within this compact plot.
9. Create a Unique Space in a Small Garden With Decking
"It is often the finishing touches that take a deck to the next level in the eyes of homeowners," says Caroline Birdstall of Millboard. "For instance, adding edging to decking allows you to easily incorporate under-lip lighting for a really professional finish to entertaining spaces. Also, built-in sating using the same material can create a pared-back aesthetic with the illusion of space — very useful for smaller urban gardens."
Garden steps ideas like the ones pictured aren't always easy to build, but in many schemes they're a necessity, especially when the garden is on a sloped plot. Decking provides a lightweight option for creating transitions between spaces that make it an attractive option for most gardeners.
What's more, the raised beds of this garden space don't just provide an interesting colour, the tall plants also create a room-like feeling and the beds provide a backrest for guests.
10. Play with Layout Ideas for Your Garden Decking
Which way should you orient your decking boards in your scheme? In general, think of them like floorboards, and choose the direction that best flatters the proportions of your garden. Decking boards tend to be run horizontally, mirroring the lines of the house and patio doors, but vertical lines will help draw the eye out into the garden.
In this scheme using NeoTimber (opens in new tab) decking, a mix of vertical, horizontal and diagonal orientations have been used in the different sections of the patio, adding some variety to the look that stops the decking area looking too monotonous.
11. Create Curves in Your Decking for a Modern Garden
Decking boards aren't limited to straight lines. If you're looking at a professional installation over DIYing, creating cool curves in your garden scheme should be simply enough, especially with modern fixings provided by composite decking manufacturers.
"There is a trend to have your decking curved," says Karl Harrison. "This style of decking looks more organic than a straight line and feels like it should be in a garden. The edge of the decking should overhang the edge in such a way it creates a lip as it hides the join of the fascia board and looks tidy."
This is a great way to add a softer touch to your landscaping when creating a deck, and could be a great way to add in a water feature such as a pond into your scheme.
12. Build a Decked Terrace Area in Sloping Gardens
Decking can be used to great effect when creating a terraced area alongside sloping garden ideas.
With a steep sloping garden down from the house, the only option for useable outdoor space directly to the rear of this property was to create a raised platform.
At such a height, creating a retaining wall terrace would have been impossible, so decking provided a simple option, with the owner and his son building the platform and using Hyperion decking from Envirobuild (opens in new tab) with a safety rail to create a large area of patio for the family to use.
13. Get Creative with Small Decking Ideas
When faced with a limited garden area, installing a large decked area is usually discouraged, as it can split the lawn and make two dysfunctional spaces.
At times like this, it pays to get creative in the way in which we think of gardens — perhaps an entirely decked outdoor spaces is actually more practical than a small turfed spot. The maintenance is now only lower, but also a completely contemporary scheme can be produced.
In this London home, Elizabeth Sharp wanted a small swimming pool, but with a compact garden, she had to be smart to make the idea work. She maximised space available with her pool, by fitting it with a retractable cover that can also be used as decking. Clever stuff!
14. Go Green with a Decked Outdoor Area
"One major trend we have noticed is that homeowners are thinking hard about sustainability and building things to last," says Caroline Birdstall of Millboard.
"Buyers are being more discerning when they choose materials — they want to know what they will look like ten years down the line. Will they enhance their outdoor space longterm? Will it be difficult to maintain? We have seen a real move towards building things that will last without the need for environmentally damaging chemical preservatives. For many customers, the desire to use products that are the most planet-friendly has moved right to the top of their criteria for selection."
"Composite decking – especially solid composite decking, which is generally a higher quality than their hollow counterparts – have a significantly longer lifespan than timber or pure plastic decking," adds experts of Ecodek (opens in new tab). "The combination of quality, solidity and durability means solid composite decking boards do not need to be replaced as often, and usually carry longer warranties, providing you with peace of mind that you've purchased a superior product."
Which Type of Decking is Cheapest to Install?
"The cost of all these materials varies tremendously," advises Karl Harrison from Trex. "Based on each garden situation alone will dictate the amount of work required to create each project. I assume a registered professional Landscaper is providing the works and warranties for a minimum period of 10 years. If, however we base this question on a level surface with no excavation then consider the following.
"Composite decking is fitted to a structure that has many regulations to follow carefully if you want your investment to last. Beams and joists must be constructed with the right grade of timber and fixings. Post holes need to be dug for the support posts and concrete, this all before you fit the decking. A sensible budget for a Trex® deck is from £250 to £320 plus VAT."
"The cheapest and certainly not the best solution in many cases is to use softwood. The frame should be the same as described above. It doesn't last as long as quality composites and needs regular treatment. A sensible cost would be from £160 to £220 plus VAT/m2."
Assistant Editor Amy began working for Homebuilding & Renovating in 2018. She has an interest in sustainable building methods and always has her eye on the latest design ideas. Amy has interviewed countless self builders, renovators and extenders about their experiences for Homebuilding & Renovating magazine. She is currently renovating a mid-century home, together with her partner, on a DIY basis, and has recently fitted her own kitchen.
Homebuilding & Renovating Newsletter
Get the latest news, reviews and product advice straight to your inbox.
Thank you for signing up to Homebuilding. You will receive a verification email shortly.
There was a problem. Please refresh the page and try again.