12 Garden Decking Ideas for Creative Landscaping
By Hugh Metcalf published
These garden decking ideas will help you create an outdoor space that looks good, functions well and is easy to maintain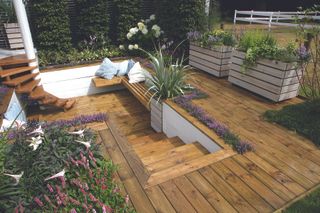 (Image credit: Sadolin)
The best garden decking ideas are those that really help you make the most of your outdoor area. Decking is a great choice for a garden design, as it's easy to install and look after, while also giving you plenty of options of styles, colours and more.
Whether you go for a traditional timber decking or a modern composite version, it's no wonder it's such a population choice for gardens, and that there are so many clever garden decking ideas around to inspire your space.
(MORE: How to Lay Decking)
We've picked 12 of our favourites to kickstart your imagination when it comes to planning a garden decking project.
1. Choose a Characterful Garden Decking Idea to Suit Your Scheme
While the classic timber style might be the first to come to mind when thinking of garden decking ideas, there's plenty of different types and styles for any kind of outdoor space. So, if you want to bring a little more character to your garden scheme, why not consider a more interesting decking design?
This Weathered Vintage decking from Millboard delivers all the charm of reclaimed wood with the simplicity of installation and easy maintenance of a modern composite decking.
(MORE: How to Clean Decking)
2. Colour Ideas for Garden Decking
Whether you're buying new decking or painting existing timber boards, what colour should you choose? "If you want something classic and traditional, I'd recommend hard-wearing but warm wood tones," says Jimmy Englezos, Ronseal's Senior Product Manager, "but if you're looking to treat your decking, fence or shed - or for a more contemporary feel, greys, greens blues and even purples are all great for making an impact or adding a pop of colour."
This light decking colour from Ronseal is perfect for bouncing light around a small garden, but just remember that it will show dirt and grime far more than when using a dark colour for decking.
(MORE: Best Decking Paints)
3. Lighting Ideas for Garden Decking
Incorporating garden lighting ideas into your decking is both practical and helps your garden come to life at night time. By integrating spotlights into the decking, you'll not only highlight the path through your garden, but also draw attention to any changes in level that could prove potential trip hazards when out in the garden after dark.
While it's a great idea to plan in decking lighting from the outset so that you can connect it to the mains electricity and add in a switch to control them from the house, if you're desperate to retrofit spotlights in your decking, it's possible to buy solar powered lights which you simply cut a hole for in your decking and pop in.
(MORE: Best Garden Solar Lights)
4. Incorporate Planting in Your Decking
This decking scheme, created with Sadolin's Decking Stain & Protector in Golden Brown, has a lot of points of interest; however, it's the integrated planting that's the most eye-catching in this design. By sinking planters into the decking, this garden breaks up the expanses of timber used for a more varied and interesting look.
5. Creating Levels in Your Garden with Decking
Building up levels in your garden is an important part of the design, helping to add interest, zone and avoid the whole scheme looking too flat. Decking offers an easy and efficient way of building up these layers, especially when compared to the alternative of tackling the job with a shovel or building retaining walls.
However, just remember that you can only build a decking platform up to 30cm above the ground, or else you'll need planning permission.
6. Use Decking to Zone Areas in Your Garden
If you're unsure of how much decking to use, look to the layout in your garden design for inspiration. Decking is a great way to zone a particular area such as a seating or dining space, helping it to feel contained and cosy, even in a large garden.
In this tricky triangular shaped plot, Instagram user @Rugrats.and.innovation used Composite Prime decking to create zones to demarcate different spaces within this compact plot.
7. Create Garden Steps with Decking
Garden steps aren't always easy to build, but in many schemes they're a necessity, especially when the garden is on a sloped plot. Decking provides a lightweight option for creating transitions between spaces that make it an attractive option for most gardeners.
(MORE: How to Build Garden Steps)
8. Play with Layout Ideas for Your Garden Decking
Which way should you orient your decking boards in your scheme? In general, think of them like floorboards, and choose the direction that best flatters the proportions of your garden. Decking boards tend to be run horizontally, mirroring the lines of the house and patio doors, but vertical lines will help draw the eye out into the garden.
In this scheme using NeoTimber decking, a mix of vertical, horizontal and diagonal orientations have been used in the different sections of the patio, adding some variety to the look that stops the decking area looking too monotonous.
(MORE: Patio Design Ideas)
9. Create Curves in Your Decking for a Modern Garden
Decking boards aren't limited to straight lines. If you're looking at a professional installation over DIYing, creating cool curves in your garden scheme should be simply enough, especially with modern fixings provided by composite decking manufacturers.
This is a great way to add a softer touch to your landscaping when creating a deck, and could be a great way to add in a water feature such as a pond into your scheme.
10. Create a Raised Platform in a Sloping Garden
With a steep sloping garden down from the house, the only option for useable outdoor space directly to the rear of this property was to create a raised platform. At such a height, creating a retaining wall terrace would have been impossible, so decking provided a simple option, with the owner and his son building the platform and using Hyperion decking from Envirobuild with a safety rail to create a large area of patio for the family to use.
(MORE: Sloping Garden Ideas)
11. And Finally, Check Out This Clever Concealed Swimming Pool Decking Idea
pool, which is fitted something a bit more unusual. In her London home, Elizabeth Sharp wanted a small swimming pool, but with a compact garden, she had to be smart to make the idea work. She maximised space available with her pool, by fitting it with a retractable cover that can also be used as decking. Clever stuff!
Hugh is Digital Editor of homebuilding.co.uk and has worked on a range of home, design and property magazines, including Grand Designs, Essential Kitchens, Bathrooms, Bedrooms and Good Homes. Hugh has developed a passion for modern architecture and green homes, and moonlights as an interior designer, having designed and managed projects ranging from single rooms to whole house renovations and large extensions. He's currently renovating a Victorian terrace in Essex, DIYing as much of the work as possible. His current project is a kitchen renovation which involves knocking through walls and landscaping a courtyard garden.
Homebuilding & Renovating Newsletter
Get the latest news, reviews and product advice straight to your inbox.
Thank you for signing up to Homebuilding. You will receive a verification email shortly.
There was a problem. Please refresh the page and try again.