Decking Costs: How Much Will You Have To Pay For a New One?
By Steve Jenkins published
Want to know how much new decking costs? We give you the lowdown on the popular choices – wood and composite – and reveal how much the pros charge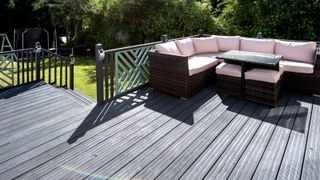 (Image credit: Getty Images)
Looking to build a new deck, then decking costs will be all-important. Don't let decking costs put you off — they aren't as expensive as you might think, especially if you are a competent DIYer who can tackle the job yourself. You can save on labour costs and do some research (look on Google) and get yourself a great deal on materials.

But if you are looking for grand decking ideas to show off the views or provide an outdoor space to rival the indoors you may want to think about calling in a professional to get the job done. This will obviously cost more but our guide will give you a rough idea of how much you might have to spend.
Another factor to bear in mind is material costs. Some decking options like hardwood and composite will be more expensive than, say, softwood products. However, the extra expensive tends to be worth it in long-run.
Read on to find the answers to a host of commonly asked questions on decking costs and a little bit more.
Decking Costs: What Can I Expect to Pay?
This will vary from project to project but as a general guide you will need to put aside at least £1,000 for a professional to come round and build you a deck. But prices can head up to around £2,000+ depending on the size and materials chosen for your project.

Then you might need to consider options beyond the cost of the decking and labour. For instance you may need a weed suppressing membrane to go under the decking. This will cost around £20 for a cheap membrane on a small deck. For better quality membrane on a larger deck expect to pay at least double this.
To prolong the lifespan of the deck and change its appearance there is the option to stain or paint. A 2.5l tin of decking paint will cover around 13m/2 with two coats and costs from £20-£70 depending on quality.
You might want to include some stylish decking balustrade ideas to finish your decking off. The price can vary greatly depending on what you choose — timber, metal or glass. But expect to pay a minimum of £100, but most likely more.

All the prices for the extras are just for the materials, so you will need to factor in labour costs as well if employing a professional to do the job.
How Much Does a Professional Charge to Build a Deck?
Building a deck is typically a one or two day job for a basic wooden deck and a pro will charge around £150-£200 a day for labour.
If you are having a larger or more intricate deck built it will take longer, maybe three or even four days, so obviously you will need to pay your pro more.
Is it Cheaper to Build my own Deck?
If you are a competent DIYer and can build a deck yourself then you will obviously save on labour costs. But you will need to get a lot more involved in the purchasing and build process. You will need to source your decking and organise delivery times, but again shop around and you could get a really good deal.
If looking to build a small wooden deck you could think about getting a budget decking kit for around £300. These include the decking boards and joists. If looking for a larger decking kit – 4.8m x 4.8m as an example – these can be found for around £1000+. But you won't get any extras.

Another cost to consider is tools. Many DIYers will already have the necessary tools to build a deck, but if you don't you will need to purchase. One of the best mitre saws will set you back at least £100-£150. Though you could go old school and use a hand saw which cost a lot less.
Does a Deck Add Value to my Home?
The answer is a definite Yes. A well-built and maintained deck can add monetary value to your property, especially if large and a key feature that sells a view to prospective buyers. It is hard to gauge how much value a deck will add, but if it helps sell your property for the price you want then it's a winner.

If you learn how to install decking yourself you can save on labour costs, which indirectly means that you are adding even more value to your home.
How Long Does a Deck Take to Build?
A simple, straightforward, average-sized deck with no extras or treatments should take two days. A smaller deck can be put together in a day. But if you have a larger deck with a more complicated design, decorative balustrades and a treatment you could easily be looking at a week.

Make sure to plan ahead so you have all the tools and materials you need before you start if doing the job yourself. If using a professional to build and paint your deck you will need the best decking paints for a top finish. Discuss with your pro how much more time this will add to the overall build.
What is the Cheapest Deck Material: Wood or Composite?
Wood decking is typically cheaper than composite decking. At the low end wood decking will cost you around £10m/2, while prices for composite decking start at around £20-30m/2. Expect to pay two, three or even four times this for high quality hardwoods and composite.

The common choice for the cheaper decking is pine, but if you want a more durable wood such as oak, cedar or redwood then you have to pay a lot more. Prices can be as much as £80/m2, but you will get a longer lasting wood that is typically used for more designer decking.

Composite decking ideas are a common alternative to timber decking and is made from a mixture of wood fibres and recycled plastic. This makes it more durable, easier to clean and requires less maintenance.
Whatever ever you choose – wood or composite – you will need to know how to clean decking to make sure that you prolong the life of your deck and keep it looking good.
Steve is an avid DIYer with over 20 years of experience in transforming and renovating homes. He specialises in painting and decorating, but has strong all-round building skills, having previously worked in the industry for 10 years.
Homebuilding & Renovating Newsletter
Get the latest news, reviews and product advice straight to your inbox.
Thank you for signing up to Homebuilding. You will receive a verification email shortly.
There was a problem. Please refresh the page and try again.