How to Clean Decking: A Step by Step Guide
By Hugh Metcalf published
Want to know how to clean decking? We've got it covered with this handy step by step guide for both timber and composite styles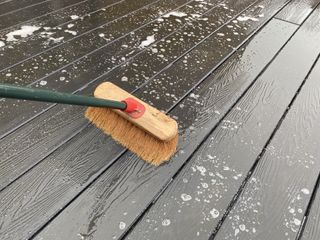 (Image credit: Neo Timber)
If you're not sure how to clean decking, now's the time to learn how. As summer rolls around, you'll be wanting to make full use of your outdoor space, but grimy decking isn't quite the perfect picture you imagine when it comes to al fresco dining.
It's important to periodically clean decking for safety too — if moss and lichen builds up, it can cause decking to become slippery and potentially dangerous.
Take a look at this quick guide to giving your decking some TLC, covering both timber and composite decking, and get your garden looking good as new again.
Before You Start
Take everything off your decking so it's completely clear and ready for you to clean.
Grab a broom and give your decking a good sweep to dislodge any dirt — don't worry too much about any particularly problematic dirt, as that can be tackled with a deep clean of your decking.
How to Clean Timber Decking
Tool list
Wire brush
Decking Cleaner
Pressure washer or hose
Nylon kitchen scourer
A regular sponge
A bucket of warm water
Domestic soap
How To Give Timber Decking A Light Clean
1. To give your timber decking a gentle clean, first use slightly soapy water and sponge to remove dirt and cobwebs.
2. For more stubborn dirt, try a very light abrasive such as a nylon kitchen scourer, used along the grain. "Do not rub against the grain," says Jacksons Fencing's Leigh Barnes, "as it is likely to leave marks."
3. You can use a pressure washer, but care must be taken as not to damage the surface of the timber. Use a very light/distant cold water pressure washer for the job. Remember to find the best pressure washer for the job at hand — rotary pencil jet nozzles aren't suitable for timber surfaces.
How to Deep Clean Timber Decking with Deck Cleaner
To deep clean timber decking without damaging it, your best bet is to use a decking cleaner. Some cleaners are better at tackling certain jobs than others, so you need to consider what it is you want the cleaner to do.
"A product like Decking Cleaner and Reviver preps new wood whilst cleaning up older decking. It can tackle algae and mould and can be used over stains and oils," explains Jimmy Englezos, product manager at Ronseal.
A decking stripper is best used for tough, stubborn stains that just won't budge. However, this will strip all stains and oils from your decking too. This is great for a clean slate when it comes to your decking, but bear in mind you'll have to oil/stain your decking again by the time you're finished.
Follow the instructions on the packaging, as some vary, but be sure to use protective gloves and goggles to ensure you remain safe.
How to Clean Composite Decking
The material finish of composite decking means that it does not require painting, staining or oiling. This means that cleaning process is different to a traditional timber decking.
Tool list
A soft bristled brush (anything other may be abrasive to the surface of the deck)
A hose pipe
A regular sponge
A bucket of warm water
Domestic soap
Pressure washer
Composite decking cleaner
How to Give Composite Decking a Quick Clean
1. Mix a bucket of warm water with household soap (washing-up liquid will do the trick). Apply this directly onto the deck and clean thoroughly with a soft bristled brush.
"Brush the surface of the deck along the length of the grain of the board to ensure dirt and debris is being removed from the expansion gaps between the boards," suggest the experts at Neotimber.
2. The edges of your deck, especially where trims are installed, can often collect dirt and debris, so take extra care with these areas by applying warm soapy water to the surface of the deck and clean with a sponge.
How to Deep Clean Composite Decking
1. Once the area has been cleared of all furniture and excess debris, you are ready to treat your deck a treatment. Firstly, apply a thick layer of composite decking cleaner such as Owatrol Compo-Clean to the surface of your composite deck.
Large areas should be cleaned in smaller sections. Follow the manufacturer's instruction for the composite decking cleaner you choose.
2. Using a jet wash on the fan attachment, rinse your deck. Apply the nozzle of the jet wash no closer than 250mm from the surface of the deck boards — any closer and you risk damaging the surface of the decking.
Clean along the length of the deck boards and pay extra attention to debris that is lodged between the board's expansion gaps.
(MORE: Best Karcher Pressure Washers)
3. Pay attention to hard to reach spots and tackle these areas with some additional care. Either remove the surface dirt with a sponge or devote a little more attention to these areas with your jet wash.
Hugh is Digital Editor of homebuilding.co.uk and has worked on a range of home, design and property magazines, including Grand Designs, Essential Kitchens, Bathrooms, Bedrooms and Good Homes. Hugh has developed a passion for modern architecture and green homes, and moonlights as an interior designer, having designed and managed projects ranging from single rooms to whole house renovations and large extensions. He's currently renovating a Victorian terrace in Essex, DIYing as much of the work as possible. His current project is a kitchen renovation which involves knocking through walls and landscaping a courtyard garden.
Homebuilding & Renovating Newsletter
Get the latest news, reviews and product advice straight to your inbox.
Thank you for signing up to Homebuilding. You will receive a verification email shortly.
There was a problem. Please refresh the page and try again.