Composite Decking Ideas: 14 Ways to Raise Your Outdoor Space
By Rob Keal published
Composite decking ideas add interest and functionality to a garden, as well as being low-maintenance. Get inspired for your deck project with our 14 ideas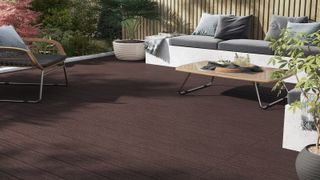 (Image credit: Ecodek)
Composite decking ideas can be stylish, durable and add lasting appeal to your garden. Reassuringly, some composite manufacturers are also taking steps to ensure their composite decking products are increasingly eco-friendly, using a high percentage of recycled plastic.
Decking ideas can transform large gardens, and small plots – where they can add greater definition – alike, and composite decking could provide a lower-maintenance alternative to timber when it comes to creating this feature.
We've put together 14 suggestions to help you bring your composite decking ideas to life, thereby creating a more attractive, enjoyable and accessible outdoor space for everyone in the household.
Composite Decking Ideas: What to Consider
There are a couple of factors to consider when it comes to composite decking ideas. One key consideration is installation — should you build a composite decking area on a DIY basis, or enlist the aid of landscaper?
"Enlisting a professional is the easiest way to ensure your deck is high-quality, built to last, and looks good," suggest the experts at Trex Composite Decking.
Also, think about when during the year you plan on using your new deck. Spring and summer are obviously the best times to spend outside, so your decking should be installed well before then.
This works on a practical level, too, as Karl Harrison, pro landscaper and Trex Composite Decking expert, explains: "February or March are ideal to start deck builds due to the ground being soft enough for digging and laying decking."
You can have a lot of fun exploring the many different design elements that are available for customising decking — things like built-in seating, planters and storage, as well as add-ons such as outdoor furniture, all of which bring comfort, character and convenience to your outdoor living space.
Allan Jeffrey, founder of Ultra Decking, elaborates: "Other aspects of the design that you will want to think about include accessories such as lighting. Decking lights will allow you to stay outdoors and enjoy your new outdoor space for longer on those long balmy summer evenings.
"If you are planning a raised deck, you will need to consider the best location to include steps in your composite decking design. Your installer can help you to decide on the best options and discuss how the substructure will support both the steps and your decking area."
Equally important are materials that are easy to maintain without requiring a lot of time, effort and expense.
Composite decking falls right in this sweet spot. Unlike pure wood, high-performance composite material usually resists fading, staining, scratching and mould — and won't rot, warp, crack or splinter. No sanding, staining or painting is required, and food and drink spills wash off easily with just soap and water.
1. Go for a Grey Decking Design
Grey decking is a surefire way to add timeless appeal to your garden. Not only is it highly versatile, pairing well with most landscaping ideas, but it also helps limit the appearance of dirt, which is a good idea if you plan on using your deck fairly often.
Complement grey decking with garden furniture in a similar neutral colour; this will prevent it from overpowering the rest of your garden.
2. Incorporate Plants Into Your Composite Decking Ideas
In the debate of wood decking vs composite, plants remain fairly neutral, adding authenticity and vibrancy to all types of deck. Plants complement composite decking by giving it a back-to-nature feel, as well as adding interest to your garden.
Creative planting alongside your composite decking ideas can take many forms, from flower beds which can add colour to decked areas, to raised bedding planters.
3. Finish Composite Decking with a Contemporary Rail
As one of the most visible elements of a deck, railing has a tremendous impact on aesthetics. In fact, it can help set your outdoor living space apart — and it should be considered from the outset.
In recent years, Brits have been installing statement-making railing styles inspired by contemporary architecture and luxury resorts. You can give your outdoor space an instant facelift by installing sleek, sophisticated aluminium railings.
As an alternative, replacing your old wood deck rails with a more modern design creates a fresh new look.
Nowadays, rails can be built to be customised, by adding lights or a matching deck board to create a shelf for the top rail (called 'cocktail railing') to provide a flat surface for you and your guests to place drinks and plates.
4. Create a Covered Composite Decking Area
A composite deck can form the basis of a new covered outdoor space. This may be for work, leisure, socialising or all of the above.
A pergola is ideal for instantly framing and defining a space. A relatively easy addition to any deck or yard, pergolas create the look and feel of an outdoor room while adding a distinct architectural element.
Of course, its main purpose is providing shade — essential for enhancing visibility of laptop screens and devices when working or learning from home, as well as offering cool relief on hot days.
Another way to integrate dimension into an outdoor space is with lattice panels. These versatile add-ons not only act as dividers for different zones within a garden, but also help minimise any unsightly views.
5. Opt for a Chevron Pattern
Decking used to be horizontal or vertical, with not much room for manoeuvre. Now, though, most manufacturers of composite decking offer different patterns and designs that can be tailored to suit each individual style, taste and personality.
If you still want that classic streamlined effect without being too traditional, opt for a chevron or diagonal pattern for your new composite deck.
Jeffrey explains: "You may want to get creative and include diagonal runs into your decking design. Diagonal runs offer a very different layout from a straight linear design.
"This type of layout does create more wastage than normal, which should be included in your calculations when determining the quantity of composite decking required. However, the result can provide a composite decking area with a more elegant and refined appearance."
Alternatively, curved decks are growing in popularity at the moment. However, you should again allow for a larger amount of material waste, given the complexity of their designs.
Jeffrey explains: "A curved border offers a charismatic and powerful appearance that will stand out from the crowd. This does require additional careful planning and preparation, for instance, and you will need to increase the wastage with this design; however, the result can transform any composite decking project into a unique outdoor living space."
6. Choose Seating to Complement Composite Decking
Seating all depends on the intended purpose of your decking. If it is a social hub you want to create, garden furniture like sofas and tables will make the whole area feel warm and inviting. Jeffrey explains: "A seating area in your garden will make it more appealing and create additional motivation to spend time in your garden for you and your guests."
Choose material types that complement composite — rattan chairs and corner sofas are great, so too are chunky composite and timber tables and chairs.
Also, remember to learn how to clean decking properly first so that your space looks pristine before any guests arrive.
7. Create the Feeling of Space With Lighter Tones
No matter what size plot you have, you can always create a more spacious feel in your garden by adding lighter-toned decking. By including light decking colour ideas at the outset of your project, you can use them as a base from which to grow the rest of your garden designs.
What's more, lighter colours could work to your advantage in a south-facing garden — darker colours typically absorb heat, which could mean they're hotter to walk on in the height of summer.
8. Turn Your Deck Into an Activity Zone
As our homes have become offices, classrooms, fitness facilities – you name it – space has become a precious commodity. To optimise the usability of an outdoor area, look at dividing it into multiple activity zones — spaces dedicated to various activities from relaxing and dining, to areas for play, work and sanctuary.
Decking is a practical way to zone your garden. The deck may act as an extension of a room in the house, or be used for entirely different purposes. This composite deck here provides space to work out in the warmer months.
9. Establish a Border With Your Decking
Most gardens are designed with some form of border separating them from the house. Whether yours is a patio or decking, there is no denying that a deck provides a clean border between the garden's greener areas and any other zones attached to the house.
Update your plot with some fresh composite decking ideas that reflect this layout. For instance, if your exterior doors lead directly to the garden, install decking around the immediate vicinity so that it extends to the edge of the lawn.
Decking doesn't just have to be used around the house, either, but can extend into the garden to create other areas to sit.
This example even utilises composite decking to showcase planting, which can help define your outdoor space even further.
10. Don't Forget to Build Your Deck Steps
Composite decking ideas are not just limited to the flat spaces around your plot. You can also build steps out of the same boarding used for the main composite deck, creating a uniform appearance and providing a smooth transition from one area of the garden to another.
If you have been concerned about timber garden steps ideas in the past, composite is the solution. It can offer a lower slip risk and is also a lower-maintenance alternative to timber.
11. Brighten Things Up With Built-In Deck Lights
By adding lighting to your new composite deck, you naturally soften the space, make it more inviting and look super stylish. There are many types of garden lighting ideas you can use, but simple post cap lights, recessed lights, and stair riser lights work well.
If your decking has a balustrade, then illuminating the rail or posts is a great way to add a lighting feature.
Recessed decking lights are a good idea either side of a door. Sometimes you can place them just in front of a planter, or perhaps have them built into the decking itself. When using recessed deck lighting, it is advisable that you have something to illuminate, such as garden furniture, as this will enhance the overall ambience of the garden.
Step or stair riser lighting is especially important for safety, because you need to see the steps in a garden come the evening. They can be dark places, so it's vital to clearly show people the way.
12. Extend Your Outdoor Living Space
Gone are the days of decks and patios that might be used to host a BBQ once or twice a year. Now, homeowners are seeking outdoor living areas where they can relax, host a movie night with friends or play games. As a result, deck designs are taking on new shapes and styles, from mid-century to modern.
Garden dens and sunken outdoor living areas – inspired by the popular indoor trend from the 1960s – are making a comeback, and they'll likely be outfitted with all the comforts and conveniences of the indoors, from upholstered furnishings and fully appointed outdoor kitchens to bars, projectors, and more. Composite decking can provide a practical, water-resistant material from which to create this feature.
13. Install Decking Across Multiple Levels
Not all gardens are level; some cover multiple gradients. The good news is that composite decking can be used to clad any raised spaces, including those on different levels.
For sloping gardens, in particular, composite decking ideas address any sharp dips or curves in the landscaping. This creates a more accessible area, while at the same time maximising every square metre of your plot.
14. Use Composite Decking to Frame Your Pool
There is no denying the fact that swimming pools make great garden features — and composite can provide a durable, waterproof alternative to timber decking.
It could also be safer than alternatives such as timber decking, as Jeffery explains: "If you have a swimming pool in your garden, you can use composite decking boards to enhance your pool area, as the latest generation of composite decking offers anti-slip properties. Of course, care should always be taken on very wet surfaces."
Composite decking is highly sought-after for its durability, meaning that sun loungers and other items of swimming pool furniture can feature throughout the deck without you worrying about the material itself getting damaged.
Of course, any nicks and scratches that do occur can easily be buffed out using a wire brush, or in extreme cases filled with an epoxy-based filler using a putty knife.
What Types of Composite Decking Are Available?
There are a number of different composite products available; knowing what to look out for when buying your boarding is key to the success of your composite decking ideas, as Jess Brown, Digital Marketing Manager at Ecodek, explains: "It is important to know that while most composite deck boards look identical, what lies beneath can differ dramatically.
"The two main types of composite decking are hollow and solid. Solid decking boards are of a higher quality, more durable and longer-lasting.
"Hollow boards are a cheaper alternative due to a reduction in materials being used. While this makes them lighter, it does compromise their structural integrity and results in a reduction in strength."
How Much Does Composite Decking Cost?
As a rule, allow anywhere between £2,000-£3,000 for an entirely new composite deck built from scratch. This is a safe estimate, covering material and labour, and it may even be somewhat less expensive if your project is quite small. However, larger projects could still exceed this amount.
Jeffrey elaborates: "A common mistake with most customers is believing that all composite decking is the same. There are many different types and profiles to choose from. Customers should budget from £135 per sqm to over £150 per sqm for composite decking boards.
"This will generally include the composite decking boards, substructure (wood or composite joists) and the installation. However, if the design is complex additional labour charges for the installer needs to be considered."
It's always best to obtain a couple of quotes for the work, and add in a small contingency for any unexpected surprises.
What Are the Best Composite Decking Ideas for Small Gardens?
Begin by focusing on the decking itself, and how to highlight its best features.
Jeffrey suggests: "Depending on customer preferences they can opt for a grooved or wood grain design, finished in various colours. A great idea is to lay the decking in a diagonal pattern to create the illusion of a larger area.
"Adding extra colour with plants or planters is another great way of offering the appearance of a larger garden, and complementing your new decking space. Mood or ambient lighting around your decking in small gardens can also help create the illusion of a larger space.
"Composite materials can also be used to create feature fencing or walls in a tight space, offering a simple but effective way to stand out from the crowd."
Composite decking is suitable for all sorts of garden designs, even if your plot is not very big. To accommodate any kind of decking, though, you will first need to get creative with how you use the available space.
"A popular style, especially within smaller spaces, is to create a vertical garden, with plants growing upwards," explains the team at Trex Composite Decking. "Vertical gardens can be created by building a frame against a wall or fence and selecting from the several types of plants which hang or climb such as vines, sweet peas and roses.
"Edibles also work well, such as peas, tomatoes and squash plants. This style serves as an attractive, artful addition to your space, freeing up valuable ground without compromising on greenery.
"For low-maintenance gardening ideas, consider adding a drip irrigation system so you don't have to worry about watering."
Rob Keal is the Content Editor at Homebuilding & Renovating. With a background in content marketing, he began his career back in 2016 as a freelancer, before honing his craft at various digital marketing agencies. Looking to specialise in DIY and homes, he joined the team in February 2022.
Renovation has been part of his life since he was nine years old, when his parents bought a medieval cottage and completely revived it, introducing him to kitchen remodels, loft conversions, landscape gardening, and much more besides along the way. A bedroom extension and patio refurbishment are among his next planned projects. He is also passionate about interior design and landscape gardening.
Homebuilding & Renovating Newsletter
Get the latest news, reviews and product advice straight to your inbox.
Thank you for signing up to Homebuilding. You will receive a verification email shortly.
There was a problem. Please refresh the page and try again.