Painting Decking: Here's How to Revamp Your Outdoor Space
By Steve Jenkins published
Painting decking the right way means it will look good and last for years. Follow our step-by-step guide on how to prepare and paint your wooden deck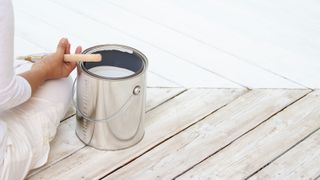 (Image credit: Getty Images)
Painting decking gives it a new lease of life and if you haven't done it already, now's a great time to make it happen. Warm, dry, rain-free days are the perfect time to transform your old – or even new – decking with a few coats of paint.
There's no doubt that a new coat of paint will give your decking a new personality. But to take it up a level you should think about some smart decking ideas to complement your new look deck.

To make sure that you get the best finish possible make sure that you do your prep properly. As with most paint projects, spend time doing the preparation right and the finished article will not only look good but will stay looking good for a lot longer, and the same applies when painting decking.
Follow our three-step guide to find out how to clean, prep and paint your decking for the perfect finish.
Painting Decking: All You Need To Know
1. Clear and clean
Start by removing any furniture, plant pots and any other obstacles, so you have a clear area to work in. The first step in how to clean decking is to get a stiff long handled broom and brush off as much dirt and debris as possible.

Now get a deck cleaner and use as instructed. When finished clean down with a jet/pressure washer to get a clean, free from everything finish and leave to dry. Wear goggles when jet washing to make sure you get no splash back in your eyes.

Finally, check for any loose decking planks and fix down with new screws.
2. Prep the area
Once the decking is clean, secure and dry – leave for at least 24 hours to make sure it completely dry – you need to give it a sand down to get a smooth finish and improve adhesion.
Use a 120 grit sandpaper on the end of a sanding pole and start at one end and go along the length of the decking and then start again on the next section. Alternatively you can use a manual or electric hand sander, but this does involve getting down on your knees, so think about knee pads.

When finished, sweep the deck and wash away any dust with a hose or buckets of water and leave to dry.

3. Paint the decking
First if there are any areas you don't want to get paint on, get some masking tape for the edges and sheets for the larger areas.

Start by using a 4-inch decking brush to do the edges. Start in the corner farthest away and create a four inch wide border of paint around the decking. If you have ridged decking get a block decking brush such as the ProDec Block Decking Brush (opens in new tab) — you will need a pole or broom handle to attach it to.

Alternatively, if you have flat decking you can use a roller to finish the decking. Use a 9 or 12-inch roller on a pole for a quick finish. Use a masonry roller as they typically have a deep pile.
Do I Need to Prime Decking Before Painting?
Yes. Wooden decking – especially new untreated decking – will need to be primed if being painted (rather than stained). Decking is typically exposed to all types of weather all year round so can take a bit of a battering.
A coat of primer will help seal the wood against the weather and provide the platform for the best decking paint. This will help ensure a long lasting finish that is much less likely to peel and keep its appeal.
Should I Power Wash or Sand Decking Before Painting?
If you are painting newly laid decking you are unlikely to need to power wash it. However, it is a good idea to give even new decking a quick sanding before painting. This will help remove any rough edges and improve adhesion. Use a pole sander (opens in new tab) – better for your back – or an electric sander to smooth out the decking.
If you are reviving older decking it will need a power wash to get rid of dirt, debris and old paint. Once you have washed any decking, leave it to dry before sanding. To get rid of any dust etc after sanding you can sweep or give it a quick hose down.
Is it Better to Paint or Stain Decking?
This will depend on a few factors including the age of decking, the condition of it, what type of wood your deck is made from and what type of look you want.

If you need to hide the flaws of an older deck, painting is probably your best choice. It will hide cracks, plus it is easier to clean than stain and will last longer. Plus you typically get more colour options which will help you decide on some smart decking colour ideas to enhance your outside space.
If you have new decking and want to show off the natural grain of the wood, stain is a better choice. You can choose how many coats of stain to help control the colour — the more stain the darker the finish. But, more coats offer better protection against the weather.

On the downside, staining doesn't hide imperfections as well and your decking will need restaining every three to five years.
Steve is an avid DIYer with over 20 years of experience in transforming and renovating homes. He specialises in painting and decorating, but has strong all-round building skills, having previously worked in the industry for 10 years.
Homebuilding & Renovating Newsletter
Get the latest news, reviews and product advice straight to your inbox.
Thank you for signing up to Homebuilding. You will receive a verification email shortly.
There was a problem. Please refresh the page and try again.