What is the Best Wood For Decking? We Ask the Experts
By Natasha Brinsmead published
If you're wondering which the best wood for decking is we've done the research for you. Find out which materials will work best to get the deck of your dreams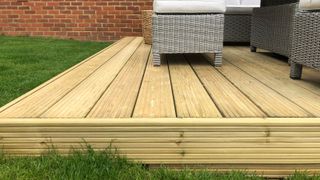 (Image credit: Jacksons Fencing)
The question of which is the best wood for decking may well be on your mind if you have been dreaming of a fabulous new garden seating area. The good news for you is that we have spoken to various experts in the field to get just the answers you'll need.
While decking ideas can encompass lots of styles, materials and designs, not all are suitable for every application. For your new deck to have a long life and provide you with all the al fresco enjoyment you want, you need to choose a product made from a material that is durable and easy-to-maintain, as well as being easy on the eye.
Read on to discover which is the best wood for decking to ensure you get maximum enjoyment from your garden for many years to come.
The Best Wood For Decking: What Are Your Needs?
Before you can decide on the best wood to choose for your new deck you need to take a few factors into consideration.
There are many different woods that are suitable for decking, with the choice usually falling between softwoods and hardwoods, although composite decking is now a really popular option too.
Each of these options will define not only the look of your finished deck, but also how much it will cost you, how long it will last and also the level of maintenance required.
Everyone will have different needs so do take into account the above considerations — if you plan on painting decking, for example, your needs will be quite different to someone who is after a wood that will weather naturally over time.
What Qualities Do The Best Woods for Decking Have?
"When choosing timber decking, always look for a long guarantee," says Leigh Barnes of Jacksons Fencing (opens in new tab). "Decking joists will be in contact with the ground and therefore need proper protection from rot and insect attack. Superior quality timber decking that has a long lifetime guarantee will last between 25-30 years."
In addition to the species of wood you choose, there are also other features to be on the lookout for — slip-resistance being one of the main factors.
"Grooved timber decking will offer the most slip resistance although there are also options to add fixed lines of grit aggregate in high footfall areas to help increase grip," says Leigh Barnes. "Decking boards should be installed with the grooves running in the opposite direction to the most frequent way you walk over it."
In addition to these considerations, you will also obviously want to take into account decking costs to ensure the products you have your eye on are within your budget.
Which Softwood is Best For Decking?
There are so many different species of wood to choose from that it can be hard to know where to start when picking the best one for you.
"Softwoods are among the most common varieties of wood used in decking," say the experts at Ultra Decking (opens in new tab). "If you are on a budget, softwood decking is the best wood to use. But if you are willing to spend more, there are better, longer-lasting and more durable woods that you can use instead."
"High quality pressure treated softwood is the best, most affordable type of wood for timber decking," advises Leigh Barnes. "It's versatile and strong, and if treated correctly will last just as long as other types of wood and even plastic decking."
Softwoods include:
Pine: This is a really common softwood for decking and is very cost-effective. Pine decking does require treating with a preservative and good maintenance to remain in good condition.
Cedar: Another popular wood for decking, cedar may be a little more expensive than pine but it is also more durable with better moisture resistance. If left untreated it will weather to a grey shade.
Redwood: A fantastic softwood for decking, Redwood is one of the most durable softwoods around and is good at resisting moisture, rot and insect attack.
Which Hardwoods Are Best For Decking?
For those with a little more in the pot to spend on their decking, hardwood is a great alternative to softwood.
"Hardwood decking is much more durable than softwood decking," say those in the know at Ultra Decking (opens in new tab). "However, unlike softwoods, they are much rarer and come from slow-growing trees. Because of this, they are generally more expensive than softwoods."
Some of the best hardwood varieties for decking are:
Oak: Amongst the most popular decking woods, with good strength and moisture resistance. As hardwoods go, oak is one of the more affordable options.
Teak: Really durable and with a high oil content that offers good protection from rot and insect attack. On the downside, teak is more expensive than many other hardwoods.
Ipe: A popular decking material due to its superior strength, durability and resistance to fire, moisture, insects and scratches. On the downside, Ipe trees, native to South America, are rare and have been over-harvested meaning alternatives are now often sought. It is also expensive.
Is Composite Decking Better Than Timber?
Many people looking for new decking often find themselves faced with the issue of wood decking vs composite.
"When choosing your decking, you will need to consider how much time you think you can allocate in looking after and maintaining your decking," says Nick Whiley, Project Director at Trekker Global. (opens in new tab) "If you have less time for the care and maintenance of decking, then composite decking is the right option for you."
The reason behind so many people looking at composite decking ideas these days lies primarily in its low maintenance requirements, although it is also durable.
"Composite decking requires very little maintenance apart from basic cleaning, removing of stains and regular sweeping with a thick broom," says Nick Whiley.
Natasha is Homebuilding & Renovating's Associate Editor and has been a member of the team for over two decades. An experienced journalist and renovation expert, she has written for a number of homes titles. She has renovated a terrace and is at the end of the DIY renovation and extension of her Edwardian cottage. She is now looking for her next project.
Homebuilding & Renovating Newsletter
Get the latest news, reviews and product advice straight to your inbox.
Thank you for signing up to Homebuilding. You will receive a verification email shortly.
There was a problem. Please refresh the page and try again.