Best Decking Paints: Best Buys to Transform Your Deck
These are the best decking paints to add some personality to your outdoor living space this summer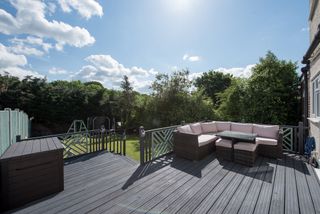 (Image credit: Getty Images)
Buying the best decking paint can help transform your old, worn deck and make you fall in love with your outdoor space all over again. And with summer around the corner, now is the time to spruce up your deck so you can show it off to family and friends. 
The best decking paints are generally usable on any type of wood, and will help smooth over uneven surfaces, which means you won't have to buy any deck prepping products before painting. 
You'll generally want to use your decking paint twice a year: once in the spring/early summer to restore your deck, and again in the early autumn to protect it from oncoming cold weather and snow. This will help to save your floor from rot and fungus, so keep an eye out for paints that offer long-lasting protection. The best paints will also offer anti-slip properties and fast drying. 
If you're debating whether to opt for a decking paint or stain, the general difference is this: stains sit on top of your decking rather than seeping into the surfaces, and decking paints provide an opaque finish, helping to add vibrancy and personality to your deck.
Ready to paint your deck back to its fantastic best? These are the best decking paints for the job. 
(MORE: How to Clean Decking)
Quick Links to the Best Decking Paint
Which is the Best Decking Paint?
1. Trade Paints Non-Slip Decking Paint
Anti-slip: Yes | Quick drying?: Yes | Colours: 13 | Sizes: 2.5L, 5L
High-quality 
Smooth finish
Vibrant colours
Costly
This is a high-quality decking paint which simultaneously offers a quick fix with long-lasting results. It can be used on any type of wood (bare, previously coated, or old) as well as any age of wood - helping to provide a cover up for both new and old decking. 
The quality of the paint is achieved through a hard-wearing polyurethane which seals both the timbers and the colours at the same time. 
Plus, the non-slip properties within the formula ensure you won't slip even if the deck has water on it - because it's weatherproof, the paint won't be affected by the rain or sun, and it has UV properties which keep the paint from fading. 
It dries out quickly within 2-4 hours, and leaves a brilliantly smooth finish that will transform your deck. It's also available in 13 vibrant colours to choose from in a satinwood finish.  
Buy Trade Paints Non-Slip Decking Paint now
---
2. Ronseal Decking Rescue Paint
The best for filling small cracks
Anti-slip: No | Quick drying: Yes | Colours: 8 | Size: 2.5L, 5L
Thick coat 
Rainproof after 90 minutes
Great for treating old decks
Not anti-slip
Ronseal's Decking Rescue Paint is a top-drawer paint for helping to make tired and worn decks look new again, which is especially handy if your decking receives regular footfall from family members. 
It expertly fills small cracks and splinters, and smooths over surfaces that have become uneven. It is rainproof after 90 minutes and ready for use within 24 hours. It is also resistant to mildew and moisture buildup on the surface.
Moreover, it leaves a beautiful thick coat, and while it usually only requires one coat of paint to get the job done, Ronseal recommends you apply two coats: not just to achieve the full, thick coat but to maximise its scuff resistance and long-lasting effect.
Buy Ronseal Decking Rescue Paint now
---
3. Cuprinol Anti Slip Decking Stain
The best budget decking paint
Anti-slip: Yes | Quick drying: Yes | Colours: 12 | Size: 2.5L, 5L
Affordable
Great for those with kids and pets
Anti-slip protection
Not the smoothest finish
For an affordable decking paint, look no further than Cuprinol Decking Paint, which is as kind to your decking as it is to your wallet. 
Although this is technically a 'decking stain', it is more like a paint as it produces an opaque finish that covers the colour and character of the wood.
It is suitable for all types of decking, comes in 12 attractive colours, and will dry within 2-6 hours depending on weather conditions (it's not recommended to apply if rain is likely). 
Not only is it weather resistant, but it's also a great decking paint for those with pets and children - it has an anti-slip additive and great friction, and the sturdy finish offers long-lasting protection. It also includes an algicide to protect against green algae and mould growth.
It's recommended to apply 2-3 coats evenly along the grain, allowing each coat to dry fully before recoating. 
Buy Cuprinol Decking Paint now
---
4. Firmtread Anti-Slip Deck Coating
Anti-slip: Yes | Quick drying: Yes | Colours: 9 | Size: 2.5L
Anti-slip particles
Comes in clear version
Mixing stick
Thick application can feel gritty
This decking paint from the appropriately named Firmtread contains fine particles that increase the friction on the surface, giving you a surer footing. It's one of the best anti-slip formulas available.
Another reason to buy this paint is that it comes in a clear version too, so you can give your decking's current colour a spruce up, if you'd rather not apply a new colour.
It dries really quickly too, within 2-4 hours. Plus, it comes with a mixing stick, which makes it much easier to apply. 
One thing to note is that while it requires two coats, these only need to be thinly applied. If applied thickly then the decking can feel gritty.
Buy Firmtread Anti-Slip Deck Coating now
---
5. Ronseal Ultimate Protection Decking Paint
Anti-slip: Yes | Quick drying: Yes | Colours: 10 | Size: 2.5L, 5L
Long-lasting anti-slip finish
Fills in small cracks
Weather protection
Requires a really good stir before use
Ronseal's second entry to this list is their Ultimate Protection Decking Paint, which nails the basics and is available in a range of 10 translucent colours.
It is great for renovating tired, worn decks in need of a quick colour update. It works on softwood and hardwood decking, and can also be used to fill in small cracks and lock down splinters. 
Once you've applied the recommended two coats, it should be dry within four hours. And Ronseal's deep penetrating formula is designed to increase adhesion and a long-lasting anti-slip finish. What's more, it offers all weather protection. 
If you're looking for a good all-rounder to breathe new life into your decking, this is a solid option. 
Buy Ronseal Ultimate Protection Decking Paint now
How to Buy the Best Decking Paint
These are some of the things to consider when finding the best decking paint to help you make the best buy:
Anti-slip
Most decking paints come with an anti-slip formula, which can help ensure safe footing all-year round. This is beneficial if your deck leads into other rooms, such as your conservatory, and if your deck receives regular footfall from family or pets. 
Paint, oil or stain?
Decking paints generally provide opaque finishes and give your deck a vibrant colour. Decking stains, meanwhile, are best suited for subtly enhancing and deepening the colour of your wood, which looks more natural, and can still help to revive old decks. And decking oils are good options when you're happy with the colour of your decking, but want to protect it against the elements.
Is it weatherproof?
Most top quality decking paint will be weather resistant, but always double check to ensure your paint of choice leaves consistent results whatever the weather. Buying rainproof decking paint also means that you don't have to wait until the summer to use it.
How to Prepare a Deck for Painting
Preparing a deck for painting is as important as the application part. Firstly, it is always advised to read and follow the manufacturers' instructions - this will help to ensure the best possible finish, and advise you if your decking is unsuitable for the paint (for example, if it has been oiled in the last 12-24 months). 
Following the instructions will also help to ensure you have the right tools and materials for painting, such as a decking cleaner and primer. 
Can I paint my deck in autumn?
Most people paint their decks in the summer because there are more dry days, but if you need 48+ hours without rain to ensure your decking paint dries properly, there painting in autumn should be fine if a sunny, dry spell is likely.
Homebuilding & Renovating Newsletter
Get the latest news, reviews and product advice straight to your inbox.
Thank you for signing up to Homebuilding. You will receive a verification email shortly.
There was a problem. Please refresh the page and try again.