Decking Colour Ideas: 10 Ways to Brighten Up Your Garden
By Natasha Brinsmead published
Getting decking colour ideas right can make or break your outdoor space. Our gallery of ideas will help you create a garden full of charm and individuality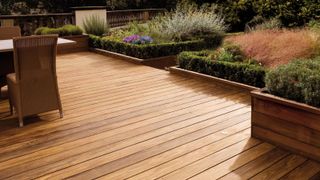 (Image credit: Sadolin)
If you are searching for decking colour ideas then you have come to just the right place. From natural neutrals to bold contemporary shades, our round-up has it all.
It isn't just the style of decking ideas or the materials you use that will affect the final look of your outdoor spaces — the shade of decking will have a massive impact too. There are lots of ways you can introduce colour into your garden and using pre-coloured decking, stains, oils and decking paint are all brilliant methods.
Here, we take a look at the various effects that can be created through colour and how decking colours can be used to make the garden feel bigger as well as creating interest.
Choosing Decking Colour Ideas For Your Garden
When considering garden decking, colour should play a starring role. Be sure to take into account a number of other factors too, including the style of your house and the shade of any external cladding materials that feature, as well as planting schemes and the type of boundary you have.
It might be that you want to create a harmonious flow in your outdoor spaces, in which case it can be a good idea to choose decking colours that complement the other shades in your garden. For others, a strong contrast is more suitable in order to draw the eye to a particular feature or create an eye-catching contemporary look.
Whatever your preference, take a look at our decking colour ideas to find inspiration for your garden.
1. Warm Up Chilly Evenings With Richly Coloured Wood
Using rich, chocolatey tones of wood within your garden design will work to visually warm up a seating space and create plenty of character in both traditional and contemporary landscaping schemes.
Here, the large outdoor rug, chunky sofas and huge pots all work together to break up the uniformity of the sizeable deck and to bring out its deep colour.
2. Use Silver Tones Against Lush Foliage
Silver decking is the perfect partner for greenery with each shade really bringing out the best in one another. Not only will a pale grey or silver deck work well with foliage, but it also looks great when combined with painted garden furniture in minty greens and turquoise, as well as large clumps of purple lavender.
In this lush garden, Cuprinol's Garden Shades in Silver Birch has been used on the deck, with the Sage colour on the shelving.
3. Go For Multi Tonal to Create Interest
If you want to simply let the natural tones of the wood come through, then a good decking oil is the way to go.
While protective treatments and oils should be your main guide to good decking, they can also be a great way to add colour. Not only will an oil enhance the natural beauty of wooden decks, products such as Sadolin Decking Oil, which has been used here, incorporate UV light absorbers and provide weather protection and water repellency too. They also protect against mould and algal growth.
4. Create a Coastal Vibe With Aqua
Using a decking paint is the ideal way to put an individual stamp on your deck. Greens and blues work particularly well in the garden to create a fresh, breezy look and pair brilliantly with a range of plants. These shades also work well when set against a natural wood backdrop, such as timber fencing.
Ensure you choose the best decking paint you budget will allow, in order to achieve a long-lasting finish.
This eye-catching shade is from Valspar's range of decking paint.
5. Use Mid Tones For a Neutral Backdrop
Decking is a great way to create a seating area that won't visually compete with the other elements in your garden — so if you have splashed out on some new garden furniture or want your carefully planned flower beds to take centre stage, your deck doesn't have to detract from them.
In order to create a neutral backdrop, opt for a soft, buttery colour and keep planks pretty uniform, as with this decking from Listone Giordano.
6. Create a Strong Contrast With a Dark Deck
Contemporary garden schemes can really benefit from a decking colour that sits in bold contrast to the other materials used elsewhere. A strong dark deck colour looks great pitched against pale, chalky limestone paving or marble.
Alternatively, take a look at your cladding materials — a white render paired with near black decking can look very striking.
7. Choose Harmonious Deck Colours
Small garden ideas can benefit from colours that work in harmony with one another, uniting the spaces and blurring the boundaries visually. Pale, soft shades work particularly well in more compact gardens and in courtyards with high boundaries.
The pink-painted rendered wall in this restful space has been paired with Sadolin's Classic Woodstain in White Birch and their Decking Stain and Protector in Golden.
8. Go For a Monochrome Effect
If contrast isn't your thing, you might like to consider going for a matching effect and create a monochrome scheme using your decking. This is an idea that can work well for owners of homes that feature expanses of timber cladding, where a using a matching decking colour can create a very striking effect.
Here, Valspar Decking Paint in Battlefield ties in with the slate cladding of the house perfectly.
9. Conjure Up a Mediterranean Vibe With Terracotta
Can't decide between a patio or decking? There is nothing to say you can't have both. In fact, combining sections of paving with decking is a great way to visually zone spaces in both large and small gardens.
Using decking that has hints of terracotta in it is a great way of bringing in the feel of sunnier climes to your garden and can be further enhanced by the addition of plenty of greenery and a selection of rustic clay pots.
10. Brighten Up a Small Garden With Colour Bursts
The key to good small garden design is to make sure there is plenty of interest to draw the eye away from the compact proportions of the space — and colour can be the ideal way of doing this.
Here, the decking has been given a coat of clear oil to bring out the grain and combined with fencing and seating in fresh green and white using Cuprinol's Garden Shades.
Natasha is Homebuilding & Renovating's Associate Editor and has been a member of the team for over two decades. An experienced journalist and renovation expert, she has written for a number of homes titles. She has renovated a terrace and is at the end of the DIY renovation and extension of her Edwardian cottage. She is now looking for her next project.
Homebuilding & Renovating Newsletter
Get the latest news, reviews and product advice straight to your inbox.
Thank you for signing up to Homebuilding. You will receive a verification email shortly.
There was a problem. Please refresh the page and try again.