Decking Balustrade Ideas: Stylish Ways to Keep a Garden Safe
By Amy Reeves published
Decking balustrade ideas will help create a safe, stylish scheme — find out how to add balustrading to your deck, what to consider and the best materials to use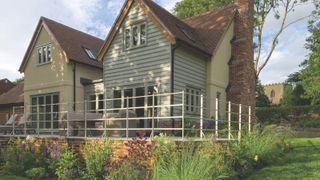 (Image credit: Jeremy Phillips)
Decking balustrade ideas are a great way to enhance existing or new decking and give it that finishing touch. Both practical and stylish, there are all kinds of materials and types to choose from — including simple glass designs, traditional timber kits and metal railing.
Introducing balustrades or railings into your garden decking ideas is sure to create a united and curated scheme while ensuring it is safe to use (some decks might require them to meet Building Regulations).
Take a look below at some great styles and designs to inspire your own decking balustrade project.
Decking Balustrade Ideas
"When designing a decking balustrade, the consideration should be about safety first and aesthetics second," begins Karl Harrison of Trex. "Balustrades for decking are needed to make you safe and to stop you falling off them; they also form handrails to assist you when going up and down steps in your garden.
"Adding balustrade to a decking terrace is necessary when the decking is over 600mm between one platform to another or from the decking onto a lawn. Balustrades requirements are part of Building Regulations, and you should observe them when you are having a decking terrace installed."
1. Update and Paint Existing Decking Balustrades
Give an existing deck design a refresh with a fresh coat of the best decking paints.
Before painting decking and balustrades, be sure to do a bit a prep work, as you would any exterior timber, to get the best results.
Here, different decking colour ideas have been contrasted to create dynamic and stylish space. The red-brown for the main deck inspires a natural finish, while the deep, almost gloss black for the balustrade complements the modern furniture choices.
2. Create a Coastal Look with Timber
White-painted timber deck balustrading is a timeless look, especially when matched with a dark wood hand rail. The subtle aesthetic is best finished with delicate newel post cap and thin posts to maintain a relaxed feel.
Note in this image, the newel posts are further supported and attached to the base of the deck, something which may be required when researching how to lay decking and balustrades concurrently.
"The decking has a minimum strength standard issued by Building Regulations," adds Karl Harrison.
3. Retain Views with a Contemporary Glass Design
Even if you're not blessed with a view over a river like this home, don't block the view out over a garden with a solid railing or balustrade design.
Reinforced glass is a fantastic and durable option to surround a decking area — although may cause a few bumped heads for those with young children!
For homes such as this where the decking balustrade wraps entirely around not just the deck, but also the balcony, a barrier with no handrail will also limit the visual business when looking back at the house.
"The style of the balustrade should work with your decking terrace, if you have a contemporary decking terrace then the balustrade should match in a similar style," adds Karl Harrison.
4. Create Privacy with a Taller Balustrade
Decking balustrades aren't just for safety, they can also be a valuable asset when creating privacy or acting as a wind-breaker.
For raised decks or balconies with decking, adding a solid-style balustrade and railing will be an ally, while also looking fantastic in a modern colour scheme.
Take some small garden design ideas from this decked balcony — the balustrade has also been used as an edge for the outdoor sofa, providing both shelter and a back rest for users.
5. Keep Balustrades Simple for a Uniform Finish
If you're compiling ideas for a complete exterior makeover or a new design for a self build, consider the outdoor features alongside the main cladding components.
For instance, if timber will cover the exterior of your home, a large, detailed timber railing might look too visually busy and detract from your hard work.
This home has carefully balanced a unified look with different materials within the same grey colour scheme — from the cladding and roof to the decking, seating and garden steps ideas. The decking balustrade is simple, yet safe, with a pared-back timber structure that almost mirrors the frames of the sliding glass doors on the house.
6. Choose a Balustrade Alternative
While timber and glass are the most common decking balustrade materials, for many homes they don't suit the style of tastes of the homeowners.
Alternatives such as metal has previously had a mild connotation of safety rails for accessibility – not generally known as stylish – but sleek modern designs would definitely upgrade the exterior of a home.
A solid concrete or stone wall can also be used, although obviously lack the transparency which other materials have, which could be a drawback or a positive depending on the house.
Interestingly here, gabion cages have been used to line the decking and to provide a safety measure around the raised sections as well as acting as a great garden wall idea. Topped with wood, the lower elements also provide extra seating.
7. Go to the Top in a Covered Deck
If your deck design is for year-round use, including a cover or a roof, a neat idea is to run every other newel post to the roof, as shown in this American-style porch.
While this could be used to support the covering, with the right consideration given to the structure, here it becomes a stylish detail that brings a quality to the white-painted timber.
What Height Should a Decking Balustrade Be?
"The minimum balustrade height for a set of steps is 900mmm and 1100mm when surrounding a decking platform," explains Trex's Karl Harrison.
"Your decking installer should design your balustrade to the correct standard and present their Professional Indemnity Insurance as part of CDM regulations."
How Do Your Secure a Deck Balustrade?
"It is important to follow the manufacturer's instructions when installing a balustrade that you have purchased," advises Karl Harrison. "There are many types of balustrades, and each manufacturer is different.
"If you are using a timber or custom-made balustrade, then your decking installer should fix it as per the drawings submitted. Most decks are different and therefore the method for fixing the balustrade will also change depending upon each situation. Under CDM regulations the contractor is responsible, so as a client make sure you get a specification and drawings as part of the contract of works."
Assistant Editor Amy began working for Homebuilding & Renovating in 2018. She has an interest in sustainable building methods and always has her eye on the latest design ideas. Amy has interviewed countless self builders, renovators and extenders about their experiences for Homebuilding & Renovating magazine. She is currently renovating a mid-century home, together with her partner, on a DIY basis, and has recently fitted her own kitchen.
Homebuilding & Renovating Newsletter
Get the latest news, reviews and product advice straight to your inbox.
Thank you for signing up to Homebuilding. You will receive a verification email shortly.
There was a problem. Please refresh the page and try again.