Wood Decking Vs Composite: Which Is Right for Your Garden?
By Rob Keal published
Choosing between wood decking vs composite will impact the look, cost and maintenance of your decking. Our guide explores the pros and cons to help you decide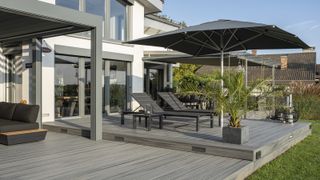 (Image credit: Trex)
Wood decking vs composite is a key decision when installing a new decking area in your garden. With more decking options available than ever before, it can be hard to pick a material for building your new outdoor sitting area.
Decking ideas themselves are highly versatile these days, too, and making your deck stand out is key to enhancing the appeal of your garden.
We investigate the dilemma of wood decking vs composite, weighing up the pros and cons, what to consider, cost, maintenance and additional factors to help you make the right decision.
Wood Decking Vs Composite: What to Consider
There are a few things you need to consider before deciding whether wood or composite decking is best for your garden.
First, you should familiarise yourself with the various materials involved in the creation of both natural and synthetic decking.
It could be that you end up using one material for the deck and another for any railings — given that some products have more visual appeal than others.
You will also need to think about any future work your decking may require.
Timber Decking
There are many different types of timber available, which can broadly be broken down into softwoods and hardwoods. Hardwoods such as oak, beech or birch tend to be much more suitable for long-lasting decking due to their sturdy composition.
Hardwoods are generally more expensive, though, compared to softwoods (pine, fir and spruce, for example). Keep this in mind when determining your decking costs.
Thermally modified timbers are another alternative that are durable and long-lasting. These are created by heating less durable softwoods, such as pine, at high temperatures to remove any moisture and resin, thereby permanently enhancing them.
Some of the most prominent brands of thermally modified timber on the market right now are ThermoWood, Accoya, Thor, Kebony, Keywood and PlatoWood.
"Timber is a natural material, and aesthetically has the natural grain of wood. The decking colour will fade to silver-grey over time, if they're not stained — this is the choice of the customer. Boards can be laid in any application and are easier to install than composite boards," says Steve Rogers, Sales Executive at Premier Forest Group, who recently acquired Monmouthshire Timber Supplies.
Composite Decking
Composites on the other hand are a manmade product typically made from a combination of wood and plastic, which together create a robust and durable form of decking. Brands like Cladco Decking and EnviroBuild provide quality composite decking.
"Composite is generally made from recycled plastic and because it is manufactured has a very uniform look (i.e. no knots) and their colour will last very well. Composites need to be laid on a slight slope to allow rain and water to run off it, so they are less suitable for roof gardens," says Steve Rogers.
Wood Decking: The Pros and Cons
Pros of Wood Decking
Easier and quicker to install, particularly for large areas
Can be treated with fire retardancy
Most manufacturers now offer sustainable varieties that are also 100% recyclable
Often cheaper — especially softwood materials
Usually has a more natural look and feel
Nick Whiley, Project Director at Trekker Global, explains: "Wood tends to offer a more natural look as it has the warmth which composite decking potentially lacks. You can also stain the wood in a variety of colours and finishes, whilst composite doesn't offer that flexibility.
"Some woods can be inexpensive in comparison to composite decking and so initially more affordable. You do have to factor in the long-term running of the decking and work this out in comparison to looking after composite."
Cons of Wood Decking
Can rot, warp and splinter in the British weather
Comparatively high-maintenance — requires regular staining and cleaning
Slippery when wet
The more durable the wood, the higher the price tag tends to be
Karl Harrison, pro landscaper and Trex Composite Decking expert, explains: "Softwood has a limited lifespan much shorter than the rest of the products but hardwoods can last the longest… They are frighteningly expensive though."
Composite Decking: The Pros and Cons
Pros of Composite Decking
A low-maintenance alternative
Harder, comparatively more durable composition
Will not rot, splinter, warp or host algae growth
Anti-slip, even when wet
Becoming a more sustainable choice
Jess Brown, Digital Marketing Manager at Ecodek, explains: "Being confident underfoot means you can use your composite decking all year round, enabling you to make the most of your investment.
"Sustainability is now important to many homeowners when it comes to choosing products for their gardens — and although timber decking seems to be the obvious sustainable choice, it may surprise many of you to hear that wood composite decking can be a more environmentally sound option when choosing decking.
"Not only does it not usually require any harmful treatments, which are then released into the atmosphere, but boards such as those manufactured by Ecodek can be recycled repeatedly and are made from up to 95 percent recycled and sustainably sourced materials."
Cons of Composite Decking
Lacking the real wood look
Prone to scratches
Not as easy to repair
Permanent colours
Whiley explains: "Although they look similar to wood, the boards are not made solely from wood and therefore do not have the potential natural, rustic look which you may want. They can lack authenticity for some people.
"Unlike wood, the colour of composite decking is not easy to change unless you replace the flooring altogether. It is permanently coloured to help prevent fading, so if you are likely to change your mind often about the colour of your decking, wood is a better choice."
How Do You Guarantee the Durability of Wood Decking Vs Composite?
The British standard for measuring how durable wood and wood-based products are (BS EN 350-1) puts them into one of five categories: one being the highest level of durability, five being the lowest level.
Any wood decking you buy should have a minimum rating of three, but hardwoods in particular must always be class one to ensure the longevity of your investment.
In a similar capacity, another British standard (BS EN ISO 14125) is used to determine the flexural properties of fibre-reinforced plastic composites, including composite decking.
While there may not yet be an equally reliable rating system by which to assess the overall quality of composite decking, improvements are being made all the time in the manufacturing of these types of products to ensure both their quality and longevity.
Is Wood or Composite Decking Easier to Maintain?
After you've learned how to install decking, the next thing will be figuring out how much maintenance you're prepared to carry out so that it stays in tip-top shape.
Allan Jeffrey, founder of Ultra Decking, explains: "If you're looking for a minimal upkeep option, then it's important to pick the right material for you. Composite decking requires far less upkeep and maintenance than other decking options. Unlike wood, it doesn't need regular treating, staining or painting, and the colour doesn't fade as quickly as wood.
"If you do end up with the inevitable spills, it's easy to clean too. Second generation composite decking boards are produced with a thin plastic layer which wraps around the board to add increased protection from everyday use and mother nature's elements."
While it is true that composite decking requires less maintenance than wood, the plastic used in some varieties may scratch more easily, making them harder to repair. Likewise, composite decking must be cleaned regularly to prevent moisture from building up and causing damage to your deck.
By the same token, wood decking may require more upkeep than composite, but, if well-maintained, that thermally modified wood and hardwood decking could still outlast a composite alternative by many decades. Plus, if one area develops rot or fungus, you can treat this separately.
Harrison explains: "For any kind of decking, simply buy another board and exchange for your old one that needs replacing… a saw and a screwdriver is all you need."
Decks need to be looked after: Regardless of what they're made from, you should learn how to clean decking properly for a consistently fresh look in your garden.
What Is the Cost of Wood Decking Vs Composite?
One major factor when choosing between wood decking vs composite is cost — and prices can vary considerably depending on the material and product used.
"The cost of all these materials varies tremendously. Each garden situation alone will dictate the amount of work required to create each project," Harrison explains.
"A sensible budget for a Trex® deck is from £250 to £320 plus VAT.
"The cheapest and certainly not the best solution in many cases is to use softwood. It doesn't last as long as quality composites and needs regular treatment. A sensible cost would be from £160 to £220 plus VAT/m2."
However, the final cost of completion will vary based on the amount of decking material used, as well as typical labour costs, which are priced on average at anywhere from £120-£200 per day.
This means that in total, you could be spending close to £1,000 for a brand new softwood deck, and as much as double that if you're planning on using hardwood or composite decking.
Do bear in mind, though, that the recent price shifts in the decking materials market are making consumers reassess their position in the wood decking vs composite debate.
Jeffrey explains: "Whilst the cost of composite decking can be more expensive than other options, when you begin to factor in the life span, the costs begin to pay for themselves over time.
"And as the cost of timber has significantly increased in just this year alone, the difference in price is now outweighed by the longevity and practicality that composite decking offers. The price gap between timber and composite is now far smaller than ever before."
Is a Wood or Composite Deck Better?
When making the decision between wood decking and composite, you must think carefully about what's best for the overall look and feel of your garden. Wood decks have a certain authenticity about them, while composite structures are highly practical and versatile.
You may even find that your preferred option is a wood/composite deck combo, mixing the best qualities of both materials.
Brown explains: "For many homeowners only real timber will do. However, if longevity, safety, and sustainability are prerequisites for you when choosing decking, it is worth considering wood composite as an extremely viable and attractive alternative."
Remember to weigh up the pros and cons of each deck type in relation to whatever future outdoor projects you have planned as well.
Rob Keal is the Content Editor at Homebuilding & Renovating. With a background in content marketing, he began his career back in 2016 as a freelancer, before honing his craft at various digital marketing agencies. Looking to specialise in DIY and homes, he joined the team in February 2022.
Renovation has been part of his life since he was nine years old, when his parents bought a medieval cottage and completely revived it, introducing him to kitchen remodels, loft conversions, landscape gardening, and much more besides along the way. A bedroom extension and patio refurbishment are among his next planned projects. He is also passionate about interior design and landscape gardening.
Homebuilding & Renovating Newsletter
Get the latest news, reviews and product advice straight to your inbox.
Thank you for signing up to Homebuilding. You will receive a verification email shortly.
There was a problem. Please refresh the page and try again.